Kids Essays
View(s):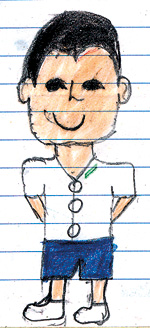 Myself
My name is M. R. Abdul Khaliq.
I am 11 years old. My school is
D. S. Senanayake College. I am in Grade 6B. I live in Dehiwala.
I like to eat apples. I like to drink Milo. I have two brothers. I am a good boy. My favourite pet is a cat. My favourite subject is English.
I like to be a doctor.
Abdul Khaliq (11 years)
D. S. Senanayake College
---
My term test
Our teachers taught us very  well throughout the first term.
The teachers gave us the timetable of the term test. I was most excited and was studying very diligently. These days I stopped watching my favourite TV programmes and went through my books.
The exam was held throughout the week starting on March 28 and ending on April 1. We had 1 ½ hours to answer each paper. Every day after the papers, the children had some time for themselves. During that time we went through the subjects for the next day. We had Aesthetics last. My Aesthetic subject is Art and we had two hours for the Art paper. All the papers were very easy but the Sinhala Language paper was a little bit difficult for me.
The next week we were free, happy and relaxed. The teachers engaged in correcting papers and we started getting our marks. I did this exam as well as I could. I am happy that I got good marks for all the subjects and showed my teachers that I have learnt what they have taught us.
Anuthi Samaranayake (Grade 7)
Anula Vidyalaya, Nugegoda
---
Safety and protection
Roads are not meant to play on. Playing on the roads can be extremely dangerous. Pavements are meant for people to walk on. The pedestrian crossing is to be used to cross the road. We should cross the road carefully. Before crossing we should look to the right, then to the left and again to the right and then we should cross the road.
Zainab Akram (10 years)
Hejaaz Int. School, Dehiwala
---
Value of Sports
Most children do sports in school. Adults also do sports. Some do it as a hobby and some do it to develop their career in sports.
There are many advantages in doing sports. It will protect your health mentally and physically and you will learn to work as a team. You will be happy and gain a thorough knowledge about the rules in different games.
There are indoor games and outdoor games. Table tennis, Badminton, Squash, Chess and Carom are indoor games. Tennis, Cricket, Volleyball, and Swimming are some of the outdoor games.  Some sports you can play individually and some you can play as a group. Whatever type of game you play, finally you get relaxation and mental satisfaction.
Sports teach us to face winning and defeat with courage. The most important thing is not to win but to participate. That is the motto of the Olympic Games. By doing sports one can develop a good personality. People who don't participate in sports always feel weary and tired. So do sports and lead a happy, healthy life.
Shenalie Mendis (9 years)
Musaeus College
---
My journey 'Around the Pearl'
On a bright Thursday morning, my dad woke me up at 4 a.m. To my excitement this was the day my dad was riding around Sri Lanka. The ride was called, 'Around the Pearl' tour. He was riding for a worthy cause to raise money for 40,000 wheelchairs for poor children, riding around the island which is 1400km in 10 days. That was going to be a hot ride!
The day started at the Land Rover showroom and from there to Mirissa. I was feeling very  excited and awaited for what was going to  happen. I had one friend name Bihan at the  start who was quite fun. Our next stop was  Kataragama. We stayed there for one day only in a hotel and enjoyed swimming in the pool as the heat was unbearable.
From there the bicycle tour continued to Arugam Bay. I had a lot of fun playing with my friends there. From there we proceeded to Trincomalee. We stayed at the Nilaveli Hotel for two days. This was the most enjoyable part of my trip. We went to the famous Pigeon Island. I went snorkeling with my father's friends. What I saw was amazing! I saw live corals and beautiful fish. My father captured lovely images underwater.
When I came to Colombo, I was so sad that I wanted to go back again. I had so much fun with my new friends and I was so happy that I saw around Sri Lanka and the places I hadn't visited before.
Onella De Fonseka (9 years)
St. Bridget's Convent
---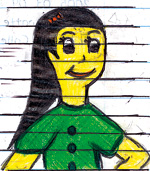 My sister
My sister's name is Senuri Dissanayake. Her school is Hillwood College, Kandy. She is 14 years old. Her favourite colour is pink. Her favourite food is rice and curry. My sister is very good.
My sister helps me to do my homework.
My sister can cook. She likes to play games. Her favourite cartoon is Teen Titans Go.
Her favourite TV programme is Dharmashoka. I love my sister very much.
Sandil Dissanayake (11 years)
Trinity College, Kandy
---
My favourite writer
There are many writers in the world. Some writers are Mr. Martin Wickramasinghe, Mr. K. Jayathilaka and Mr. Kumarathunga Munidasa. Mr. Martin Wickramasinghe is my favourite writer.
Martin Wickramasinghe was born on May 29, 1891 in Koggala Malalagama in Galle. His full name is Lamahevage Don Martin. He was famous as 'Koggala Praghaya' and 'Helaye maha Gathkaru.' His first school was Gurugedara of Andirasge. His second school was Buona Vista College in Galle and he learned at Ahangama Sinhala School too.
He went only to Grade 5 but he became a great writer. He has written 87 literature books, 30 novels and ten short stories. He wrote his first book at the age of 23. The name of it is 'Leela.' 'Gehaniyak' was his first short story. Some of his books are 'Ape Gama', 'Madolduwa' and 'Gamperaliya' etc… He won many prizes for his books. He died on
July 30, 1976. We should value his great service for literature.
Sasmitha Abesekara (12 years)
Horapavita
---
New Year Festival
It is in April. It is very nice. Mother makes milkrice and sweetmeats. Father cleans home and garden. We visit our relatives and friends. We share presents. We can play New Year games.
N. Ganapriyan (6 years)
Uduvil, Jaffna
---
Parents
Parents are our life and energy. They are like valuable gems of our lives. They guard and feed us. Our parents advise us too. They never forget us. Parents hit us to build our lives. They make us educated but we don't know. Our parents suffer much sadness because of us. They try to make our lives successful. Parents guide our future dreams. We should protect our parents very much. We must never hurt our parents by words. We should love our parents, feed them and obey them.
Vishmi Hettiarachchi (14 years)
Royal College, Horana
---
My term test
My term test started on March 28. It finished on April 1. I wrote the Buddhism paper first. Second I wrote the Sinhala paper. Next I wrote the Maths paper. Then I wrote the English paper. At last I wrote the Tamil paper and the Environment paper.
I got 100 out of 100 for all the subjects except Sinhala. I did all the papers very well. I study hard for my term test.
Our class teacher announced me as the class first as well as the grade first.
Then everybody praised me.
Udara Weerasekara (Grade 3)
Vidyaloka Model School,
Hingurakgoda
---
My trip to Italy
My parents took us on a wonderful trip to Italy in March 2015. Italy is one of the most beautiful countries in the world. Italy's capital is Rome and my brother and I enjoyed visiting that place.
We visited the floating city of Venice. It was very beautiful. We also went to Pisa Tower which is one of the world wonders. My loving father took us on a luxury cruise and we stayed there one week. It was the best trip in my life.
Zayan Shiard (7 years)
Wesswood College, Katugastota
---
The cartoon character that I like
Garfield is a cat who is very greedy and very lazy. This greedy little cat is living in a street near a town. It lives with a very good person who has a quiet little dog.
Garfield is very fat and its fur is orange in colour. This little cat always sleeps and eats. That's all it does. Its favourite food is lasagna and pizza.
It also disturbs that quiet little dog. I like this cartoon character because it eats what I like to eat. And I love the cats so much.
Sithmini Sirithunga (12 years)
Sacred Heart Convent, Galle
---
A place of worship
Sri Lanka is blessed with many places of worship. Among them Sri Pada takes an important place. Sri Pada is a well-known place in Sri Lanka. It is situated in the Central Province. Thousands of pilgrims of many faiths visit there. There is a long walk to the summit. Pilgrims get the opportunity to view the footprint of the Buddha on the summit. Pilgrims get the opportunity to view diverse varieties of orchids and other flowers which grow in the wild.
Sesadi Gamage (Grade 7)
St. Anthony's Girls' College, Kandy