Biters
By Manoshi de Silva
View(s):
Nilma had a bad habit. She liked biting things. It started whenever she felt bored. First she bit her finger nails, then the top of her pencil. She kept on biting it till the pencil-eraser came off. Then she started biting the strap of her water-bottle. Soon all her belongings looked horrible because of this bad habit. Her friends didn't even touch the things bitten by her. Nilma's mother warned her to stop this bad habit of hers, explaining how it could even effect her health. But Nilma just couldn't stop.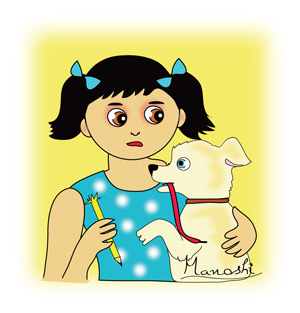 At the beginning of the year she made a resolution to stop biting. But a few days later she got back into her old habit again. So her new water-bottle had a strap which looked like it had been nibbled by rats. The top of her pencil looked like a badly used brush and it was almost impossible to use her pen because it had a big hole on top.
"Nilma, you have to stop this!" complained her teacher. "Look at how disgusting your things look!" said her mother. Even her friends laughed at her things. They refused to even touch the things which were bitten by her. All this embarrassment made Nilma feel bad. But she just couldn't stop and secretly bit her things when the others weren't watching. So she just kept on biting and biting until her things broke into pieces.
One day, Nilma was told that her cousins were migrating to another country. They decided to gift her with a puppy they had newly adopted. She was very happy when her parents gave her permission to keep the puppy.
A few days later they handed her the puppy. "What's his name?" she asked her cousin. "Biter!" he replied. "What a funny name for a dog!" thought Nilma, "I wonder why they chose such a weird name?" But it didn't take Nilma too long to find out.
The puppy slept under Nilma's bed. When she woke up in the morning, she tried to put on her slippers, which were by her bed. But the slipper strap came off. She wiped her eyes and took a good look and realized that the strap was bitten and broken into two. Biter was sitting near her bed wagging his tail and biting one of her shoe-laces.
"Oh, you naughty Biter!" she shouted and realized there were more surprises.
The puppy had chewed almost everything in sight. Her school bag was pulled down to the ground and bitten all around. The strap was very badly bitten. Most of her shoes and slippers were chewed and scattered all over the room floor. A picture book was also torn into shreds along with some of her toys which were badly damaged. "Oh no!" shouted Nilma. She shouted so loud that Biter got scared and hid under her bed.
Nilma's mother came running and saw the mess the puppy had made. They both cleaned the room together and threw away everything damaged by the puppy. "You can't blame the puppy," her mother told her, "when they are getting teeth, they sometimes chew on everything they see. Let's get Biter some doggy-toys to bite from the pet shop. Meanwhile you must make sure you keep your things out of his reach!"
The next few days Nilma complained of Biter damaging a few other things of hers, which had come into contact with the puppy. She loved Biter dearly, but his biting annoyed her. "He will grow out of it soon," assured her mother, "but you know, he's kind of like you! You too have a bad habit of biting things. And you too annoy others with this habit. Tell me, do people let you borrow their things?" "Of course!" said Nilma, "Veena lets me play with her doll. Shanaka lets me ride his bike!" "But do they give you things you might bite?" her mother questioned her.
Nilma stopped and thought for awhile. She remembered how her pen finished in class and how no one gave her an extra pen they had, until the teacher gave her one. "Now don't bite this also!" said the teacher and the whole class laughed. During the interval whenever her friends wanted someone to hold their things, they never gave Nilma to hold their water bottles. They always gave it to someone else saying, "Nilma will end up biting the strap!"
Nilma looked at the strap of her school bag which Biter had bitten and realized that it didn't look too different from the strap of her water-bottle, which was bitten by her. She realized what a waste it was and how unpleasant it was to look at. Biter wagged his tail and barked apologetically. "It's okay Biter, I'll try to keep things away from you. Just bite your own toys till you get all your teeth!" she said petting the puppy.
A few months later, all of Nilma's pens and pencils started looking nice and new, even after being used for awhile. The new strap put to her water-bottle looked nice and strong. Her friends didn't mind borrowing her pens and pencils and they also didn't mind lending her their ones. She was finally not interested in biting her things anymore.
Nilma finally managed to stop her bad habit of biting things after she saw the mess Biter made. Also Nilma's shoes and slippers had good straps now and they didn't need to be kept above the ground anymore. Biter too stopped his bad habit because he had got all his teeth!