Weeratunga flying freely with two passports: Govt. fails to 'Red Notice' ex-envoy
By Our Political Editor
View(s):
Public anger grows over failure to prosecute politicians, officials who plundered public money
More details of how the fomer diplomat dined with Rajapaksa and other Lankan businessmen in Thailand
Sirisena and Rajapaksa happy with May Day turnout but widespread fear of betrayal of January 8 victory
Udayanga Weeratunga, Sri Lanka's former envoy to Russia — now at the centre of a probe into the acquisition of MiG-27 fighter jets from Ukraine and accused of supplying weapons to anti-government forces in that country — travelled to Thailand to meet former President Mahinda Rajapaksa last week on a passport issued by the present United National Front (UNF) administration headed by President Maithripala Sirisena.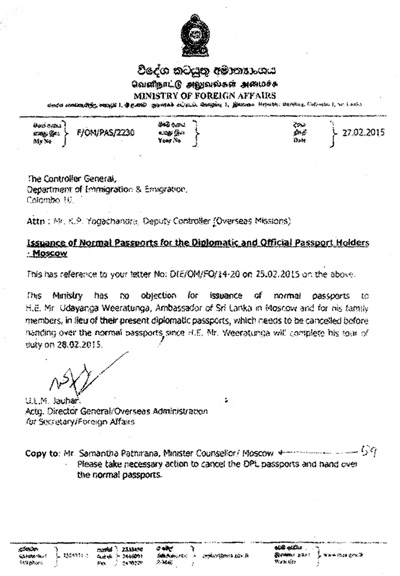 He got his passport despite his refusal so far to hand over the diplomatic passport (D 3643585) issued to him. Making matters still worse was the inability of the state investigation agencies, which sought Interpol assistance over the probes, to place him on the Red Notice roll, the nearest instrument to an international arrest warrant. These 'Red Notices' are circulated by the Interpol Headquarters in Lyons (France) to all member countries. This is at the request of a member state or an authorised international agency and concerns individuals wanted for serious crimes, missing persons, unidentified bodies, and possible threats among other matters. All entry and exit points and border controls are informed of such 'Red Notices'.
As a result, other than visiting Sri Lanka where he could court arrest, Weeratunga is legally free to travel to any country he wishes. After all, the preamble to the Sri Lankan passport states; "The President of the Democratic Socialist Republic of Sri Lanka requests and requires all those whom it may concern to allow the bearer to pass freely without let or hindrance and to afford the bearer such assistance and protection as may be necessary."
The chance discovery that Weeratunga has an ordinary Sri Lankan passport came as a result of continued investigations carried out by Thai Immigration. The Thai Immigration authorities told the Sri Lanka Embassy in Bangkok earlier that Weeratunga did not enter Thailand on the diplomatic passport issued to him when he served as ambassador. This was later cancelled by the Government of Sri Lanka. This led to speculation that he may have crossed the Mekong River, the border Thailand shares with both Laos and Viet Nam. Sri Lanka had informed Thailand in May 2015 about the cancellation of his diplomatic passport. He had been on their watch list on this DPL passport. Now, Thai authorities, after they conducted a renewed search, have confirmed the former envoy to Russia did arrive in Bangkok on a non-diplomatic passport.
Investigations by the Sunday Times reveal that Weeratunga now holds Sri Lanka passport No: N 5400885 issued on March 6, 2015, just three months after the presidential elections. His application has been forwarded through the Sri Lanka Embassy in Moscow, Russia. Samantha Pathirana, Minister Counsellor there in a letter dated February 24, 2015 told the Commissioner General of Immigration and Emigration in Colombo that that "the profession of Weeratunga in his new passport should read as 'Director' as was in his ordinary passport No N 1652949 issued on 05.04.2006." The applications of Weeratunga's wife and two children, who also held diplomatic passports, were forwarded by Pathirana for re-issue of ordinary travel documents.
Minister Counsellor Pathirana also said, "Grateful take action to issue ordinary passports in place of the diplomatic passports of the Ambassador and his family members. Mr. Viranga Bandara, Asst. Director, Sri Lanka Tourism Promotion Bureau is authorised to collect the new passports from the Department of Immigration and Emigration." Supporting Weeratunga's application was U.L.M. Jauhar, a Foreign Ministry official who is now Sri Lanka's Consul General in Toronto, Canada. In a letter dated February 27, 2015 which he signed on behalf of Secretary to the Ministry of Foreign Affairs, as "acting Director General of Overseas Administration," Jauhar said, "this ministry has no objection for issuance of normal passports to H.E. Mr. Udayanga Weeratunga, Ambassador of Sri Lanka in Moscow and his family members, in lieu of the present diplomatic passports, which needs to be cancelled before handing over the normal passports, since H.E. Weeratunga will complete his tour of duty on February 28, 2015." The letter was also copied to Minister Counsellor Pathirana in Moscow. Weeratunga gave his National Identity Card number as 640820900 V.
A facsimile of the letters written by Pathirana and Jauhar appear on this page.
The fact that both the Sri Lanka Embassy in Moscow and the Foreign Ministry in Colombo had recommended an ordinary passport to Weeratunga as well as three members of his family highlights a serious shortcoming. It is the reality that different agencies of the state are operating in water tight compartments. If one keeps the information available with it, another is spending money and effort to find the same details. The main outcome of this deficiency is the gross ignorance displayed by political leaders and some bureaucrats. Or is it the result of the network put in place by the previous Government still being active though they are no longer in office? Either way, this lacunae has become one of the contributory factors for delayed investigations and legal action. That the top bureaucracy at the Ministry of Foreign Affairs had done little or nothing over this seems glaring. It is known that Foreign Minister Mangala Samaraweera had intervened in some occasions to sort out even minor issues.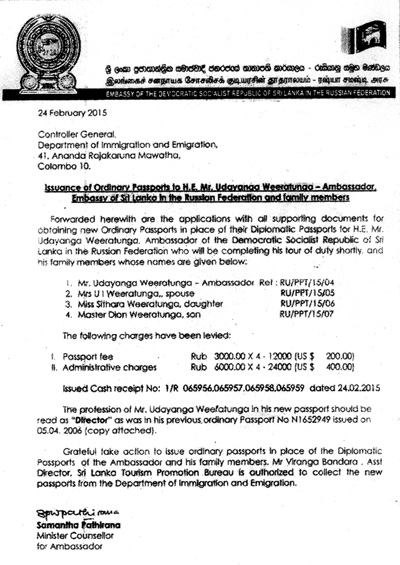 Moreover, as revealed in these columns last week, the Sri Lanka Embassy in Teheran (Iran) last year refused to endorse an affidavit from Weeratunga authorising a third party to take delivery of a container load of his personal effects destined from Moscow to Colombo. This was on the explicit grounds that he should first surrender his diplomatic passport. Obviously, the Sri Lanka Embassy in Teheran did not know that the Embassy in Russia had obtained an ordinary passport for him. Both Sri Lanka diplomatic missions, like all others, function under the Ministry of Foreign Affairs. Weeratunga's presence in Teheran was much after he sought an ordinary passport in an application dated February 24, 2015, just three days before his official retirement, according to documents seen by the Sunday Times.
Both during the presidential and parliamentary elections, the United National Party's (UNP) political campaign included a pledge that it would probe the procurement of MiG-27 fighter jets. The pledge was made in a number of full page newspaper advertisements the party inserted and speeches made by its leaders. It was just last week that the Financial Crimes investigation Division (FCID) Chief, Senior DIG Ravi Waidyalankara, initiated investigations in the Ukranian capital of Kiev. He is said to have learnt that Weeratunga had not been in Ukraine for some time, despite claims by Weeratunga that he continues to live in Kiev.
Responding to allegations by the former Ukrainian Government that Weeratunga sold weapons to Russian-backed forces fighting in Ukraine, Foreign Minister Samaraweera summoned to Colombo then Kiev's Ambassador Oleksander Shivchenko in April last year. He was concurrently accredited to Sri Lanka. Even the fact that there was an official complaint by a foreign Government that triggered an investigation, no action was taken to place Weeratunga on the Interpol Red Notice. It was Samaraweera's efforts with authorities in the US that paved the way for SDIG Waidyalankara to travel to Kiev last week and conduct detailed investigations.
Though a declaration signed by 52-year-old Weeratunga and attached to his application said the diplomatic passport was being surrendered, it had not been done. He had made the declaration to show that all requirements for a passport renewal had been met. The Sunday Times investigation revealed that the newly issued ordinary passports were collected from the Department of Immigration and Emigration in Colombo by the former Moscow envoy's wife, U.I. Weeratunga. Here again, the usual practice of returning to the Sri Lanka Embassy in Moscow which forwarded the passports for renewal had not been followed. Nor had it been given to a Government official designated by this Embassy. The former Russian envoy's wife called over at the Department of Immigration and Emigration in Colombo. She had then assured an Immigration official, who sought the diplomatic passport in return for the ordinary ones that it would be sent once she returned to Moscow. It had not been done so far. Hence, the Government's intimation to immigration authorities in foreign countries including Thailand that Weeratunga was still using his diplomatic passport remains valid.
Immigration and Emigration Controller M.N. Ranasinghe told the Sunday Times, "The correct procedure for a Sri Lankan living overseas to renew a passport is to either call over at our office or hand over the duly filled application to the Sri Lanka diplomatic mission in the country he or she lives in. If the application is sent through the mission, the Ministry of Foreign Affairs will send us the application with the previous passport. We send the renewed passport through the Foreign Ministry."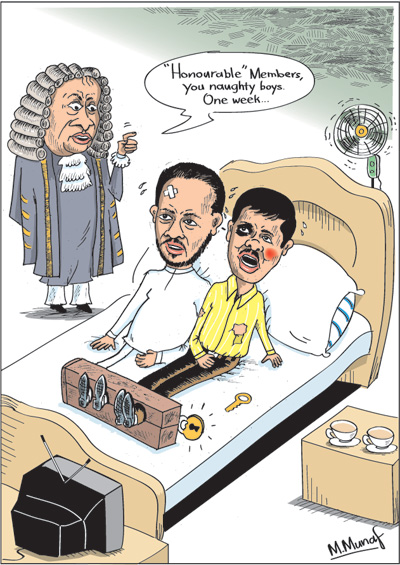 The Sunday Times found that on April 22, Weeratunga flew from Dubai to Doha on Qatar Airways flight QR 1065. From there he boarded QR 830 on the same day to Bangkok. On April 25, for his return journey he boarded QR 831 from Bangkok to Doha and later boarded QR 1016 to fly to Dubai. This week he is known to be in Ajman, one of seven emirates (states) constituting the United Arab Emirates (UAE).
From Bangkok, Weeratunga flew the same day (April 22) to Udon Thani and was on hand to receive former President Mahinda Rajapaksa and his entourage. They returned together to the Thai capital on Monday (April 25). There was a hive of activity in Bangkok. Three Sri Lankan expatriates – the Thai speaking son of a leading female vocalist of yesteryear, a wealthy gem dealer from Dharga Town who has assumed a Thai name and another businessman had arranged all the activities connected with the Rajapaksa visit. The latter posted a photograph taken in Udon Thani of Rajapaksa and Weeratunga on his Facebook account.
That was how the news of Weeratunga's presence went viral. The trio told other Sri Lankans living in Bangkok to cough out contributions saying they were unable to meet all the expenses connected with the visit. The trio even took Rajapaksa and party for shopping in the upmarket Siam Paragon complex. One of the items he purchased was a red colour T-shirt. He wore this and posed for photographs with Weeratunga.
One would have expected Rajapaksa and other visitors to Thailand to be entertained even in a one star hotel if not with more stars by the Sri Lankans living in that country. After all, those who claimed to be 'sponsors' of the visit were all wealthy persons. That was not to be but it did not deter the former President. On Monday (April 24) night, Rajapaksa and his two political allies, former External Affairs Minister G.L. Peiris and Upali Kodikara, a Western Provincial Councillor, had a somewhat unusual encounter. They were being entertained to dinner at Manel Lanka Restaurant, located in a shabby and dirty narrow lane in Pratunam, across the road from Indra Regent Hotel. It is in this area that most economy-minded Sri Lankans and local businessmen who are wholesale procurers of Thai apparels or other goods shop. That restaurant would be a poor comparison to the Pilawoos restaurants that dot the Galle Road in Colombo. Run by a husband and wife couple, economy-minded Sri Lankan tourists go there for rice and curry at Baht 120 (around Rs. 480). Nights are full because they serve Godamba, Kottu Rotty and even Hoppers. Meals at this restaurant are included in some of the cheaper packages offered by local tour operators for the budget conscious. On many an occasion, Sri Lankans stranded in Thailand or visa overstayers have found a vocation washing plates, being cook's assistants or waiters for only free food and a mat to sleep on.
Rajapaksa, Peiris and Kodikara were on a dingy upper floor of the restaurant. More than 60 people filled up the ground and first floor. Interestingly, most of them were only busy taking selfies with Rajapaksa. Weeratunga played the role of a photographer. He clicked away. They were served String Hoppers, Pol Sambol, Kiri Hodi and Seeni Sambol among other dishes. The food soon ran out and some left without dinner. This was of course not a burden on the sponsors. It was all free of charge. The restaurant bore photographs of the husband and wife owners on its walls together with Rajapaksa. The fomer President returned to his suite at the Centara Hotel nearby and had a lengthy meeting with a selected group. A few faces were familiar. They were on the front pages of Sri Lankan newspapers dressed in suits when President Maithripala Sirisena visited Thailand last November. That even included office bearers of the Thai-Sri Lanka Association in Bangkok. They welcomed Sirisena with open arms then. Now, they expressed the wish that Rajapaksa should soon return to power and assured him of their support and that of the majority of Sri Lankans living in Thailand.
Rajapaksa had planned a visit to Bumrungrad Hospital in Bangkok on Tuesday. However, on being told that it would take some time for the tests to be concluded, he gave up the idea. He was off in the night to Colombo. There was a faux pas at the VIP Lounge during his departure. Sri Lanka Ambassador to Thailand, Kshenuka Seneviratne, was not present to see him off. Though the Sri Lanka Embassy had given a list of persons who should be allowed into the VIP Lounge at the Suvarnabhumi airport. There were many who were not on the list. It transpired that the Thai language speaking Sri Lankan had talked to the security personnel there claiming that they were those who had been cleared though not on the list. The result, an official source said was a Third Person Note (TPN) from the Sri Lanka Embassy to the Thai Foreign Ministry protesting against allowing those not named thus causing what could be a serious security threat to the former President. The drive to the hotel from Suvarnabhumi airport and the return road journey were in the Sri Lankan gem dealer's Mercedes Benz. The trio who claim are the 'sponsors' of the visit have now put a list out to collect money, at least a part of what they spent. Of course, the selfies they took on their mobile phones will remain their passports to flaunt before Thai officials to show their closeness to the former President. According to an official of the Cambodian Embassy in Bangkok, a Sri Lankan showed a picture of him with Prime Minister Ranil Wickremesinghe, to show off his connections when his visit visa was being delayed.
If Thailand was the first country Rajapaksa was to visit since losing last January's presidential election, more trips are now being planned. Later this month Rajapaksa and a large entourage will visit Uganda. A deputy minister in the Government of President Yoweri Musseveni had extended an invitation for him to visit that country. A letter had been delivered to him. However, there were no such invitations to any dignitary from the present Government. Among those billed to accompany Rajapaksa are former minister Gamini Lokuge, Lohan Ratwatte MP and Uditha Lokubandara, his Private Secretary. Yoshitha Rajapaksa was to be included in the entourage but the Kaduwela Magistrate on Friday refused to lift the travel ban on him. This was after strong objections were raised by the Financial Crimes Investigation Division (FCID). Lokubandara has sought Government help on behalf of Rajapaksa to facilitate protocol arrangements. From Colombo, Rajapaksa and entourage are to fly to Dubai from where they will take a connecting flight to Kampala. There were unconfirmed reports that Udayanga Weeratunga too would join the entourage. However, this could not be confirmed.
Whilst Rajapaksa is the guest of President Mussaveni, described by human rights groups as a "dictator", President Maithripala Sirisena will be a guest of Japanese Prime Minister Shinzo Abe. This will be when the G 7, the informal group of world's leading industrialised nations – the United States, Canada, France, Germany, Italy, Japan and Britain – meet for their annual session to discuss global issues. They cover global economic governance, international security and energy policy among other matters. Sirisena is billed to take part in a number of side events.
Both for Rajapaksa and Sirisena, the just concluded May Day rallies were politically significant. Claims and counterclaims are being made on who drew the larger crowd — one led by President Sirisena in Galle or the pro-Rajapaksa one at the Lalith Athulathmudali Stadium at Kirulapone in Colombo. Like the proverbial tale of which came first, the egg or the chicken, the debate will continue. This notwithstanding, there are important messages conveyed by the crowd turnout which was essentially a popularity test for both Sirisena and Rajapaksa since the presidential election on January 8 last year. There are plus points for both sides.
For Rajapaksa and his allies, the turnout was salutary if not encouraging. There were more crowds than those who took part at the 'Joint Opposition' rally at Hyde Park in mid-March. It is not an exaggeration to say that Kirulapone turnout was more than twofold. This is despite a court order prohibiting supporters from converging at the Shalika Grounds in Narahenpita to begin a procession to Kirulapone. Organisers also claimed that the state run transport boards did not provide them buses to carry supporters. The question is whether the 'Joint Opposition' can continue to sustain its campaign to promote Rajapaksa. One irritant that came to light this week was resentment among some over the re-entry of former Economic Development Minister Basil Rajapaksa into the fold. That Basil antagonised many MPs of the previous administration by not heeding their many requests is no secret. The angry group is now having private consultations with Minister Mahinda Amaraweera to ascertain whether there was a place for them in the Sirisena fold. In a strange way, the 'Joint Opposition' finds itself in an advantageous situation. The public anger over the increase in VAT is turning in its favour though the Government claims many essential items will not be affected. The Government is turning the VAT controversy from not what is being taxed, but what is not being taxed. But, for a mobile phone call one makes, the user pays fifty per cent of the charges as tax. And every household has one or more mobile phones. Thus, it would be the public mood that will continue to sustain the 'Joint Opposition'.
For President Sirisena, the turnout in Galle is an achievement too. When he was voted to office after the January 8 election last year, the Sri Lanka Freedom Party (SLFP) was not within his reach. It is only thereafter that he became leader. Though controversial, he later recruited defeated candidates giving them ministerial and other positions. The process continues but he is yet to achieve total control of his party. Concerns also remain that he is only paying lip-service to clean politics and political expediency is his priority.
Underscoring one such concern at last Tuesday's ministerial meeting was Health Minister and official Government spokesperson, Rajitha Senaratne. He was bold enough to charge that UNP ministers were now reluctant to speak publicly about bribery and corruption. He alleged that it was a UNP minister who had provided his vehicle and personal security detail to accompany Basil Rajapaksa to the airport when he was headed for the United States after the presidential election. He said that civil society organisations which supported the Government in the belief that it would fight bribery and corruption were now up in arms. He said they had planned a news conference for next week to announce an agitation campaign over the matter. Minister Senaratne's comments came after Premier Wickremesinghe had tabled a memorandum detailing development plans in the coming two years. This is in the wake of the International Monetary Fund (IMF) recommendation to its board of directors to grant Sri Lanka an extended credit facility of US $ 1.5 billion.
Wickremesinghe was away on a private visit to Singapore. Sri Lanka's image suffered a severe blow over two different incidents in Parliament. One was the rowdy behaviour of some MPs' which led to the suspension of two for just a week. They are Palitha Thavarapperuma (UNP- Kalutara District), Deputy Minister of Cultural Affairs, and Prasanna Ranaweera, (UPFA -Gampaha District). It was funny if it was not so tragic, that the Speaker Karu Jayasurity had to refer to the suspension of the two MPs as "garu " (Honourable) Thavarapperuma and 'garu" Ranaweera.
When Parliament sittings ended on Friday, the next sittings will be on May 17, after a break of ten long days. This naturally covers the seven-day suspension period.' Joint Opposition' Leader Dinesh Gunawardena told the Sunday Times, "The suspension contravenes Standing Orders of Parliament. It requires that an erring MP be suspended forthwith. The Speaker has the power to do so for a day after the incident but a resolution had to be moved and the MP in question given an opportunity to speak on the accusation. I have already raised this issue at a party leaders meeting."
The second incident was downright laughable. Most Government MPs including Chief Government Whip and his deputy were at the showing of the movie Pattini at a cinema in Borella. The film has been produced by Dr Milina Sumathipala, mother of Deputy Speaker Thilanga Sumathipala. Chairing the proceedings of the House was Lucky Jayawardena, Kandy District MP. Earlier, at a party leaders meeting it had been agreed that a supplementary estimate for Rs. 55 million be passed without a vote. However, when it came to voting time, Janatha Vimukthi Peramuna (JVP) leader Anura Kumara Dissanayake found a depleted House and proposed that a vote be taken. It was declared after the count that 33 had voted in favour and 31 against. However, by Thursday evening, Opposition MPs who felt there was something wrong sought to go into the matter. Video footage of the proceedings were examined and it soon transpired that the voting was a tie – 31 on each side. Opposition MPs blamed it on Parliament Secretary General Dhammika Dissanayake. Now, a four-member Committee has been appointed by Speaker Karu Jayasuriya to go into the matter, while the JVP and the 'Joint Opposition' are asking for a recount. And they want Parliament given more powers with a new Constitution.
The Weeratunga passport saga is a clear example of how the Government's election promises to probe the previous administration's acts of bribery and corruption are moving at snail's pace. It is no secret that public discontent over the matters has reached such heights that some believe the wrongdoers are being protected by those who are powerful and influential. President Sirisena has declared that some tough decisions would have to be taken in the days ahead. He has been saying this for some time now. One can only hope it includes giving effect to the promises he made to deal with those who have amassed millions upon millions of public funds and continue to enjoy them.
Just this week one suspect who was remanded for weeks on allegations of amassing such ill-gotten wealth, now joining the Sirisena forces, was brazen enough to come out in public and slam 'political opponents' for ruining his good name. He blames one member of the Rajapaksa family and says everything is being put on him. He's lily-white, he claims. And so, we witness the vicissitudes and fickleness in the fight against corruption from the political circus in Sri Lanka.