A fracas in the Well of the House
View(s):

My Dear Karu,
I am writing to you because there appears to be something seriously wrong in that place by the Diyawanna Oya where you are supposed to be in charge. It is said to be the 'august assembly' of the country but I don't think it can be called august in any way- not even in the month of August!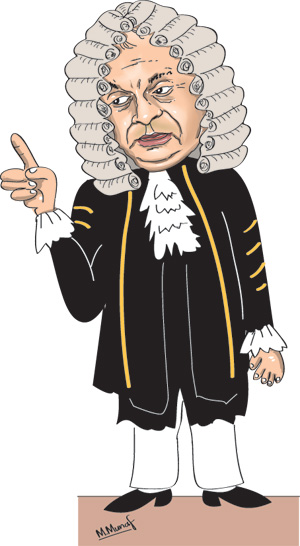 When we heard that there was a brawl that left one chap in hospital, we thought that this must have happened in a kindergarten for delinquent children. Instead, we learnt that all this took place near the Diyawanna Oya, where we send people to represent us by voting for them every five years or so.
They say that all this happened when the Field Marshal was speaking about the decision to change Mahinda maama's security. We all know that the Field Marshal has his own way of expressing his ideas and that Mahinda maama is not on his Christmas card list, but what followed was disgusting.
Those who call themselves the 'Joint Opposition' or 'JO' behaved as if they are still in government, making various demands. They couldn't bear it when Mahinda maama was being attacked by the Field Marshal, so they started calling him 'Vel Vidaaney', the name coined for him by Justice Wijey.
Like a class of unruly children, they tried to get what they want by shouting at the top of their voices and storming the well of the House. The place by the Diyawanna Oya is for the purpose of expressing different opinions but those in the 'JO', like their leader, don't seem to tolerate different opinions.
One can imagine the likes of 'Morning' enjoying the melee and jumping up and down like a toad in heat but it was sad to see the son of the Boralugoda Lion howling like a hyena and hurling crude insults at you. With his ancestry, age and experience we did not expect such behaviour from him.
It is ironical that Mahinda maama, the reason for all this, was absent. Maybe he was resting after Kirullapone. It is a pity that Comrade Vasu was also not there at that time. Had he been there, the schoolchildren in the gallery would have certainly enhanced their knowledge of Sinhala literature!
The brawl that ensued saw one chap in hospital but left all of us wondering why we are wasting tax payers' money to maintain such a bunch of hooligans, giving them all the perks and privileges that the rest of us can only dream of. In a way, we are to blame because we send them there to represent us.
Though this was enough drama for a long time, the very next day there were only five dozen members in the house because most of them were invited to a movie premiere by your deputy, the dark horse and even then, your staff couldn't get the numbers right when they were counting the votes!
So, Karu, you have a big job on your hands. You not only need to control a bunch of unruly chaps, you also need to teach your staff how to count. Maybe you should pack them all off to a Montessori somewhere where the members will be taught discipline and the staff how to count, at least up to 225!
The next thing we hear is the punishment for those who misbehaved. They have been suspended for a week, we are told. I know it was not your decision, but surely, Karu, even a cricketer who disagrees with the umpire's decision gets a harsher penalty than that, losing a percentage of his match fee.
I'm sure these chaps will use that one week to give their bruised limbs a well-earned rest and be back at it again when you meet next. Now, Karu, this is where I think I can be of help. I have some suggestions as penalties for future offenders which I am quite certain will prevent behaviour like that.
For the first offence, you can take away their telephone, personal staff and petrol allowances. If, they do it again, you can take away their government vehicles and security. If they offend again, their duty free permits should be withdrawn and if it happens yet again, their MP's pension should be cancelled.
Karu, these privileges are why most people wish to get in to the House by the Diyawanna Oya, so withholding them is the only way to make them behave properly. I am almost certain that what happened last week will be repeated, so try this next time and let me know how it works, will you?
Yours truly,
Punchi Putha
PS: It seems strange but all those who were instrumental in harassing the Field Marshal a few years ago seem to suffer tragic consequences. Ah, Justice Wijey must be shivering, wondering whether he is next on the list and what fate awaits him!