It takes two to political corruption
View(s):

UNITED NATIONS – When Mobutu Sese Seko, one of Africa's longstanding dictators was president of the Democratic Republic of Congo (1965-1997), he was vilified as one of the world's most corrupt leaders.

Arriving in the US with a predictable plane-load of political cronies, his pilgrimages to Disneyland were legendary – not forgetting his visits to his favourite hair dresser in Lexington Avenue in the UN neighbourhood, a laboriously long journey from the capital of Kinshasa.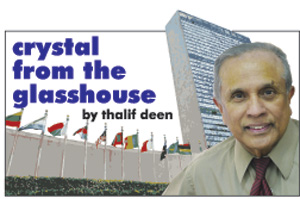 At one of his news conferences, Mobutu was asked whether it was true he was the second wealthiest political leader in the world. "It's a lie. It's a lie,' shouted an outraged Mobutu –and then added the punchline: "I am only the third richest."
At least, he displayed a streak of unintended honesty despite his pervasive corruption. Since it takes two to do the political tango, Mobutu's corrupt practices were facilitated by contractors and arms merchants from Western nations who bribed their way to help build roads, construct high rise buildings and equip his armed forces.
Like Mobutu, visiting Sri Lankan politicians were known for their extravagant lifestyles overseas, including five-star hotels, unlimited overseas calls, pay per-view porno movies and trips to Niagara Falls and Atlantic City casinos – all at tax payers' expense and on government handouts (as revealed by the Sunday Times last year).
Enter a former presidential henchman — known in Italian Mafia jargon as the enforcer reputed to break knee caps and beat diplomats into submission. As a member of a visiting official delegation, he asked a Sri Lankan ambassador in a West European capital to buy two of the most expensive Tablets at discounted prices. Tax-free or duty-free, or both.
But there was no indication the ambassador, who had used his own credit card for the purchase, was to be reimbursed. When the ambassador gently reminded him about the payment just hours before he took off, the only response he got was: "Don't you put through deals and make commissions." Told he wasn't, the ambassador was advised: "You have to learn to do it." The immoral of the story is that Sri Lankan politicians are best known for their acts of omission and commission – mostly commissions.
The recent revelations of offshore shell companies and secret bank accounts registered in Panama have once again turned the spotlight on tax evasion at the highest levels of government – including in Western Europe, proving that corruption is not an intellectual monopoly of Third World leaders.
The victims of the revelations have included Prime Minister Sigmundur Gunnlaugsson of Iceland (who stepped down from office), President Petro Poroshenko of Ukraine and close associates of Russian President Vladimir Putin. As the saying goes, we hang the petty thieves and appoint the great ones to public office.
The 11.5 million confidential files, spanning nearly 40 years, include the names of the late father of the British Prime Minster, the children of Pakistan's Prime Minister, the brother in law of China's President, a nephew of the South African President and cousins of Syria's President. But there is more to come as investigators and journalists keep digging deeper into the files. Will Sri Lanka be far away?
Speaking of secret bank accounts, one of the longstanding anecdotes floating in the corridors of power at the UN is the story of an unnamed African prime minister who walks into one of the leading Swiss banks for a one-on-one closed-door meeting with the chief executive officer (CEO). After the usual pleasantries, the African says he is aware the president of his country was funnelling his ill-gotten gains into a numbered account in that bank.
And suddenly, the prime minister pulls out a gun and threatens to shoot the bank executive if he does not reveal details of the secret bank account. "And I have diplomatic immunity," he warns.
The bank executive, who apparently values the integrity of his bank more than his own life, refuses to breach the sacred rules of the bank by disclosing a client's bank account for outside scrutiny. "Even if you shoot me, I will not give you that information," he adds. Or so the anecdote goes.
The Prime Minister, elated with the response, pulls back his gun and tells the bank official: "Now that I am sure you will not betray your clients, I want to open an account in your bank." If the anecdote is a fact, I wonder how many of our high ranking political leaders walk into banks in Abu Dhabi, Seychelles and Cayman Islands, armed with revolvers.
When the UN Convention Against Corruption came into force in 2005, then Foreign Minister Lakshman Kadirgamar remarked: "Those individuals who wallow in corruption should be drummed out of politics. Let us be partners in that campaign. The business community will no doubt bear in mind that it takes two to make a corrupt transaction. Be not one of them."
The writer can be contacted at thalifdeen@aol.com