The art of baking bread
By Adilah Ismail
Inspiration is taken from around the world for Paan Paan's namesake product
View(s):
If you were to dissect bread to its barest form it boils down to an alchemy of just three ingredients – flour, liquid and yeast. The team at Paan Paan have taken the science of baking bread and made it an art. When the Sunday Times visits the Paan Paan outlet on Lorenz Road, Colombo 4, last month, it is late in the morning. The compact store sees a stream of people popping in for their day's supply of bread or for a freshly made sandwich and the air is fragrant with the heady aroma of baked bread.
Behind the scenes, dough is rapidly moulded into hefty, circular loaves while deep serrations are made on oblong loaves which have finished proofing and are ready to be popped into the oven. It's not just bread at Paan Paan – in another room, flattened shortcrust dough is cut into circles to make vol-au-vent cases and a tray of assorted sweets is prepped to be dispatched.
While its stores offer a variety of baked goods, it is Paan Paan's namesake product which has cemented its reputation over the three and a half years it has been in operation. Its lengthy bread list spans health bread, regular white breads, flatbreads, buns and special made-to-order breads such as coloured sandwich bread. Aboo Yusoof, Director of Lanka Premier Foods, a subsidiary of Expolanka Holdings, explains that the business started with supplying bakery ingredients but then expanded into its current avatar after noticing a gap for good bread.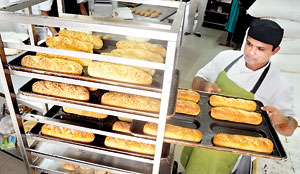 There's an emphasis on healthy breads in Paan Paan's repertoire. Picking out a multi-seed low GI bread from the display, Yusoof points out that products like these include healthier ingredients such as oat, sunflower seed, linseed and pumpkin seed. Damithri Nadishani manages quality control at Paan Paan and explains that while Paan Paan stocks a variety of regular white breads, there's an eye on its health aspects across all ranges. There's a conscious effort to reduce the percentage of white wheat flour in the recipes and the breads have no additives – Paan Paan makes sure not to sell any bread which has been on the shelf for more than 24 hours.
Paan Paan's health breads afford some interesting options – from the heavy, coarse rye bread and wholemeal breads to brown kade paan, which takes the humble kade paan and gives it a healthy makeover with olive oil, honey and wholemeal flour. Its product range has expanded to include flatbreads such as naan and chapatti and you'll also be able to pick up the Indian pav bread at its outlets.
Its regular white bread line consists of bread such as ciabatta, French baguettes and garlic bread as well as other bread related products such as cheese and herb submarine bread, bread sticks, croutons and dinner rolls. Even its white bread line has its fair share of surprises beyond the standard supermarket sandwich bread. The white kade paan substitutes butter for shortening and Paan Paan's bartusa bread looks to Spain for its flavours and has black pepper, olives and bell pepper baked into its dough. The bakery's milk bread is an interesting rendition of a Swiss inspired bread and is a fluffy, creamy white loaf which can be eaten alone with a daub of butter.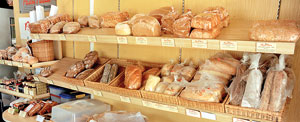 Chef Jagath Wijesinghe explains that in addition to its range of products, there's constant experimentation in the kitchen. Inspiration is taken from around the world and recipes tweaked to suit a local palatte. This has given rise to a featured bread of the week to highlight the varieties of bread available. One week saw a line of corn bread hit the shelves, while milk bread, bartusa bread and raisin bread have also been featured.
Paan Paan is located on Lorenz Road – Colombo 4, Alfred House Road – Colombo 03, Havelock Road – Colombo 05 and Sri Jayawardenepura Road – Rajagiriya. They offer bread, savouries, sweets as well as melts, submarines and sandwiches. For more information, they can be contacted on 0114388488