Suspense, laughter and dose of social satire
By Minushi Perera
Indu Dharmasena's new play ' Keeping up with the Pereras' to be staged at the Lionel Wendt
View(s):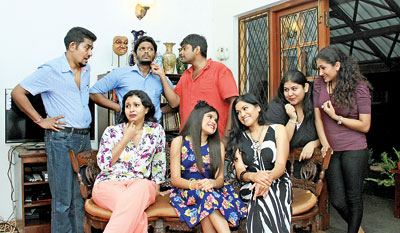 It's time for some laughs. Popular playwright Indu Dharmasena has an explosively funny mix to give his audience a bit of suspense, lots of laughter and a good dose of social satire in his new play 'Keeping up with the Pereras' which will be on at the Lionel Wendt theatre on May 6, 7 and 8 at 7.30 p.m.
The story portrays an ordinary couple with issues that any couple would be probably facing in life. But Dulanthi Fernando's obsession with keeping up with her high society friend Apeksha Perera, combined with the machinations of their curious and gossipy neighbours set a hilarious train  of events in motion, coupled with the arrival of a deaf uncle.
The conversations between the Fernando couple and their two noisy neighbours may seem all too familiar to a Sri Lankan audience.
Indu, who plays Ramesh Fernando, husband of Dulanthi says his character is a normal and practical person who gets annoyed with his wife for trying to mimic the things the Perera family does ending up in trouble.
Sanwada Dharmasena who takes on the main role of Dulanthi quips that the character is an exaggerated version of herself. "Surely most women can relate to her -Dulanthi is the typical housewife of an uppish family," she chuckles.  "Not laughing on stage is quite difficult for me but we have to keep it in because if any of us laugh the audience will be confused," she says when asked of the difficulties of such a role.
The Wakwella sisters Shashini and Ruwendi play the gossipy neighbours Cassilda Silva and Manik Mendis, trying to climb up the social ladder. "There is a lot of character to bring out in the two neighbours especially since we are not like them," Shashini finishes Ruwendi's sentence with a smile.
Yasal Ruhunuge plays the role of Charlie Fernando, Ramesh's uncle, an old man who is in denial over a lot of things including his hearing problem. He is prone to make the situation in the Fernando household worse. "I tend to forget that I'm playing the role of an old person," Yasal grins.
Coming from a family of actors, mother and daughter Lanka Wijesena and Kehara Edirisinghe play the roles of mother and daughter Apeksha and Arya Perera. Lanka describes her character as a simple, down to earth lady who has to keep up with everyone for the sake of her family. It is Kehara's first time in a public show and she loves being a part of the play.
Anushan Selvaraj plays the character Kapila, Ramesh's brother-in-law who is compelled to come to the Fernando house to pick up Uncle Charles because Dulanthi doesn't want him to be there when her friends come for dinner.
The shows on May 6 and 7 are presented by the Kingswood College Kandy Colombo Union in aid of their school projects and the performance on May 8 is presented by the National Council for Mental Health – Sahanaya.
Tickets priced at Rs.3000, Rs.2500, Rs.2000, Rs.1000 and Rs.500 (Balcony unreserved) are available at the Lionel Wendt.