Project BEAP building new partnerships
By Adilah Ismail
View(s):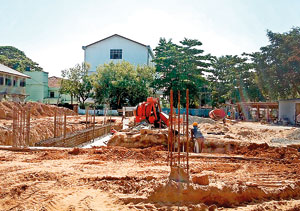 In November last year, the Sunday Times covered a public-private sector partnership to build a new Emergency and Accident Unit at the Batticaloa Teaching Hospital.  The project is now beginning to get off the ground.
Speaking to the Sunday Times, CEO of Project BEAP – Nihal de Run, noted that with the breaking of ground and laying of the foundation, construction work has continued with the elemental framework of the new building now beginning to emerge. With a tangible advancement of work, the financial support pledged by donors and corporate sponsors has also seen progression. While the response by pledged donors has been heartening, Project BEAP is currently seeking to forge new partnerships with potential sponsors and donors to complete its funding requirements.
The new Emergency and Accident Unit is scheduled to be completed in 24 months and is funded through a public and private sector partnership between the government of Sri Lanka and the Foundation Supporting a National Trauma Service in Sri Lanka.
Project BEAP (Batticaloa Emergency Accident Project) was a non-profit project initiated under the Foundation Supporting a National Trauma Service in Sri Lanka. The Foundation was established in 2011 and supports doctors in Sri Lankan Teaching Hospitals. While Project BEAP is a key part of its activities to augment Sri Lanka's regional medical services, the Foundation also teaches and trains surgeons around the island and assists with infrastructure requirements in Teaching Hospitals.
A fundraiser featuring an evening with Kumar Sangakkara, an ambassador for the project, was held in Victoria, Australia earlier this year in the company of supporters, donors and varied sporting personalities. Plans are on the cards to have more fundraisers both in Colombo and Melbourne and meet its funding requirements, building partnerships with other corporate donors, keen to support the improvement of Sri Lanka's regional medical services.
As a teaching facility, trauma centre and as a provider of specialised medical care, the Batticaloa Teaching Hospital is a key medical hub in the Eastern province, providing medical care to nearly two million citizens who live in the surrounding districts. Once a Provincial General Hospital, the hospital was upgraded to a Teaching Hospital in November 2006 to meet the needs of the Eastern University's Faculty of Medicine.
The Foundation Supporting a National Trauma Service was established as a trust with Dr. David A. Young, Nihal de Run, Nalin Pathikirikorale, Indrajith Fernando and Yoland (Bobby) Hansen as its trustees in Colombo. It was also granted legal status in Australia. Former Governor of Victoria, Prof. David de Kretser, serves as patron while Dr. Ranjith Hettiarachchi and Abbas Akbarally serve as vice patrons. Cricketers Mutthiah Muralidharan, Kumar Sangakkara, Dav Whatmore and Shane Watson serve as ambassadors for the project.
The construction of the Emergency and Accident Unit at the Teaching Hospital, Batticaloa is handled by the Central Engineering and Consulting Bureau of Sri Lanka (CECB) while Gunaratna Associates are architects for the project. If there are donors and sponsors who are interested in supporting the project, please visit http://www.projectbeap.org/ for more information and updates.