Historic and scenic
Dhananjani Silva explores some of Gampaha's diverse attractions in our 'All in a day' travel series
View(s):
It's a bright Wednesday morning and we are in the middle of an ancient monastic cave complex spread approximately across 200 acres, admiring the flora and fauna around it.
The famous Pilikuththuwa cave temple was the starting point of our 'All In a Day' travel series that took us exploring some of the key attractions in Gampaha. Having reached Gampaha in less than one and half hours via the Colombo- Kandy road, we took the right turn from Miriswatte junction on Warana Road to reach the historic Pilikuththuwa temple situated at a distance of about five kilometres from Miriswatte junction.
One aspect that makes Pilikuththuwa a dynamic site is its extensive cave network. The Department of Archaeology has identified and gazetted 78 caves for conservation due to their historical importance.
The history of Pilikuththuwa spans from the pre-historic period to the Kandy era. A location that had originally served as a meditation retreat of the hermit monks, Pilikuththuwa had later been turned into a cave temple (len viharaya). Here you find caves with drip-ledges (kataran). There's evidence to suggest that they were used in the 2nd and 3rd  Century BC as Sangawasa (abodes of the monks), according to Archaeology Department sources.
According to folklore, King Walagamba who had occupied Maligatenna, Warana area in Gampaha to evade South Indian invasions, is believed to have kept his clothes and jewellery in one of the caves here, and the Sinhala term for clothes being pili, the place was then known as Pilikuththuwa, a priest at the temple told the Sunday Times. It is said that the king's guards were occupying the caves in Pilikuththuwa.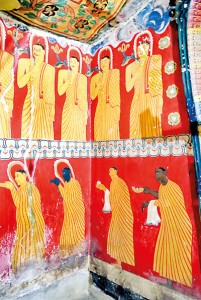 Exploring Pilikutthuwa, would take at least a good four to five hours- but it is an experience well worth your time.
Some of the striking aspects found within the temple precincts include three main abodes (awasa) of the monks – believed to have been inspired by the English, Dutch and Kandy period architecture.
While an old building with a long verandah which has a very colonial look and feel to it currently serves as the main abode of the resident monks, two separate abodes standing tall beneath a few drip ledged caves you find on to your right are considered structures that have the Kandy and Dutch period influence.
Curiosity takes us in that direction and we were able to see a palanquin (dolawa) in one of the awasa said to have been used by a monk who visited the temple back in the day.
Another archeologically protected monument found at the temple compound is a wooden bridge that has the Dutch and Kandy period influence. The wooden bridge is constructed to facilitate easy movement between the two abodes for the monks as there is a stream that flows there.
The temple also has an extraordinary image house with rare paintings of two Portuguese soldiers found at the entrance and images of Buddhist nuns (bhikkhunis) painted on the wall. These murals very clearly have stood the test of time despite being slightly disfigured.
There is more to explore at Pilikuththuwa….
Part of the fun here is climbing up the summit of the rock.  With no clear path but only some uneven stone slabs to tread on and boulders and creepers as substitutes for a railing to hang on to; the climb up to the peak known as the Belum Gala (implying watch tower) can be only for the fit and adventurous.
We traversed a haven of flora and fauna to get to the summit, with occasional stops to survey the network of caves that we came across as we walked by.
The giant 'pus wela' creeper you find along the way is also something worth seeing. This enormous vine is believed to be over 400 years old.
We reached the summit in about 45 minutes time and took in the absolutely breathtaking, panoramic view of the surrounding areas of Maligatenna and Warana, Koskandawila.  Local folklore says the summit was used as a strategic watch tower by King Walagamba's guards to keep an eye on possible enemy advancements. Today the area quite secluded and undisturbed by human presence.
Along the way to the summit, we only met two or three occupants here, while at the far end of the summit is a small house occupied by a 93-year-old woman living all by herself, whom we approached to ask for some water to quench our thirst. (You definitely need to carry a bottle of water up there to keep you hydrated!)
Not far away from Pilikuththuwa is the Averiyawala Ambalama – our next point of visit.
A wayside rest located beside a natural pond overlooking a scenic paddy field, legend has it that King Walagamba who was travelling towards Pilikutthuwa, stopped here to break journey. The queen who bathed at the natural pond here had lost her hair extension (hawariya) at the particular location and the place was named Hawariyawala, and later, Averiyawala.
Though declared as an archaeologically protected monument, Averiyawala Ambalama still serves as a wayside rest for those traveling to Adam's Peak by foot, Saman, a villager who was working in the field nearby said. This area has quite a few resting places such as this as people sometimes take the route via Urapola to travel to Adam's Peak, he adds.
In ancient days too, these ambalama were built to provide shelter for those who travelled to Adam's Peak on foot.
Another resting place we visited was the famous Gal Ambalama in Ambagaspitya. This tile-roofed, spacious structure adorned with carved stone pillars is also an archaeologically protected monument, said to be over 1000 years old, although details about its origin are not available.
Our next stop was at the Henarathgoda Botanical Garden in Asgiriya Gampaha, a spot originally picked for propagation of rubber seeds brought from Brazil as far back in 1876. It later became one of the strategic rubber seed and plant distribution centres in the South Asia region following a few successful experiments. The garden was expanded, being used for trial of economic and ornamental plants until it was developed into the fully fledged botanical garden that is found today. Interestingly, here you still find a part of the roots and the stem of the first rubber tree planted in 1876.
Spread across 43 acres, this is a beautifully laid out botanical garden with an array of botanical and horticulture attractions and a wonderful plant collection. Adorned with flower beds and arches, the garden features a variety of plant collections and small plant houses sheltering orchids and anthuriums.  Here you also find a fernery, a fruit garden with exotic fruit varieties and a collection of endemic plants.
One can find plenty of leisure options here from relaxing in the recreational areas and play areas to climbing the tree house or going on pedal boat rides at the lake.
Another interesting landmark in Gampaha is the Henarathgoda old railway station. Constructed by the British in 1864 for the purpose of transporting tea and coffee to Colombo from Kandy, this railway station is considered the one of the oldest stations along the Colombo-Kandy rail route when train services to Ambepussa first commenced.  In the 1950s, the original station had been abandoned as a more modern railway station came into place but the old station was gazetted as an archaeologically protected monument and conserved by the Department of Archeology.
The old railway station building is located adjacent to the new station in the heart of the Gampaha town in the Main Street. Should you be interested in taking a walk around here, you will find a few interesting places in this area too- a vibrant market place, a beautiful church and of course the iconic volleyball statue which is a famous landmark in  Gampaha – the latter being symbolic of the reputation that Gampaha has earned as a centre of volleyball.