3D printed wedding dress
View(s):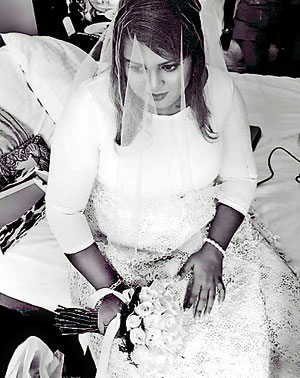 Fashion designer Charlene Thuring, founder of c.h.a.r.l.e.n.e,  a brand that encapsulates the fashion forward girl, recently made a bride's wildest dreams come true with a unique concept for her wedding day. The young designer, who has showcased her collections at Colombo Fashion Week, conceived Sri Lanka's first 3D printed wedding dress and made it a reality with Sri Lanka's first rapid prototyping firm, 3D Concept Studio.
"Ever since I first heard of this amazing invention I could not stop thinking about how I could use it in my collection," said Charlene Thuring."At the same time I had to wait for the right client that would accept it as it had not been used in the Sri Lankan fashion industry yet and so was not at all conventional. The client who came to me with a rather unusual wedding dress request was ideal as there was nothing that I could have done traditionally to meet her expectations."
While keen on utilising 3D printing in her collection Charlene was new to the technology herself and was only able to envision its incorporation into her distinctive style with the guidance of 3D Concept Studio.
Technology and fashion have always had a symbiotic relationship allowing designers to push the envelope and envision bolder styles. However, the global trend amongst big name brands and haute couture labels of experimenting with 3D printing has yet to seep into the local industry. Despite this fledgling experiments like Charlene's move the boundary between imagination and reality and put designers like her ahead of the curve when the technology becomes more widely used in Sri Lankan fashion.
"Despite it being her first time with 3D printing Charlene utilised it expertly," said Nissanga Warnapura, CEO and Founder of 3D Concept Studio. "The final dress was not only beautiful but also gave the bride the freedom to seamlessly transition from wedding ceremony to reception, as the skirt could be removed and replaced with one more comfortable. 3D printing holds a lot of potential for the fashion industry in Sri Lanka. Our designers can now let go of traditional constraints and explore a wider array of shapes and designs."