Stigmata to enthral audiences next Sunday with 'Refuse/Resist'
By the Night Owl
View(s):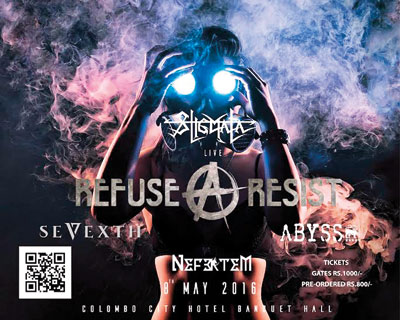 Have you ever wondered what a local gig of heavy metal music entails? If you have never watched such an event, where the raw power of the music and performance has you either head banging or at least bobbing to the beat, regardless of what your preference in music is, you need to grab a ticket and check this event out.
Aptly titled 'Refuse / Resist' after Brazilian heavy metal band Sepultura's hit, Stigmata are bringing to you an evening of pure Sri Lankan metal on May 8 at 5 p.m. at the Colombo City Hotel (opposite WTC in Fort), Banquet Hall along with a lineup of local bands that have encapsulated the spirit of refusing to resist the norm. Blazing new acts Nefertem, Abyss & Sevexth will share the stage bringing their own unique flavour of music from Doom Metal to Thrash Metal to Groove and Deathcore with elements of their own creative magic.
Many these days are caught up in the euphoria of mainstream music, artists and international acts. However within our own realms there exist the select niche music-makers who have won international acclaim and have stood the test of time. Stigmata is one such entity. Being Sri Lanka's first heavy metal band, they brought to the fore a genre of music that is complex and intricate in its form, structure and  lyrics but is unfortunately misunderstood by many due to misconceptions and a lack of understanding of something different.
"Our music stems from a real place. We believe in what we do and that is why people who try to, can understand what we are saying through our music. Each of our songs has a message both personal and political in that we sing about child abuse, war and persecution amongst a whole host of other themes," says Stigmata frontman Suresh de Silva.
With 16 years to their name, four original albums and performances in New Zealand, Dubai, Bangladesh, Australia, Maldives, Malaysia and India, Stigmata are a force to be reckoned with. The band was formed when a bunch of schoolboys – Suresh de Silva (Vocals), Tennyson Napoleon (Rhythm guitar) and Andrew Obeyesekere(Lead guitar) – came together to create heavy metal music with a unique Sri Lankan touch. Now joined by Taraka Senewiratne (Drums) and  Lakmal Wijayagunarathna (Bass) their trademark is incorporating elements of Sri Lankan music, rhythms and drums into heavy metal music which results in a fusion of what they term 'Pure Sri Lankan Metal'.
Their instrumental anthem 'Andura' which incorporates bits of the Gajaga Wannama is probably one of the most popular tunes in Sri Lanka today and was even played for local cricketing great Kumar Sangakkara as he walked on for his final One Day International Cricket match.
Original music in Sri Lanka unfortunately does not get its due recognition locally due to many notions. In this context it is truly commendable that bands like Stigmata, Sevexth, Nefertem and Abyss are pushing the boundaries and proving to local audiences and the world that we are capable of creating our own kind of musical magic that is on par with international acts.
Add a bit of spice to your Sunday evening and support Sri Lankan originality on May 8 when these four bands bring to you an evening of unprecedented musical power and energy.
'Refuse/Resist' is supported by the Sunday Times, TNL Radio, Sindu TV, Decibel.lk, Z World and Colombo Favorites. Early Bird tickets will be available at the Colombo City Hotel, through each of the Bands, the Organisers; Arcane Productions on ‪+94 77 923 4599 and +94 77 728 7776. 
Check the Official Facebook Event Page for details: https://www.facebook.com/events/1261761067177110/