He was music and he wrote the songs
Bidding goodbye to a legend
View(s):
The end of the voice behind the "Purple One" was sudden and it took the whole music world and fans alike by surprise. Standing at only 5.2 ft, the icon Prince went away suddenly on April 21. His fans were in a state of shock when the news broke. But it all turned out into a celebration as they sang and danced to his song such 'When Doves Cry', 'Let's Go Crazy' and the iconic track 'Purple Rain'. Famous landmark buildings in parts of the US were illuminated in purple – the colour associated with Prince, after his Gammy and Oscar winning film and song 'Purple Rain'.
His music was pop funk and appealed to cross sections of people. It was a treat to hear the brilliant guitar riffs from his recording or live performances. Prince was a gifted artist. He was multi-instrumentalist apparently able to play 27 instruments. He could claim credit for pioneering short word messages way back to 1981 on song titles and lyrics, evident on the track 'Jack U Off' from the album 'Controversy'. There were other songs like 'I Would Die For U', 'I Wonder U', 'U Got The Look' and many others, recorded on his own or for his part time projects.
Success on home ground was achieved in 1979 when his self titled album spawned the hit song "I Wanna Be Your Lover." People took note of the new style of funk and pop combined with R&B. The music there after suffered a few hiccups until '1999', splashed out in 1982 from the album 'Controversy'. In 1984 at the age of 26 he hit a bull's-eye with album 'Purple Rain' as it generated his first No:1 song 'When Doves Cry' in the US. The introductory guitar riff was like a magnet. The follow up 'Let's Go Crazy' gave him a back to back No: 1. The film Purple Rain supported the album and the song proper although unexpected failed to give Prince his third consecutive chart topping hit. The film and album won him several awards including a coverted Grammy  and an Oscar. Almost overnight the media nicknamed him the "Purple One". To date the 'Purple Rain' album has sold over 22 million copies around the world.
Female musical talent was encouraged and fostered by Prince as he had many such musicians and backup singers on his albums and touring band. Sheila E was there from almost the onset of his career as she branched on her own but remained part of his team. Names that flash back are Wendy & Lisa, Jill Jones, Apollonia 6, Taja Sevelle, Rosie Gaines and Mayte Garcia  (who went on to become his first wife for a few years) among many other female musicians. Several female artists who got a career boost by his songs he penned were Chaka Khan for 'I Feel For You',  the Bangles for 'Manic Monday', Sinead O'Connor for 'Nothing Compares 2 U' along with  Sheena Easton, Alicia Keys, Madonna, and Celine Dion among others.
Prince was one artist who battled the record labels as his Paisley Park label was distributed by Warner Bros. He accused Warner of trade marking his name making use of him as a pawn to earn money. In protest he adopted a unique and original plan by changing his name legally to an unpronounceable symbol in 1992. No other human has dared such an ingenious move. Radio stations had difficulty in identifying him and so coined the term The Artist Formerly Known As Prince. Later he reverted back to his name but the symbol became part of his stage set. One of his guitars and even the floor of his mansion Paisley Park featured the symbol. Flared trousers never went out of fashion for Prince and indeed it did help blend into his live performances.
Throughout his lifetime Prince remained loyal to his home city of Minneapolis as he set up a home and studio at Paisley Park.
One hundred million albums have been sold and the numbers are rising since the passing away of Prince as new fans are discovering the music of the "Purple One".
The lesser known Prince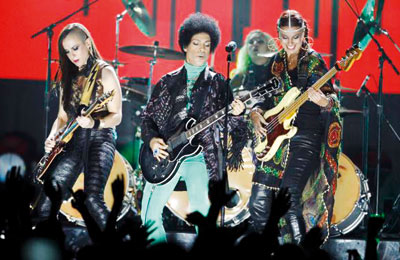 We have lost Music! As the legendary artist, Prince Rogers Nelson once said, to 'The Guardian' in 2011, "… I'm a musician. That's what I do. And I also am music. Come to the show for that." Read on for some lesser known facts about pop legend Prince
 He played guitar for Madonna's song 'Like A Prayer' but was never credited for it.
 Prince initially asked Stevie Nicks to write lyrics for 'Purple Rain'. She turned it down and so Prince went his own way and 'Purple Rain' was born.
 He wrote the soundtrack for the movie, 'Batman', in 1989 which went on to become one of the highest music grossers of its time.
 He fell for Kim Basinger that he wrote an entire album for her. Basinger made a never-released album with Prince, "Hollywood Affair," on which she raps "I'll be your slave" and "I like the way you make me feel."
 He never had a mobile phone.
 He took botleggers out – -Prince fan forums are full of stories of his no-mercy attitude toward bootleggers. An oft-told tale has him showing up unannounced at a Manhattan record store, snapping up their stock of bootleg Prince albums, and leaving.
 When John Lennon was shot in New York in 1980, Prince was staying only a few blocks away. The musician's a huge Beatles fan, and was known to cover Fab Four tracks such as 'Come Together'.
 According to an old profile from Notorious magazine, during a concert in Montreal, Prince, a giant NBA fan, watched a Chicago Bulls playoff game on a TV positioned at the side of the stage, and would amble over to watch while he played his guitar solos. He also apparently tasked a wardrobe girl with holding up the score on cue cards for him to read.
 He thought being asked to sing on "Bad" was an insult.
Longtime Prince confrere Alan Leeds told Vibe, "Michael coming to Prince and wanting him to do 'Bad,' that really pissed him off. Prince was like, 'Oh, he wants me to punk out on record. Who does he think I am, crazy?' He probably couldn't get outside himself enough to realize that it was the kind of thing that probably could have benefited both of them."
 Has a giant vault of unreleased music. Famously productive, Prince is widely believed to have a massive stockpile of unheard music. It is reported that from the stock pile an album can be released every year for a century.
 He took out a nationwide personal ad – In December 1993, ads in several national magazines showed an obscured photo of Prince accompanied by the text, "Eligible bachelor seeks the most beautiful girl in the world to spend the holidays with."
 He did not allow recorded or written interviews
"Some in the past have taken my voice and sold it," he told Billboard. He's not keen on having journalists take notes, either. Why? "That would be just like texting."
 He gave Carmen Electra her name. In an interview with Oprah Carmen Electra said Prince was the one who advised her to adopt the catchy stage name, as opposed to her real name Tara Leigh Patrick. 'He said, "You're not Tara, you're Carmen", and I said, "OK, I can get into this",' she told reporters years ago.
Prince fans
Are you a Prince fan ? Write into us about you favourite Prince lyric and what the Purple one meant to you at mirrormagazine@gmail.com. We will publish write ups on the June 5 issue of the Magazine in keeping with Prince's birthday.