Everest Trek blog: Crossing Khumbu Icefall
View(s):

Jayanthi  Kuru-Utumpala  and Johann Peries who are gearing to summit Mount Everest have already begun their journey – here in a short description they describe the progress they've made as conveyed through their support team in Colombo.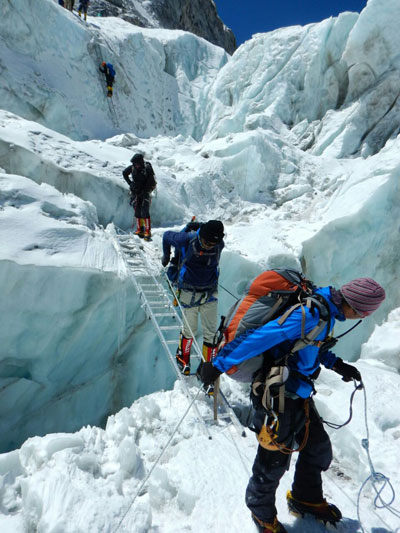 The Khumbu Icefall is at an altitude of 5,486 metre (17,999ft), and it is between Everest Base Camp and Camp 1.  Our training has honed our skills to ensure we are able to cross this safely. An icefall is a section that is only present on some glaciers and can be identified by rapid flows and many crevasses. The Khumbu icefall is one of the most dangerous sections of the Southside route to the summit of Everest hence our training has focused on perfecting our ice climbing skills to enable us to safely cross. This week we did our first crossing of the icefall.  We started at 3am and worked our way up to a designated point 5 hours into the icefall. This was followed by a three hour return down to Base Camp. The trail run was a success and stands us in good stead for our treks to Camp 1 and beyond in the coming weeks.
At such a significant milestone on the journey, both Jay and Johann provided their thoughts on the crossing. Jayanthi commented: "It was like a dream come true to actually walk through the icefall! The scenery was stunning but also stark – just massive blocks of ice everywhere and you sort of felt like an ant crossing through it. I found it tough – it was sort of like an obstacle course, as we had to ice climb up some vertical sections as well as cross deep crevasses along vertical and horizontal ladders. Walking across those ladders with crampons on and the wind howling around you was really a bit nerve racking but we did it safely, and it was good to get back to Everest Base Camp. During our altitude acclimatization rotations we will have to cross the ice fall multiple times as we go up and down, and we've been told it will only get easier as our bodies acclimatise to the lower levels of oxygen. So I'm looking forward to that!"
Johann said: "Seeing it in photographs and in movies is all so beautiful but actually being in it, you really experience the magnitude of it. It seems so overpowering but yet it is magnificent. And it certainly isn't a walk in the park. It is tougher than anything you could ever imagine. A huge physical as well as mental challenge. But the idea is to push on and move forward as we keep facing the challenges that are ahead."