Brownie bliss in 'Skrumptious' style
By Suvini Hettiarachchi and Minushi Perera
View(s):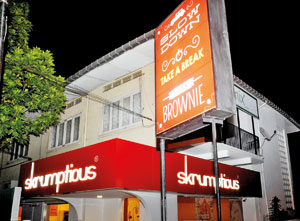 If you have a fancy for delicious brownies, "Skrumptious" is the place for you. In just four years of operation, they have gained a name for themselves and with their new store at 115, Jawatta Road, Colombo 5, are looking to attract more sweet lovers to come savour their treats.
The shop is small but welcoming and can seat around 15-20 people. CEO of "Skrumptious", Nilusha De Silva, 32, a past student of Bishop's College Colombo, completed a Bachelor's degree on Information Systems at Informatics Institute of Technology affiliated to the University of Manchester in Britain and worked as a software engineer for Virtusa Private Limited and a business analyst for Dialog Axiata PLC before launching into 'Skrumptious'.
As a child, she loved baking and watching TV shows on cooking. This led her to create "Skrumptious" for her final year MBA project at the Postgraduate Institute of Management (PIM) after six months of research. Her aim was to focus on one particular product, without making it a typical pastry shop.
"Skrumptious" consists of two companies. One is the store where all the desserts are sold and the other, which Nilusha refers to as "The Chocolate Factory", is where the delicious yet secret mix is whipped up. She had created this unique mix after much experimentation and is proud that  the wastage in the baking process is drastically minimised.
For Nilusha, her employees who have been a great support to her are like extended family. Most of them work part-time as they are studying at university. "I always tell them, 'do the right thing', 'make sure you run'' this organisation like your own', she says.  For the system she has put in place at Skrumptious they don't need to be professional chefs or specialise in the catering industry. "Today if you join 'Skrumptious', within an hour or half an hour, you'd know how to bake," she says.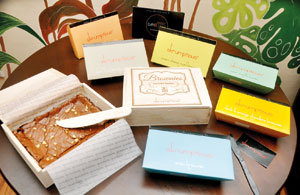 The range of mouth-watering brownies at the store includes Oreo Brownies, Mocha cream cheese swirl brownies, Dark and white chocolate brownies, Peanut butter cookie brownies etc as well as popular desserts such as Chocolate mousse and Chocolate biscuit pudding, all within the price range of Rs.350- 2000. "Everything that we sell here are our own, unique recipes. Everybody who comes to work here would be taught how to do the filling, but the basic mix is our secret," Nilusha explains.
Having started out as a home-based store, Nilusha is thrilled with the growth of her business and plans to expand further in Colombo and then move on to the international market.
Her message to the young entrepreneurs is, "It's about doing something the same way, with the same passion that you started off with."