Kuda Hora
By Kaveesha Fernando
View(s):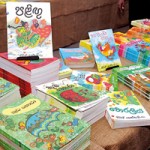 One of the most famous children's stories ever written in Sri Lanka is celebrating 60 years. This book, tells the story of Kos Mama who went to Colombo for the first time to buy his very first umbrella. He is the first person in his village to own an umbrella. When he returns to the village his umbrella gets stolen! This happens every time he buys another umbrella, and no one can seem to figure out who the thief is.
Can you guess the name of this famous story? That's right – it's Sybil Nanda's 'Kuda Hora'. To celebrate this important milestone, an exhibition was held at the J.D.A. Perera Gallery last week. This exhibition was organized with children in mind and there were many fun things to look at and do at the event.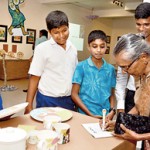 Sybil Wettasinghe was born  in Ginthota – a small village in Galle. She wrote  'Kuda Hora' in 1956. This book has won many awards locally and internationally and has been translated into many languages. She feels that the success of her book is something which every Sri Lankan should be proud of. She is currently 88 years old and still continues to create beautiful stories and colourful illustrations.
One of the liveliest parts of the exhibition took place upstairs. In a hall decorated with a 1000 pictures drawn by children across Sri Lanka, something magical took place. This was the enactment of some of Sybil Nanda's most famous stories – including Kuda Hora.
The Power of Play Theatre group, who acted out these stories, brought them to life with their enthusiastic performances.
It was an enjoyable event for all the children present and even the grownups, who remember this book from their childhoods.
Sybil Nanda hopes that Kuda Hora will continue  to be famous for many years to come! Pix by Amila Gamage