Oceanpick – into the deep to sail high
By Duruthu Edirimuni Chandrasekera
View(s):
Trincomalee – For Fayaz Buhari manoeuvring the rough terrain of Trincomalee in his pickup truck is just another day at the office.  It's no small fry for this young man of 24 years on his first job at a tinned fish farming company. Fresh and armed with a BSc degree in Fisheries and Management from the Ocean University in Tangalle, this Kalmunai native is just 10 months into his job as nursery manager at Oceanpick (Pvt) Ltd, Sri Lanka's first ever oceanic farm for finfish. "This is the pioneer company in Sri Lanka in marine culture finned fish farming," he tells me when queried on what attracts him to this job. You can tell this job has got him hook, line and sinker.
"Our aim is to become the best company in this field in Asia," he says with a huge grin on his face as he drives me from their onshore farm site at Koneshpuri to the bus waiting which will take us to Trincomalee Police Harbour, where the media team will be shown farms in the open sea off the Trincomalee coast, the first such cage system to be set up in the country. Open ocean aquaculture, or OOA, refers to offshore fish farming anywhere from three to 200 miles off the coast. This practice uses circular fish pens in which thousands of fish can be successfully reared. The innovative circular net pens allows the industry to operate further off-shore, tackling all weather conditions in order to provide the fish with good tidal flows and a more favorable natural environment.
Asian Sea Bass
Oceanpick's first choice of species is Barramundi or Asian Sea Bass, locally referred to as Modha, Irfan Thassim, Founder and Managing Director of the company who had got the idea to start this project in 2012 says to the media team who had gathered around their onshore nursery at Koneshpuri, hours before being taken out to sea.  Why Barramundi? Mr. Thassim explains that they can grow to a size of 1.5 to 2 pounds in less than a year. "It is a highly suitable species for ocean fish farming. It contains only 137 calories with only 2.5g of 'good fat' per portion, which is half the calories of salmon, and tops the healthy food choices list.
It is easy to cook and has a dense white meaty texture with no little bones to worry about, plus it doesn't have a strong 'fishy fish' odour that will linger in your kitchens and hands. Barramundi is a super alternative to fish like salmon, cod and tilapia." The native species of Barramundi is widely distributed in the Indo-West Pacific region from the Persian Gulf, through Southeast Asia to Papua New Guinea and Northern Australia, he says adding that in the 12-tank onshore nursery which has fry or young fish (interestingly the term small fry stems from this species, Mr. Thassim says) that will spend two months at this 'flow through nursery' before they are sent to the sea farm.
It is at this 'flow through nursery' where each minute water exchanges to and from the sea happen. It's also where the fry are reared through their early life before they become fingerlings. After decades of industry research into formulating fish feeds, this sector has developed a pelleted diet that is highly stable in the aquatic environment, yet remains nutritionally complete. Diets fed are consistent in quality and nutritional value, adhering to all the nutritional demands of the fish known to modern science, according to Irfan.  Such prestigious diets however come at a high price; diet rations are constantly monitored along with growth, fat content and feed conversion ratios.
The tanks are deep with schools of fish darting to opposite sides, which Mr. Thassim says is their behaviour pattern. This evidently is too much information for a vegetarian (like me) as eventually these fingerlings who'll go on to become meat is not an afterthought in my mind. But what this company stands for supersedes my dark thoughts of the fate of this fish.
Responsible fishing
Oceanpick charters its course on responsible farming that is highly sustainable, to produce high quality seafood without compromising on taste or natural nutrients. Mr. Thassim stresses that one of their main aims is to ensure that this model eliminates the pressure on wild stocks in and around the marine waters of the island, while changing and revolutionising the way Sri Lanka sources its fish. Partnered by a Scottish farming company that pioneered oceanic farming in the North Atlantic some 40 years ago producing salmon, rainbow trout and halibut, Oceanpick with its partners have invested US$4.6 million in the farm.
Now some 400 tonnes of Modha is tinned per month and the company plans to raise this to 1,000 tonnes and a higher number later on depending on the demand. Mr. Thassim says that world statistics show that wild catch to farm catch is 50:50 whereas Sri Lanka with sea all round has a shameful statistic of 95:5 per cent. "We are in the stone age as far as fishing is concerned," he says. Mr. Thassim explained that despite being surrounded by a dramatic and varying coastline, providing the ideal settings for ocean fish farming, Sri Lanka's fishing industry is in dire need of a drastic change from its current operations.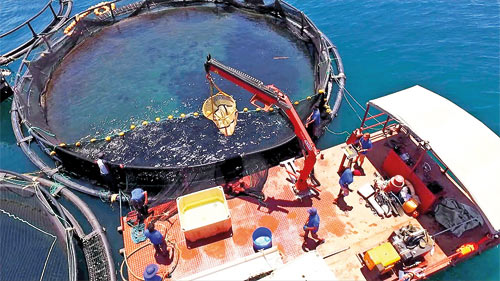 Floating cages
On the way to the Trinco Town pier for the long haul into the sea to inspect the Floating cages, the terrain is rough. Standing out are the gold decked Krishna Kovil and the Church with large statues of the Lord Jesus and Mother Mary. These are welcome sights to the once war-torn parts in the island which still show hardships. Among the few and far between shelled buildings which used to be houses, a sign board on to an off road says 'Sunshine Daycare' showing that life does go on.  When we finally gather at the Trinco Town pier, we are greeted by Danny Richardson, son of Oceanpick's Scottish partner Kames Fish Farming of Scotland owner, Peter. Danny who will be our ship's captain to the Floating cages is a fisherman by choice. His Sinhala is good we hear as he shouts 'Yaaamu' much to the amusement of his passengers. Some two kilometres into the sea, he wonders if the ferry has enough fuel which jolts some of us. A man and his boat do not need to be justified, they say and fuel is fine. Turns out we are safe.
At sea, the six Floating cages nearly a dozen miles away are circular, and use an internally-hung net pen for fish culture, and a separate, externally hung heavy-duty net designed to exclude predators. The cages are constructed with metal couplings, plastic or rubber pipes, polyethylene floats, sheet metal, metal tubing, or some combination of these components.  Danny says that the buoys attached to them on the surface of the cages have a mechanism for feeding and storage. Offshore waters have multifunctional uses, thus making aquaculture even more sustainable. There are some 10,000 fish in these six cages. The cages house fish according to their growing sizes. Apparently all fish are initially female and then a male fish is introduced. According to Danny, finding females is 'easy', but a good male is difficult. At least the eight girls on the ferry are glad this only applies to fish. The health of fish grown in these oceanic farms is constantly monitored, he says.
Value -added
Mr. Thasim is upbeat on his business which he says is a new avenue for graduate training, whilst paving the way for import substitution and developing of a value-added product. Also the company recruits talent such as Fayaz. Currently there are eight graduates and they want to employ more. He stresses that ocean fish farming is sustainable. It protects the health of ocean and marine life. The sustainable methods and technology used in this process are engineered to preserve the freshness and real taste of fish.
Offshore aquaculture products are increasing in demand as they are known for their superior quality. He says that sustainable seafood obtained via ocean fish farming is an innovative method adopted to help replenish our oceans and manage its resources into the future.  This type of business could also trigger growth of several other related businesses both upstream and downstream including feed manufacture, he says hopeful that his ambitious venture will set the pace for new businesses and bring about a new breed of businesses.
Round Island brand unveiled

On Monday, Oceanpick (Pvt) Ltd unveiled 'Round Island', its oceanic fish farming brand in Sri Lanka at Eagles' Golf Links, China Bay, Trincomalee, marking the island's bold entry into aquaculture farming in the open seas. Launched in 2012, in partnership with Kames Fish Farming of Scotland, locating the pens in pristine seas with good tidal currents and flushing rates has helped ensure a supreme product range. Kabir Hashim, Minister of Public Enterprise Development, present at the event, said that the country needs a technology leap in such industries.He said that Oceanpick is poised to raise the profile of Sri Lanka's fishery sector and aims to add momentum to the production targets set by the Fisheries and Aquatic Resources Ministry. 

Founder/Director of Oceanpick, Irfan Thassim said that Oceanpick is Sri Lanka's and South Asia's first ever commercial scale oceanic farm for finish. "Our objective with this venture is not merely to make supreme quality seafood available to consumers, but also to raise Sri Lanka's fishery industry to new heights of sustainability by reducing reliance on dwindling natural marine resources. We focus on responsible farming that is highly sustainable, to produce high quality seafood without compromising on taste." He told the Business Times that as they prod on, an IPO to raise cash for expansion isn't ruled out.