May Day grabbed by politicians; workers totally ignored, BT Poll shows
View(s):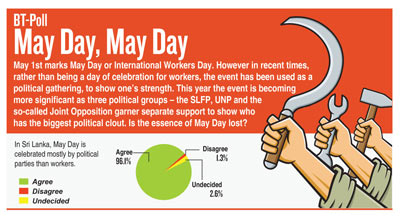 Most Sri Lankans believe the essence of May Day, which is marked to celebrate International Workers Day, has been lost and the event usurped by political parties for their own ends, a Business Times (BT) poll has revealed.  In a quick email poll this week titled "May Day, May Day", the BT while stating that this event is becoming more significant as three political groups – the SLFP, UNP and the so-called Joint Opposition garner separate support to show who has the biggest political clout, asked whether in Sri Lanka, May Day is celebrated mostly by political parties than workers.  The response. A resounding 96 per cent of the respondents said YES. There were only two respondents who replied with NO and four were UNDECIDED. The survey drew one of the largest respondents for a BT poll.
Ahilan Kadirgama, one of the two respondents who responded with 'No", said that while political parties, not just in Sri Lanka, but in other countries also attempt to appropriate the May Day rallies, appropriation has its limits.  He cited examples of how political parties attempt to appropriate electoral politics towards regime consolidation, but from time to time, the citizenry steps up during elections and change the regime, as with the last Presidential elections.  "Similarly, the spirit of the May Day continues in the work of trade unionists organizing for the May Day rallies, including the many independent trade unions. Even those trade unions that are pressured by their party bosses, may at crucial moments turn against them.
These are characteristic dynamics of working class resistance, and in the mobilisations for May Day rallies are embedded such politics of subversion," Mr. Kadirgamar, researcher and social activist, noted.  However that was just a minority view as the majority of the respondents pitched in saying that since the day is declared a holiday, most of the workers "enjoy the day with their families celebrating the holiday".
Here are other comments:
There are no trade unions in Paradise. All unions have been politicised
The significance of the day has diminished greatly. It has become yet another political rally where politicians shout themselves hoarse and where workers' rights, duties and their concerns are not seriously debated.
 It is the day where political parties endeavour to show their strength by bribing the public with money, alcohol, lunch packets, free ride etc. May Day is the day where the clarion call is for workers of the world to unite. In Sri Lanka it is the day workers are divided by political parties according to their political affinity and take part in rallies to impress the masses with a show of strength forgetting the workers right but with their political agenda taking centre stage.
 Workers are politicised. Instead of forming a collective of their own, they have become members of political parties themselves. A form of mutual exploitation now takes place. The politicians use the workers and vice versa.
 My view is that all political meetings and gatherings and all sorts of demonstrations should be out of Colombo. Letting people who productively work 8-5, five days a week, get to work on time and get back to the family without an inconvenience. As the saying goes- "if you have nothing to do, please don't do it here."
 We lost sight long ago of the founding objectives of that first May Day as initially the Spring Festival in the Northern Hemisphere of the globe and then as the day commemorating the campaigning for worker's rights in a very repressive era – one issue of which was the campaign for an 8 hour work day.  Now in Sri Lanka, it is a waste of time and money…an excuse for people to be plied with liquor, lunch and a day out; forcibly taken by bus to whichever rally…green, red and blue are all guilty of this circus!
 May Day is really a celebration of the "working class" which is somewhat irrelevant in this day and age. Workers are quite capable, by and large of negotiating their own terms. Unions have now a new role to play as in countries such as Singapore, where the Union disseminates information useful to workers and also helps them to be redeployed or retrained when necessary.
 May Day is no more for the poor workers in this so-called Disneyland. It has been completely acquired by the politicians to run their cheap political agendas. Workers are struggling for their day-to-day earnings and their lifestyle is being narrowed drastically. They are modern-day slaves of the business mafia and the Government has no alternatives to uplift their lives.
 Politicos are cheats and need more and more puppets to dance to their own tunes.
 The public should ignore this poll as this creates more divisions among the peace loving people in this country.


Increased allowances and national minimum wage

In another twist to the May Day saga and seen as a 'bait' to workers, the Government on Thursday, April 28 ran a full-page newspaper advertisement on the budgetary relief allowances and the minimum wage for workers saying this would be effective today (May 1).
The notice which addressed 'the general public, trade unions, employees and employers of the private sector' and issued by Labour and Trade Union Relations Minister W.J.M. Seneviratne stated that the Budgetary Relief Allowance of Workers Act No. 4 of 2016 had been certified by the Parliamentary Speaker on March 23, more than a month ago.  The payment, it said, would be made in two stages, with the first stage (effective May 1) being a monthly payment of Rs. 1,500 per month allowance to workers whose monthly wage is Rs. 40,000 and below.

The second stage payment effective (retrospectively) from January 2016 is an allowance of Rs.1,000 per month to each worker with a wage of Rs. 40,000 or less. In both cases, the monthly wage (with both payments) shall not exceed a total of Rs. 41,500 wage per month, the notice said.  In terms of the minimum wage, the notice said that the National Minimum Wage of Workers Act No.3 of 2016 stipulates a national minimum wage of Rs. 10,000 per month for all workers in any industry or service. In the case of the national minimum daily wage, the amount is not less than Rs. 400 per day. This law is effective from January 1, 2016, the notice said.