Too much 'bonding' at CB auctions: Greater transparency urged
By Natasha Gunaratne
View(s):
Recent controversies pertaining to the issue of Central Bank (CB) Treasury bonds alleging insider dealing are triggering urgent calls for more transparency in such transactions.  "This is not a new issue. Even during the earlier (Governor Ajith Nivard Cabraal) years too there were questions raised about the manner in which bonds and other securities were traded in the primary market. Those days it was also private placements which was an absolute secret," one dealer, who declined to be named, said, adding: "These days the same questions and suspicions are being raised because there is lack of transparency in trades and some dealers are benefitting over others".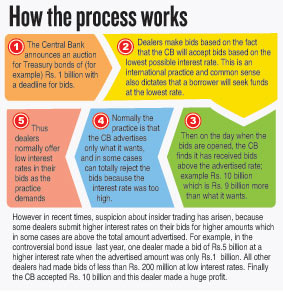 While the dust seems to have settled over the controversial Rs. 10 billion issue last year with allegations that dealer Pepertual Treasuries, linked to CB Governor Arjuna Mahendran's son-in-law was favoured in the bids accepted, new questions have arisen in recent months after claims that the Employers Provident Fund (EPF) purchased bonds in the secondary market (at a loss) when it is entitled to trade in the primary market. That and other 'suspicions' have triggered calls for transparency in bond trades.  Market dealers and opposition politicians are also unhappy that last year's controversial bond issue appears to be swept under the carpet despite promises by the authorities for a comprehensive parliamentary probe.
Though the new Committee on Public Enterprises (COPE) promised to re-open the investigation, the process has been slow, raising concerns that nothing would happen. "Everyone thought there would be a proper probe after the new COPE (members) was appointed. But here too there doesn't seem to be any urgency which is a disappointment for the market," the dealer said.
Because CB is – in most cases – accepting more than the advertised bids, it is triggering suspicion that some dealers are 'in the know' about how much the banking regulator would eventually accept. In this context, higher bids are made and accepted by the CB. "If everyone knows that this is the amount that the CB is going to accept, then all of us will also offer higher bids.
There should be an even playing field," the dealer said.  Former Chairman of the Ceylon Chamber of Commerce (CCC) Chandra Jayaratne is also advocating for a greater need for transparency in the auction process of treasury bills and bonds. He told the Business Times that the need for more transparency is arising from a market-driven system where the participants should have access to equal knowledge when they participate. He said earlier, there was a document issued by the tender committee showing the details of all the bids offered. "Now they are only announcing the weighted average rate."  Mr. Jayaratne added that greater transparency is also needed because in a market-driven system, people should have equal knowledge when they participate.
He said their capabilities might be different but everyone has to have knowledge of what is on offer.  In a letter addressed to the CB, Mr. Jayaratne is calling for transparency and accountability in public authorities through the exercise of right to information in terms of the Constitution of Sri Lanka and pending legislation on right to information. He is asking for all details of Treasury bond issues of maturity periods above four years made on or after January 1, 2016 to date including details of the Treasury bond offers of April 18, 2016. Mr. Jayaratne is also asking the CB to release the names of the Chairman and members of the Tender Committee and members of the management of the CB who participated directly or indirectly in the decision making process regarding the bids which were accepted and rejected and quantity total value up to which bids are to be accepted.
The letter further asks for information where the Tender Committee rejected all bids received and the reasons for rejection of all bids received in a market based auction system. Finally, Mr. Jayaratne is asking for details on successful primary dealers to whom corresponding bonds were issued and have since made secondary market transfers of such bonds, transferring the bond to any state institution such as the Employees Provident Fund, Employees Trust Fund, National Savings Bank, State Mortgage & Investment Bank, Sri Lanka Insurance Corporation Ltd, Bank of Ceylon and Peoples Bank.  Mr. Jayaratne said there might be some indication that other manipulations of the auction process have occurred in January 2016 and March 2016 which could be a repetition of what happened last year.  CB officials were unavailable for comment, despite several calls.
Suspicion and gambling in the T-Bill and T-Bond marketsNormally dealers offer a rate based on trends and CB accepts the lowest rate possible.
However when it needs a lot of money, the CB will take whatever rate is offered.
The prime motive here is to get the money it desperately needs at whatever the rate. The priority (when money is urgently needed) is to raise funds at any cost! So dealers who are privy to information that the CB will accept more than the advertised bids, will make bids higher than the other participants.
This practice of taking more than what is needed is affecting transparency and business.
For example if all dealers are aware that the CB is taking more than what is announced, they will offer bids at a higher rate and make a killing. Everyone profits, not just a few which is what is happening today.
In some instances, dealers make high bids (blindly without any advance information), taking a risk or a gamble and succeed. Or have insider information.
There is disappointment that after the disputed 30 year bond issue there was no transparent and independent probe. Even the COPE process is slow. The market had hoped that there would be more transparency at least after that disputed issue but that is not happening or seen to be happening.
Most overseas markets don't take more than what is asked for because it creates suspicion and guilt.
This practice of accepting more than offered has been there for three years but has been increasing in recent times.