Police take aim at gang warfare
By Damith Wickramasekara
Senior Deputy Inspector General of Police Pujith Jayasundara reveals how various departments under the Police Department launched a successful operation following a spate of high profile underworld related killings and attacks mainly in the Western Province
View(s):
A month after authorities implemented a range of new measures aimed at cracking down on rising incidents of underworld crime in the Western Province, attention is starting to shift to the country's south, where as many as 10 criminal gangs are believed to be operating.
Police claim that their operations in the Western Province have met with significant success. Western Province Senior Deputy Inspector General of Police (SDIG) Pujith Jayasundara, who is in overall charge told the Sunday Times that the operations were a combined effort of various agencies coming under the Police Department. Accordingly, teams from the Police Narcotics Bureau (PNB), Terrorism Investigation Division (TID), Criminal Records Division (CRD), the Colombo Crime Division (CCD), State Intelligence Service (SIS), Western Province Intelligence Unit and the Special Task Force (STF) were all involved.
According to figures made available by the Police CRD, there were 26 shooting incidents recorded in the country in the first three months of this year. While not all these shootings were underworld related, a significant number were linked to rivalry between underworld groups.
Following a spate of high profile underworld related killings and attacks mainly in the Western Province in late February and early March, former Inspector General of Police (IGP) N.K. Illangakoon directed the Police Department to take immediate measures to act against underworld gangs. SDIG Jayasundara said all of the above mentioned agencies of the police were brought into the fold with the assertion that all of them had to take responsibility and act regarding any underworld related activities in the Western Province. "We needed to practically take charge and go after these elements. We could not do that by sending out circulars," he noted.
Police operations had two main components: Firstly, special eight-person 'Divisional Enforcement Teams,' headed by an Assistant Superintendent of Police (ASP) were assembled and deployed to each of the 10 police divisions of the Western Province. These 10 teams were freed from all other duties and were specifically assigned to conduct anti-underworld operations. Each team was given a jeep, a 600cc police motorbike and a three-wheeler for travel. As a second, concurrent step, a series of 24-hour road blocks were also set up based around all 102 police stations in the province. The roadblocks were set up without prior notice and especially targeted areas where underworld activities, such as drug trafficking, were known to be taking  place.
Police have so far been able to arrest 18 "hardcore" underworld criminals during these operations, while 38 illegal firearms were also seized, SDIG Jayasundara further disclosed.
The Police Special Task Force (STF) was also involved in these operations. STF Commandant, DIG Ranjith Perera said they were conducting up to 20 mobile patrols a day in certain areas in support of the police efforts. These areas have been identified as locations with a high concentration of underworld related activities, he further revealed. Whenever police conduct a raid to nab underworld criminals, an STF team is also on standby several kilometres from the location in case police required additional firepower, while several special teams have also been assigned for rapid deployment to important locations around Colombo City in case of emergencies, the DIG disclosed. "Our personnel also establish mobile roadblocks at selected locations in the province, sometimes every two hours" he added.
Director of the Colombo Crime Division (CCD), Senior Superintendent of Police (SSP) Nuwan Wedisinghe said investigators have identified that the recent spate of underworld related violence has been caused due to rivalry between four specific criminal gangs, three based in the Western Province and one operating from the Southern Province. This rivalry had been behind incidents such as the attack on a prison bus in Dematagoda, the shooting of a pregnant woman opposite the Welikada prison and the more recent killing of a businessman in Ambalangoda, according to these investigations.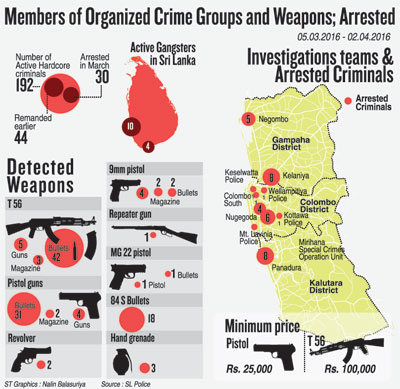 Two of these gangs, one led by "Dematagoda Chaminda" and the other under "Army Sampath" are currently waging their own gang war centered around Bloemendhal, where both gangs are based, the CCD Director said. The third gang, headed by "Kotte Samayan" operates from Ranala in Kaduwela and is currently in the midst of a feud with another gang led by underworld figure "Madhush." This gang operates from the Southern Province, notably in the Balapitiya, Akmeemana and Matara areas.
SSP Wedisinghe also said they have identified 192 so-called "hardcore criminals" actively connected to underworld groups. Forty-four of these are presently serving prison sentences while 30 others have been arrested by police at various stages. That leaves about 118 others still at large. "Some of these individuals have already fled abroad or are in the process of trying to leave the country," the CCD Director said. He also said police have observed that some of these elements were obtaining "VIP Assistance" to leave the country as they have connections with these persons.
"Underworld activities in the Western Province have been significantly neutralized as a result of these special operations. There are however, 10 major criminal gangs still active in the Southern Province, mainly in the Matara and Hambantota Districts, and efforts must also be made to dismantle them," SSP Wedisinghe pointed out.
Meanwhile, operations to arrest more gang members in the Western Province are continuing. The SSP said extra police officers were deployed at locations around Colombo City where large numbers of people congregate. Police in civvies have been deployed along with specially trained officers who track "IRC Criminals," SSP Wedisinghe said, adding "the officers have studied these wanted criminals and know their faces, so they can identify the suspects if they are seen."