Drink-driving blitz for Avurudu nets 1,324 culprits
By Anushiya Sathisraja
View(s):
More than half those stopped on the roads by police for being under the influence of liquor during the New Year season were motorcyclists.
Police apprehended 1324 drunk motorcyclists and drivers between last Sunday upto yesterday morning. The special operation will continue until next Wednesday.
Of the 1,324 pulled over by the police, 713 were motorcyclists, 413 three-wheeler drivers, 37 lorry drivers 41 van drivers, three SLTB bus drivers, nine private bus drivers and 57 car drivers.
In the 24 hours between April 15 -16 alone, 144 motorcyclists, 80 three-wheeler drivers and 06 car drivers were nabbed for driving under the influence of liquor.
The highest number of road rule offenders was reported from the Gampaha, Mount Lavinia, Nugegoda and Panadura police precincts, Deputy Inspector General (DIG) of Police Amarasiri Seneratne said, adding that there have so far been no major incidents on the fast-flowing southern highway.
Former DIG of Traffic Camillus Abeyegoonewardena said failure to enforce the driver demerit point system was encouraging reckless driving and drink-driving.
Punishments should be increased threefold, Mr. Abeyegoonewardena advised. Penalties such as driving licence cancellations or lengthy suspensions of licences, heavy fines and jail sentences would force more motorists to abide by the law.
In warnings for the days ahead, the Director of Road Development Authority's (RDA) Expressway Operations Maintenance and Management Division, Saman Opanayaka, said considerable traffic congestion was expected to occur at the Godagama exit point on the WHICH Expressway.
Heavy traffic congestion is likely to occur at the Kottawa Interchange tomorrow (April 18) with the expected increase of vehicles arriving at Colombo. Mr. Opanayaka advised motorists to use alternate exit points, avoiding the Kottawa Interchange, if notified via Video Message Services (VMS) of traffic congestion.
Motorists could exit at Kahathuduwa and reach Colombo through the Horana Road or exit at Athurugiriya and use the Malabe-Athurugiriya road or exit at Kothalawala and use the Malabe-Kaduwela Road or exit at Kaduwela point and use the Colombo-Hanwella Road to reach Colombo.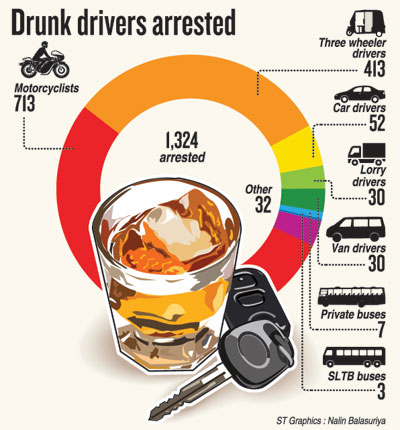 Motorists could obtain information regarding traffic congestion and other matters from the Galanigama Traffic Control Centre by dialling 1969 round the clock.
An additional exit point will be opened on the Southern Expressway to reduce congestion, Mr. Opanayake said. Between 50,000 and 55,000 vehicles travel along the expressway during the season.
Mr. Opanayaka said there had been a shortage of buses going to Galle and Matara from Maharagama "Passengers were compelled to stand in line for almost two hours to get into a bus," he said.
Sri Lanka Transport Board (SLTB) Director-General Raja Gunathileka denied there was a bus shortage and said the delays had been caused by large numbers of travellers.
Passengers said they had to wait for hours to get buses, particularly on Thursday. As most of the auspicious times were on Wednesday, many people had delayed travelling to their villages until Thursday.
Meanwhile the Colombo National Hospital said more than 680 people had been treated for accident-related injuries during the New Year season, most for road accident injuries, which were 9 per cent higher than the last year.
The Head Nurse of the Colombo National Hospital, Pushpa R. Zoysa, said there had also been an 18 per cent increase in injuries due to violence.
The Deputy Director of Jaffna General Hospital, Dr. K. Nandakumar, said 85 injured people had been admitted due to traffic accidents and violence.
He said the injured were not giving true accounts of the incidents due to legal reasons. "We see very much fewer fireworks-related incidents but violence and accidents continue," he said.
Kandy Hospital Director R.M.S.K. Ratnayake said only one patient had come in with a fireworks-related injury from a total of 53 men and two women injured during the New Year celebrations.
There were a series of traffic accidents reported from various parts of the country during the new year season.
In the Hatton-Nuwara Eliya main road late this week, a small lorry and a jeep collided with three passengers in the jeep with father, mother and son. Two of the three were transferred to Nawalapitiya hospital for further treatment.
Two people were killed in the Marathadiya area in Trincomalee when a jeep crashed into a three-wheeler on Monday night. The driver of the three-wheeler and three female passengers were severely injured and two of the passengers, a 59 year-old-mother and her 33-year-old daughter, residents of Sampalathivu, succumbed to their injuries in hospital.
A motorcycle rider died after his bike skidded off the road and crashed into a tree in the Kandarawa area in Medawachchiya.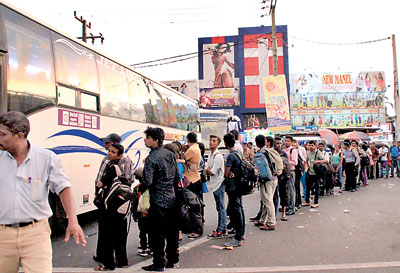 Extra public transport availableUntil April 19, special trains have been put on for people travelling back to Colombo, a senior Department of Railways official, Nalaka Bandara said.

A train will leave Veyangoda for Colombo Fort station at 8 a.m. on April 18 and 19.

From Jaffna, an additional train will leave for Colombo Fort at 10pm on April 18 and 19 while on April 17 another train will leave Jaffna for Colombo at 8pm.

A train will leave Kalutara South for Maradana at 3.20 pm on April 17 and 19 while a train will leave Maradana for Kalutara South at 7.40amon April 19. A train will leave Maradana for Galle at 9.20 on April 17.

Until 12pm on April 25, more than 300 extra buses will be deployed for commuters returning to Colombo after Avurudhu. Bus services will operate on routes from Trincomalee, Moneragala,

Badulla, Kandy, Kurunegala, Anuradhapura, Mayhiyanganaya, Galle, Matara, Embilipitiya and Jaffna among others.

Fifty extra buses are also plying on the two highways for passengers travelling from Matara, Galle and Negombo. Commuters will not be charged extra.