Hopes and expectations in the New Year and beyond
View(s):

The Sinhala and Tamil New Year celebrations last week was a time of enjoyment when economic difficulties and hardships are forgotten. Economic problems were hardly in the minds of people as they enjoyed the reunion of families, partook of games and exchanged gifts and sweet meats. The economy was on holiday.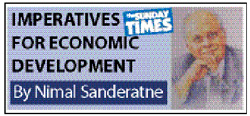 Different parts of the world celebrate New Year in different ways and at different times. The Chinese New Year is known for its long drawn-out celebration when a hard working community leaves work aside to enjoy a prolonged holiday with fun and games. Thanksgiving in Europe and North America has an affinity to our New Year as they are associated with harvest time. These national celebrations serve a deep seated socio-psychological need.
Back to work
Some customs associated with the New Year are yet to end as people are returning to their work place to begin their lives again in the hope that their wishes for a Subha Aluth Avurudak— a year that is good and prosperous—would materialise. What are the prospects that these expectations would be realised this year?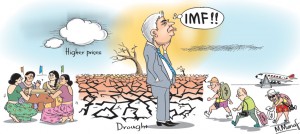 Climate
Even though the Maha harvest before the New Year was a bumper one, depressed paddy prices may have deprived many farmers of a good income. The extraordinarily warm weather and the continuation of the drought is a source of anxiety. Prediction of the drought continuing in the next few months is worrying. That would affect cultivating much of the Yala fields. Worse still, if the drought continues into September-October and affects the Maha 2016-17 paddy crop adversely and have a severe impact on the livelihoods of the rural community. It would increase rice prices and affect the trade balance adversely.
Crops affected
The high temperatures and dry weather has affected other crops as well. Tea production has dropped in the first quarter of the year. The fall in tea prices together with a reduction in tea production could be devastating for the livelihoods of smallholders and the viability of the tea plantations. Vegetables and other crops too have been adversely affected and prices are soaring.
The drought has already affected hydro power generation adversely. Only about 10 per cent of power generation is hydro at present. If the rains fail then almost the entire electricity generation would be thermal. This would mean higher imports of fuel and increased import expenditure.
Prices
These factors together with the impact of the depreciation of the Rupee on imported items have increased the costs of living of the poorer sections of people. Consumer prices of basic food items such as wheat flour, bread, dhal, sugar, milk, vegetables, chicken and other foods have increased significantly. There are hardly any prospects of these prices decreasing: they may in fact increase further.
External finances
Would the country's external finances that are at a critical level improve? There are a few bright spots. The expected IMF loan would strengthen the reserves and the confidence it generates is expected to result in an improvement in other capital inflows. It should also reduce international borrowing costs.
The trade balance is expected to improve somewhat. The large trade deficit of US$ 8.4 billion last year is likely to be reduced this year owing to the depreciation of the rupee, stricter credit controls and higher import tariffs that are likely to reduce imports. The reduction of imports in the last quarter of last year and the decrease in imports in January this year is indicative of a restrained import bill.
There is a prospect of exports increasing in the second half of the year due to the expected removal of the ban on fish exports to EU countries and the restoration of the GSP plus concession. These factors may result in the trade deficit decreasing to around US$ 7.5 billion. The target should however be to reduce it to US$ 7 billion this year.
According to the Central Bank, the trade deficit narrowed by 9.1 per cent in January this year compared to that of January last year as the decline in imports was more than the decline in export earnings. If this continues the trade deficit could be reduced to below US$ 7.5 billion.
Remittances
In contrast to the likely improvement in the trade balance, workers remittances that have been a huge support to the balance of payments may fall. Last year for the first time in recent years these remittances did not grow: they fell marginally by 0.5 per cent from US$ 7 billion to US$ 6.9 billion. If this trend continues this year, remittances may fall to around US$ 6.5 billion. India is facing a similar downturn in remittances that have fallen by 9.4 per cent in the last quarter of last year. However the good news is that in January February this year, remittances increased by 8 per cent.
Tourism
Fortunately earnings from tourism are expected to continue its growth. Tourist arrivals are expected to increase by 20 per cent to 2.5 million and bring in about US$ 2.5 billion. Tourist earnings increased by 19.5 per cent in February this year. This, together with worker remittances could wipe out a trade deficit of US$ 7.5 billion to bring about a balance of payments surplus.
If earnings from ICT services and other services bring in another US$ 2 billion, then the balance of payments would be in surplus by about US$ 3 billion. This is a considerable improvement from the balance of payments deficit of last year.
A fair amount of this surplus would however be used for debt servicing during the year. It is important that monetary and fiscal policies do not result in the frittering away of this potential surplus by policies that increase imports.
IMF assistance
The expected IMF facility of US$ 1.5 billion will replenish the reserves and add confidence in the economy. This may have a beneficial impact on capital inflows. The corrective measures by the IMF of ensuring fiscal discipline and prudent fiscal and monetary policies are essential to get out of the crisis and restore economic stability.
New resolve
The government must have a new resolve to ensure fiscal consolidation and undertake a wide range of economic reforms that are imperative for economic stability and growth. It must eschew short term political gains for long term interests of the economy by implementing the economic principles in the Prime Minister's economic statement of November 2015.