SL to take part in Hockey World League for the first time
View(s):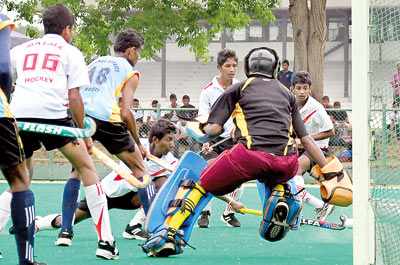 Sri Lanka men and women's hockey teams are taking part in the Hockey World League Season 2016-2017 Round One (Asian) currently in progress in the Singapore Sports Hub. The tournament commenced on April 19 and will conclude on April 17.  This is the first time that Sri Lanka is taking part in a hockey tournament of this magnitude. The International Hockey Federation is conducting this tournament. Nine teams will be involved in the men's tournament and eight women's teams in the women's competition. The men's teams taking part in the men's tournament are: China, Sri Lanka, Uzbekistan, Hong Kong, Thailand, Kazakhstan, Brunei, Myanmar and the host country Singapore.  The women's teams in the fray are: Kazakhstan, Thailand, Hong Kong, Brunei, Cambodia, Uzbekistan, Sri Lanka and the hosts Singapore.  The Sri Lanka men's team is coached by Anuruddha Herath Bandara and the women's team by G.G. Dharmaratne.
The managers of the two teams – Dr. Lal Ekanayake and Dr. Daminda Attanayake – are leading members in the health sector and this is the first time that two physicians will be in charge of the two teams. The main reason for these appointments could be that the Sri Lanka Hockey Federation is not functioning at present and the Sports Ministry has thought this could be a fine opportunity to get two doctors involved in the game. The last time the Sri Lanka hockey team was involved in a major competition was at the 12th South Asian Games in India where the women's team bagged silver and the men's team finished in fourth position.  Head Coach Anuruddha Herath Bandara said that this is a great opportunity for the Sri Lanka team to showcase their talents after a long time. "Only this we lack is match experience," lamented Bandara.  -SP
Following are the teams:
Men's Team: C.M.T.D. Rathnasiri, H.M.P.K. Hendeniya, D.R.M.I.K. Jayasundara, K.N.D. De Silva, D.M.N.D.B. Dissanayake, D.A.D.M. Wijesinghe, K.M.T.I. Gunawardena, N.G.A.D. Rathnasiri, M.G.H.P.K. Dharmarathna, M.M.D.M. Bandara, P.G.L.G. Wijesooriya, S.S. Priyalanka, R.M.A. Suresh, L.H. Nanayakkara, C.A. Welagedara, M.B.D.S.M. Gunawardena and W.W.A.P.U. Fernando.
Women's Team: E.E.J. Keerthirathna, I.A.S.M. Illeperuma, G.G.P. Nilmini, K.M.N.S. Wickremasinghe, A.H.M.G.K.K. Abeyrathne, H.Y. Shanika Prabashini, M.Y. Prarthana Upesha, G.G. Damayanthi, S.S. Jones, R.G.M.V. Dharmarathne, W.M.Y.A. Wijesooriya. W.M.I.P. Weerabahu, W.M.C.D. Wijesooriya, B.N.M. Jayanethi, H.M.D.C.K. Herath, K.C.T. Themiyadasa, Y.M.B.N.K. Gunarathne and P.A.C.D. Premasiri
Officials: Dr.Lal Ekanayake (Manger Men's Team), Dr. Daminda Aththanayake (Manger Women's Team), Anuruddha Herath (Coach Men's Team), G.G. Dharmarathna (Coach Women's team).