Science make short work of Rajan efforts
View(s):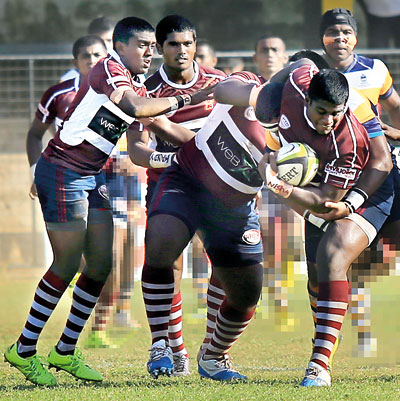 Hat-trick of tries from Ashan Madhumadawa and Udesh Madushanka helped Science College romp home to a one-sided 54-7 victory against Dharmaraja College in their Singer Under-20 Schools Division I Rugby first round match played at Ratmalana yesterday.
After stunning St. Peter's College last weekend with a bounce-back win, scrumhalf Madhumadawa and flanker Madushanka put Science back on track from where they ended seven days ago. After leading 35-0 at halftime, Science walked home proud winners with a tally of eight tries and seven conversions while the Rajans had the consolation of scoring a solitary converted try, that after opening the freeway for Science to score 40 points.
Last weekend against the Peterites, Science trailed 3-10 for 60 minutes before bouncing back to record a stunning 13-10 win and yesterday they resumed from the point they stopped.
Madushanka was first to open the account for the victors as he broke the Rajan barricade to touch down and follow it up with his second minutes later. Madhumadawa joined Madushanka's party with backto-back tries to take Science's score to 28 while the Rajans were left to watch their opponents rampage. The first half ended with Madushanka's third try as Tharindu Maduranga played his role perfect converting all five tries posted in the first half before being taken off the field due to an injury.   

Science resumed their try spree soon after the resumption through flanker Abhishek Rasanjana, which went down the record as the only try not to be converted. After much effort the Rajans were finally paid off with a neatly worked try off winger Krishan Dissanaike, who took the trouble to add extra points, not knowing it would be their only source of points in the whole match. This was never a setback to the Science players, as Madhumadawa went over for his third try of the game. The icing of the cake was put by centre Thanuja Maduranga who took Science's score past the 50-mark. Both tries were converted by fullback Vibudu Sahan. The game was controlled by Rohan Fernando.