MBA cyclists take up the Himalayan challenge
View(s):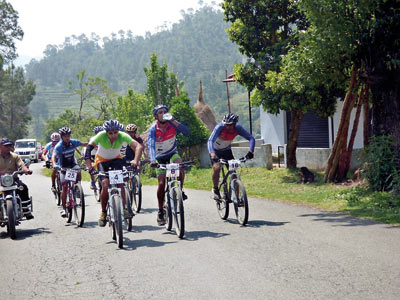 The Mountain Biking Association of Sri Lanka (MBA) on an invitation received from Cycling Federation of India will send two mountain bikers, Dane Nugera and Sumedha Warnakulasuriya for the 2nd edition Ultimate Uttarakhand Himalayan MTB Challenge.  The six-day expedition, spanning 700 kilometres, set off yesterday from Nainital. The race will finish next Friday at Mussoorie followed by the closing ceremony the following day.  Mountain bikers from India, Sri Lanka, the USA, Canada, Mongolia and Nepal have confirmed their participation where the winner is set to receive a cash reward of Indian Rs. 1Million.
"We have not pursued this event due to another international assignment undertaken by us concurrently in Sri Lanka, the Chalai Challenge, falling on April 14. But on a personal note made by Onkar Singh, the Honorary Secretary General of the Indian Cycling Federation, we the fast tracked our selection process to field the best possible team," stated Amal Suriyage, the President of MBA.  Yesterday was the first stage of the race which covered 85 kilometres from Nainital to Almorah and today the riders will pass 125
kilometres from yesterday's finishing point to Gwaldam. The longest stage of the race will take place on the third day tomorrow with the course set to cover a distance of 152 kilometres from Gwaldam to Rudraprayang.
On Tuesday 108 kilometres are set to cover from Rudraprayag to New Tehri before the riders take a day's break at the finishing point on Wednesday. With the fifth day of the race, the Ultimate Uttarakhand Himalayan MTB Challenge will resume when riders are set to cover 72 kilometres from New Tehri to Chinyalisaur. The final stage of the race will see a distance of 82 kilometres been covered from Chinyalisaur to Mussoorie.  This will be a whole new challenge for Sri Lankan riders Nugera and Warnakulasuriya, who will be accompanied by Nandana Bandara as their manager.
"It is of paramount importance to look at the broader prospects in selecting the best unit and after consensus and deliberations made by MBA and based on records available we opt to select the best in mountain biking as at present and it goes without hesitation the first two in ranking are Dane Nugera and Sumedha Warnakulasuriya," Suriyage added.  "It is worthy to note that rider, Dane (Nugera), although classified as a rider in the road category has all the distinction and ability to race in mountain biking for many valid reasons, importantly being the most consistent endurance rider. He can hold on to a event of this nature running for 700 kilometres within a span of eight days," he explained.  -SP