Lalith has not lost his touch
By Lakshman Ranasinghe
View(s):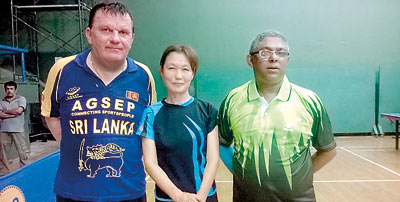 Former national table tennis star Lalith Priyantha proved that he had not lost his touch with the game by winning the triple crown at the All Island Veteran Individual Table Tennis Championship organised by the Veterans Table Tennis Association of Sri Lanka held at the St. Thomas' College Indoor Stadium tables recently.  It was interesting to note that the foreign nationals who took part in the tournament were employed here in Sri Lanka for a considerable period.
Playing in the Men's singles Lalith Priyantha scored an easy 3-0 victory over fellow countryman Gamini Moraes. Partnering Dietmar of Germany in the Men's Doubles event Priyantha and his partner gave very little opportunities for the opponents in scoring but kept on attacking both flanks of the courts which helped them to score a comfortable 3-0 win. Lalith Priyantha combining with Mitsuko Hirooka of Japan didn't find things difficult to overcome Doring and Ira Ruwanpathirana in the Mixed Doubles finals. Lalith Priyantha contributed to the game of Table Tennis for well over 13 years in the capacities of a national player, captain, coach, selector and as the President of the Association.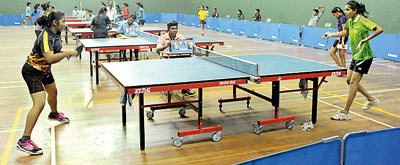 Priyantha was the first player to win the national crown for three consecutive years in 1988, 89 and 1990.
At the inaugural South Asian Table Tennis championship Lalith Priyantha led the Sri Lanka team finishing fourth in the event. Making over 25 tours overseas this veteran champion had taken part in Asian Games, Commonwealth Games and in the World championships.  Showing his skills in local and in international championships Lalith was recognised as an attacking player with superb foot movements who reads a player very quickly and makes the opponent busy in playing to his weaker areas.