Ex-Lankan jockeys back in their saddles
By Naushad Amit
View(s):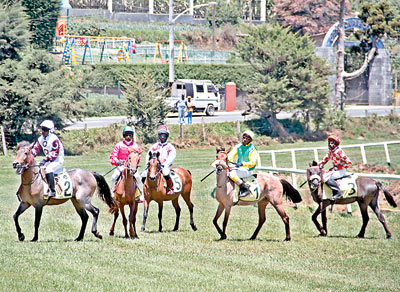 Thirteen of the local jockeys who left Sri Lanka looking for greener pastures, have returned to the island to compete at the forthcoming horse races according to Suranjith Premadasa, the President of Royal Turf Club (RTC).  "It's really encouraging and nice to have these 13 local jockeys back on the saddle. They had left their families and moved to countries like Dubai, Qatar, Japan and the United Kingdom in search of employment and now have returned to Sri Lanka to participate in racing on the newly renovated, Nuwara Eliya racecourse which has been upgraded to international standards," Premadasa stated.
Ravi Kumar and Selvaratnam, two such jockeys who came on short vacations will be among those two would observe the development and the career security of riders before making a final decision. Upon observing the jockeys would decide if they are fully convinced to return to their native country for good.  "The Nuwara Eliya racecourse was going from bad to worse daily with no maintenance or repairs. We had to leave our families and go abroad to earn money as horse racing in Sri Lanka was going down year after year. Stake monies not been paid for years made it impossible for us to live here. But now the situation seems to be bettering after RTC took over the racecourse," Jockey Ravi Kumar stated.
According to Premadasa, the jockeys will compete and gradually make their way into the racecourse during their vacations. He was fully confident that the recent developments would be sufficient to induce the jockeys to return to their country for good.  "The RTC has a policy of giving priority to Sri Lankan jockeys and we invited Sri Lankan riders employed in other countries to come back and ride races here. They are based in the middle east and some European countries mostly in endurance horseracing. Others are based at racecourses in the middle east. The RTC is setting up everything at the Nuwara Eliya racecourse back to its glory days and already over 500 are employed here," he stated.
Selvaratnam, another jockey who is in Sri Lanka for the short visit, is gearing up for the forthcoming races to be held during the weekends of April. He was impressed by the recent upgrades taking place.  "We lost many good years with our families as we had to go abroad to earn money. At present the payments of large stakes are taking place, also the conductors are actually paying the published stakes which never took place before. This is quite impressive," Selvaratnam said.  Premadasa emphasised that the RTC has again opened the doors to horse owners and trainers to fully engage, by introducing higher stake money and by scheduling at least two races monthly.
However a dull period of two to three months, on and off during a year, is inevitable but Premadasa stated activities will be lined up heftily at the racecourse. "RTC is a non-profit organisation and as such any excess of funds earned from the sport are disbursed as stake monies or ploughed back into the game for development. There will be an off period during a year but it doesn't mean that there will be nothing happening at the Nuwara Eliya racecourse. As at now we have a planned schedule up to December this year and this will definitely make the jockeys on vacation come back permanently, so that they have employment, with guarantee, and they also can be with their families," Premadasa added.
The RTC held its inaugural races on March 20, this year, 2016 drawing a crowd of over 5,000. Running for some of the highest stakes ever offered in the history of Sri Lanka, by sponsors and well wishers of the game, RTC offered stakes between Rs 300,000 to Rs 700,000 at its inaugural races. During the holiday season, the RTC has planned races for April 10, 16, 23 and 30, with the featured race the, Kuningal Stud Magic Million, being held on April 16 offering a record Rs 1,750,000 in stakes money. The entry for races on April 10 and 30 will be free of charge, while tickets for the races on April 16 and 23 are priced at Rs 250/= for normal viewing areas.