Big question over grounds for All Island Schools Athletic C'ships
By Susil Premalal
View(s):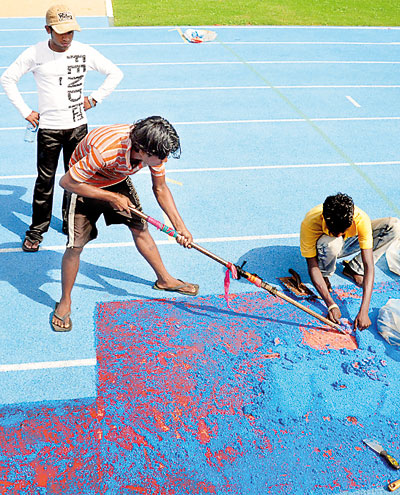 The Education Ministry is faced with a gigantic task of finding a venue to stage the track and field athletic championships of the School Games for 2016.
The event, a much looked forward to event in the schools sporting calendar, is normally held at the Sugathadasa Stadium in Colombo and Diyagama Mahinda Rajapaksa Sports Complex.
Both venues are in a deplorable state and not in a fit condition to stage the track and field athletic championships.
Added to that, the post of the Director of Sports of the Education Ministry is currently vacant with the present Director having been appointed as a principal of a school.
This caused a big void in the current track and field athletic championships as to where and when the event is to be held.
The schools track and field athletic championships is a big and important event as it has produced athletes such as Susanthika Jayasinghe (Olympic Silver medalist), Damayanthi Darsha, Sriyani Kukawansa, Sriyani Dammika Manike and Sugath Tillekeratne. A host of top athletes have emerged from the schools athletic championships.
Currently the schools games have fallen into the doldrums due to the fact that there is no proper administration in the schools structure.
Last year Akila Viraj Kariyawasam, the Minister of Education, who was the chief guest at the All Island Schools Games held at Diyagama stated that the grounds will be taken over the schools authorities and will be utilised for Education Ministry purposes. But sadly they were only restricted to words and Sports Minister Dayasiri Jayasekera stated that the Mahinda Rajapaksa Sports Complex will be turned into a sports academy. This was event stated in the Parliament.
The Education Minister has planned to bring in top class sports administrator Sunil Jayaweera, a former deputy general sports of the Education Ministry, under a new title Special Consultants Sports. This was also to be taken at a cabinet meeting last week, but so far nothing has been done and this decision too is pending.
Due to the problems prevailing on the grounds being in a dilapidated state and the weakening of the Sports Administration in the Education Ministry, the All Island Schools Games may not take place at all!
There are 26 sports attached to the All Island School Games and over 25, 000 school athletes (girls and boys) are involved in it. Normally the School Games commence in March and conclude in September/October.