Adrenaline buffs your chance to have a high
By Susil Premalal
24th Fox Hill Supercross at Diyatalawa
View(s):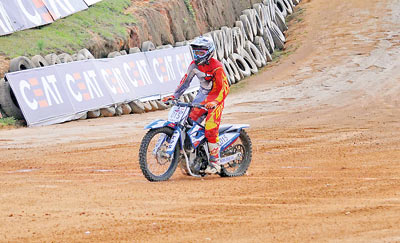 Over two hundred riders and drivers are waiting anxiously to do their utmost at the 24th Fox Hill Supercross to be held at the Diyatalawa Fox Hill track on April 24.  The event is organised by the Sri Lanka Military Academy (SLMA) in association with the Sri Lanka Autosports Drivers Association (SLADA).  This event which was originated in 1993, which has spanned for 23 years and is recognised as an international level competition.  Due to the festive season, the organisers are expecting a record number of spectators.  CEAT are the main sponsors and several others too have joined the fray. The sponsorship launch took place at the Galadari Hotel last week, where the head table was occupied by Major General Dushantha Rajaguru (Director Sri Lanka Military Academy) and Mahesh Gammanpila (Sri Lanka Auto Sports Drivers Association (SLADA). Adding to the thrill, a number of overseas competitors are also expected to compete for championships this year.
According to the organisers two leading racing drivers from India have been invited and three top Indian riders are among the confirmed participants.  This year's Fox Hill Supercross comprises of 11 motor car and 11 motorcycle events approximately, including the championship races which will be taken into account in awarding the Championship Trophies to the country' s top driver and rider at the end of the 2016 racing season are the defending champions for motor cars and motorcycles respectively.  The championship races are Grouped as Group SL-GT up to 3500 cc and Group SL-H up to 1600 cc in the motor car category and Group MX-Racing Motocross bikes up to 125 cc 2 Stroke, up to 250 cc 4 stroke and Group MX-Racing Motocross up to 85 cc (under 16 years as at December 31 2014) in the motorcycle category.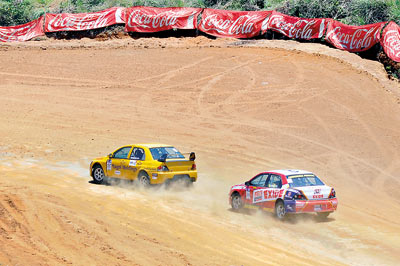 Truck and Jeep Diesel up to 5500cc and Super Motored open including 250 cc up to 1100 cc ) (2 stroke and 4 stroke) and cars up to 1500 cc in the special motor car category are among the other popular races that are expected to add to the thrills and excitement of the competition.  Brain Child of late Major General Gamini Gunasekara, who is known as Father of Foxhill will be remembered by the racing Fraternity in Sri Lanka, along with the track Designer Hans Ralf.  Two Champion Drivers, namely, Dinesh Deheragoda and last year's fastest Fox Ashan Silva have moved out to international racing and will not face the Starter. Six times Fastest FOX in the Motorcycle MX Category, Ananda Wedisinghe has moved out of MX racing Evergreen Ananda will be seeing in action in the Super Motored Class.
Known as the "King of Fox hill", Aravinda Premadasa, who has won the Fastest Fox for Motor cars on 10 occasions will, be there driving his pet Mitsubishi Evo, backed by Exide. Main Challenger for Aravinda will be emerging Star, who won the best Driver award at last month's Rotherham Meet in Katukurunda, Ushan Perera, driving a Mitsubishi Evo.  Former Fox hill Champion, Pasindu Peiris being the only competitor who has registered Fastest fox for Motorcycles as well as Motor cars, will be driving another Mitsubishi Evo sponsored by Team CEAT.  Janaka Dias, another driver from CEAT Stable, Israq Wahab (Subaru) – Team Bullion Exchange, Missaka Naveen from Magni Racing, young Tyrone Hendawitharana all driving Mistsubishi Evos. Rizvi Farouk, Driving a Subaru, keeps his record intact facing the starter for the 24th consecutive year. In the SL-S 1500 cc event, 2015 SLADA Champion Sajad Suhair will face stiff competition from Bullion Exchange team member Zakir Wahab.
Other top Contenders are young Kushan Peiris, Missaka Naveen, M. Mannapperuma, all driving highly tuned Hondas.  One of the most experienced drivers in the racing arena, and who holds the record of registering 6 wins in the year 2008 at Foxhill, Upulwan Serasinghe from Team CEAT will take part in the Ford Laser 1300 and 1500 and the SL-H 1600 events. 2015 SLADA Champion in both events, young Driver Kushan Peiris is sure to perform well.  Nearly 30 competitors have entered for both Ford/ Mazda events. SL- H 1600 is wide open with Sajad Suhair switching from Honda 1600 to the Super Car event.  Zakir Wahab, is the hot favorite with Upulwan, Shennel Gunawardena, Poorna Perera, gearing up to challenge Wahab. Only female competitor, Shahara is sure to make an impact.
A lot of veterans, including Dinesh Senanayake who is taking part for the 24th consecutive year (SL-S 1500), Lalin Kirinde- Ford Laser, Prasanna Alwis – Ford Laser, fashion designer Michael Wijesuriya- Toyota, W. D Rangana- Ford Laser, K Parameswaran – Austin Mini, Cassim Wahab — Mitsubishi Pajero are the other notable participants.  The Hans Ralph Challenge Trophy awarded for the Best Rider was won in 2014/2015 by Indian Rider K.P. Aravind for TVS. On both occasions young 2015 SLADA Champion, Shehan C Adikari was the runner-up. This year Adikari will be riding for Team Honda. Former Champion Gayan Sandaruwan who won Best Rider Award on five occasions and sharing the Trophy once with Pasindu Peiris, in year 2007 has recovered from injuries and teamed up with his brother for team Honda Shanuka Sandruwan. It is a great achievement for Sri Lanka, TVS India has come forward to sponsor two Sri Lankan riders – Ishan Dassanayake and young Jaques Gunawardena.
Army riders in the MX class, Jayasanka Sigera and Sameera Premaratne with years of experience will be the force in the CEAT SLADA Championship. Another team to take note is Team CEAT, Evon B Gurusinghe and Deshan Solanki teaming up.  125 two stroke class has attracted 20 competitors. Forces 125 MX will be a classic event to watch and all 15 Riders will be riding MX Yamaha Motorcycles.  In the fourth event up to 250 cc, 2015 SLADA Champion Evon Gurusinghe will have stiff opposition from Shanuka Sanda, Lahiru Jeewantha DM Shafraz, Sampath Kumara to name a few. Supermotard up to 750 cc, veteran Rider Ananda Wedisinghe will be in action with young riders Suraj Perera, Srimal Malawige and SLADA Champion Imal Manchanayake.
Track preparation is done by Sri Lanka Army Engineers. Team of SLADA members with Racing experience, namely Pasindu Peiris, Indika Gurusingha and Mahes Gammanpila are assisting. As in the past, a field hospital will be available there with two Doctors and Nursing Staff. Fire fighting, water browsers to control dust and SLADA Recovery Team headed by Saman Karannagoda with two fully equipped recovery vehicles are there for any type of Recovery. Clerk of the course will Mahes Gammanpila, Dilhan Jayawardene will handle Auto Mirage Sponsored course car while incident vehicle provided by Ford, with a fully equipped First aid kit and paramedics will be driven by Sam Chandrasoma. - (SP)