Kathmandu to Namche Bazaar
View(s):

Gearing up to be the first Sri Lankans to summit Mount Everest, Jayanthi Kuru-Utumpala and Johann Peiris have set out on their journey. The following is a short account of their progress as conveyed  by the duo to their support team in Colombo.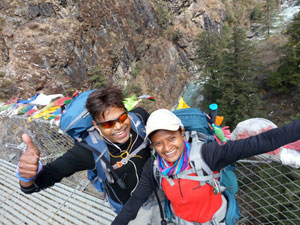 We left Kathmandu on Saturday April 5. We were to leave on a small plane at 5:45am and fly into Lukla airport (2,845m) – one of the most scenic, and dangerous in the world. Flying into Lukla requires visibility for landing and unfortunately conditions in Lukla were cloudy. We therefore waited at the airport – it was hard to wait as we were all keen to start hiking. We waited and waited as the clouds in Lukla were not lifting. Mid-morning was the point where alternative arrangements had to be implemented: A chartered helicopter was arranged and we packed our baggage onto that and flew into Shurke (2,290m), which is at a lower altitude than Lukla and also had a helipad. As the helicopter could only take 6 passengers at a time it had to do a number of trips to ferry the whole team (other trekkers, Sherpas, guides and all our equipment), to Shurke. We then trekked to Lukla, which was 1.5 hours uphill.
The following day we hiked from Shurke up to Monjo (2,835m). Both of these places have tiny  guesthouses on the side of a hill. This was our first proper day of hiking and it was excellent! We were both delighted to be out hiking in the Himalayas again. The countryside is so scenic – valleys, rivers, mountains and swinging bridges, yaks, and mountain flowers. Beautiful!  We stayed overnight in Monjo and then hiked up to Namche Bazaar (2,835m), a continuous, steep uphill climb taking 4 hours. Namche Bazaar is the last town we will see and this is a critical stage for acclimatization. Today we do a day trek and hopefully see our first view of Mt Everest. That will be quite special. We then spend another night in Namche Bazaar following the 'hike high sleep low' principle which allows us to adjust to the high altitude. We are getting higher and higher and each day brings new views, experiences and thrills.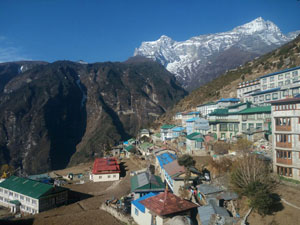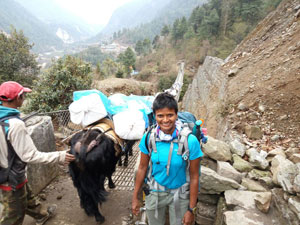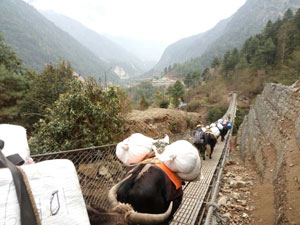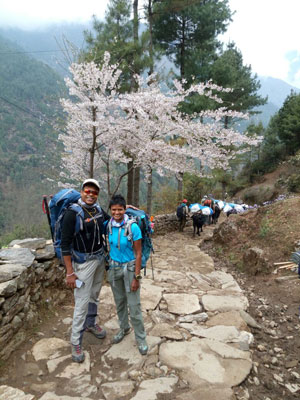 Stay tuned for more updates on their progress as we publish highlights from Jayanthi and Johann's journey to the summit.