Presidential red light for Fonseka's Benz
View(s):

Soldier turned politician Field Marshal Sarath Fonseka, now Minister of Regional Development, received what seems a polite snub from President Maithripala Sirisena at a recent weekly ministerial meeting.

It came after the Field Marshal told the meeting that with the financial allocation of Rs. 35 million for his ministry, he was unable to even buy a vehicle. Whilst the latest series BMW cost Rs. 70 million, a Mercedes Benz was Rs. 40 million. This, he said, fell short of the allocation by five million if he was to buy a Benz and he sought approval for it.

It was President Sirisena who politely explained that the request can be reviewed later. Yahapalanaya (good governance) or not, ministers, it seems, cannot do without BMWs or Mercedes Benzes to serve the people. That too at a time when the country is facing an acute balance of payments crisis. While the ordinary folks are asked to tighten their belts, the ministers tighten their seats belts on land and in the air.

Other than official vehicles for ministers, they are among MPs who are entitled to duty free vehicles. The limit on such vehicles has been raised to US$ 75,000.
---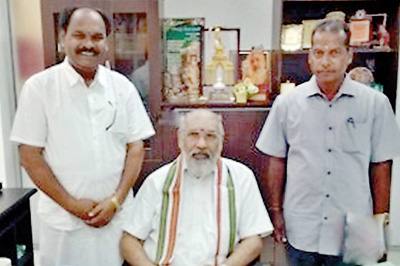 Eelam rep meets Vigneswaran, KP
Agni Subramaniam was once banned from visiting Sri Lanka.
This is because he was identified as the Tamil Nadu (or Indian) representative of the so called Transnational Government of Tamil Eelam.
Its "Prime Minister" is New York based lawyer Viswanathan Rudrakumaran. Last week, Mr. Subramaniam was in the Jaffna peninsula conducting meetings with many people. He was the house guest of Kumaran Pathmanathan at the official residence provided for him by the Government. Mr. Pathmanathan or KP was the head of the Procurement Wing of the Liberation Tigers of Tamil Eelam (LTTE).
The picture above shows Mr. Subramaniam (left) with Northern Province Chief Minister C.V. Wigneswaran. On the right is Vindan Kanagaratnam, Tamil Eelam Liberation Organisation (TELO) Northern Provincial Councillor.
---
Sloshed official goes Down Under at DPL party
What happened to the top bureaucrat is not simply disgraceful but left an ugly impression about Sri Lanka and its officialdom.
Much to the shock of those around, he knocked down one Scotch whisky after another at a diplomatic dinner. When it came to dinner time he was wobbly and his speech slurred.
The man had to be helped to the dinner table as some of the Scottish brew dripped down from both ends of his mouth. Talk of defending the nation and the people?  Well, that is the sad state of affairs the public service has come to.
---
Fishing ban: Selfish officials rock the boat
An important meeting between Sri Lanka and the European Commission on the lifting of the fisheries ban was scheduled for March 30, but has been postponed due to the bomb attacks in Brussels.
The EU has made clear that this will be the final round of talks. An official said the EU has lost patience over the lackadaisical attitude of fisheries officials in fulfilling Sri Lanka's international obligations despite the assurances given by Foreign Minister Mangala Samaraweera immediately after the new government took over. These assurances had been reaffirmed strongly by Prime Minister Ranil Wickremesinghe a few months ago.
This was when an EU technical team visited Colombo. Now word has it that although the final 4-hour meeting took place in the first week of April in Brussels, the Fisheries Ministry delegation planned to be in Brussels for a week thereafter.
And some in the delegation were pleading to find accommodation in the modest residences of Sri Lanka Embassy officials rather than focusing on the critical issues pending for months. The efficiency of the delegation is such they missed the flight from Colombo and were frantically trying to get to Europe to save as much as possible the per diems they have already claimed in advance.
Poor fisher folk of Sri Lanka, with friends like this who needs enemies? After all, the country is losing only USD 10 million monthly on account of the fisheries ban of the EU (not to mention the damage to the image of the country) and officials are trying to make the maximum as this was their last chance for a European jaunt.
---
Sleeptalking at police reform meeting
The British Government is helping Sri Lanka with Police reforms. A discussion in this regard took place at the Water's Edge in Battaramulla last Wednesday.
During a short speech, senior Deputy Inspector General of Police (SDIG) Pujitha Jayasundera noted that sleep deprivation was one of the factors affecting police officers. He said particularly sergeants and constables were among those affected and pointed out that on many occasions they had only three hours of sleep.
Some of the top brass present were asking each other whether this was Mr. Jayasundera's answer to photographs in local media showing him and other top brass asleep at a police ceremony at the BMICH. Law and Order Minister Sagala Ratnayake was speaking at that moment.
---
Dilan hails Ranil as 'excellent democrat'
His busy daily schedule notwithstanding, Prime Minister Ranil Wickremesinghe finds time to keep track of what detractors had to say of him.
Recently, he watched a video of remarks made about him by Dilan Perera, State Minister for Highways, at a news conference.
At the end, the Premier laughed it off.
Mr. Perera compared the Premier to one who was behaving like a Maradana Chandiya (thug) in Parliament. Mr. Perera told the Sunday Times: "I did mention that but I have a lot of respect for Premier Wickremesinghe for he is an excellent parliamentary democrat."
Ajit Perera, Deputy Minister of Power and Renewable Energy, commenting on the episode declared; "Our Prime Minister is not petty minded. He takes criticism on the stride."
---
Cooray takes over as Hilton chief
Krishantha Cooray, head of the United National Party's pre-polls media unit, has been appointed Chairman of Hotel Developers (Lanka) Ltd, the owning company of Colombo Hilton.
The Board, made up of new members except for one who refused to resign, met for the first time on Friday.
They were appointed by Enterprise Development Minister Kabir Hashim.