MP's Code of Conduct draft circulated among members
By Chandani Kirinde- Lobby Correspondent
View(s):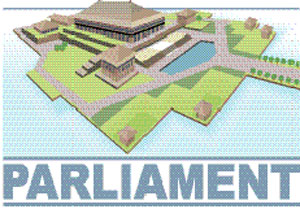 It's been a long time coming, but the draft Code of Conduct for lawmakers that was circulated among MPs this week, if adopted, will go a long way towards building public confidence and trust in elected representatives of the country.
Speaker Karu Jayasuirya informed MPs on Thursday that the draft Code of Conduct has been issued in three languages to all MPs, and requested them to study the document and submit their suggestion in writing to the Secretary General (SG) of Parliament within two weeks. The Code is to be established by a decision of Parliament, after the MP's feedback is received.
The Code of Conduct brings in much needed transparency and accountability to the financial dealings of MPs with specific reference to the disclosure and publication of interests, making it necessary for them to disclose "sufficient information regarding their business relationships and financial interests, including information of next of kin.
It envisages the compilation of a Register of Members' interests to be maintained under the authority of the SG of Parliament, which information will be made public in accordance with the Right to Information Law expected to be enacted by Parliament in May.
MPs will need to disclose in the Register "all relevant interests that a reasonable person may think could give rise to the perception of influencing behaviour between the MP's duties and responsibilities and his/her personal interests (for example, land and property assets, shareholdings, gifts foreign travel, symbolic rewards like Honorary Degrees, sources of income, remunerated employment directorships etc.). Also importantly, it will prohibit an MP from voting in Parliament in a division, on a matter in which he/she has a direct pecuniary interest.
There are also strict rules for use of public property by lawmakers. It prohibits the acceptance of any form of inducements that would give rise to conflict of interest or influence in their conduct as MPs, nor engage in paid lobbying, paid parliamentary advice or paid advocacy.
These envisaged new rules for MPs will however, not take away the special immunities they are entitled to under the Parliament (Powers & Privileges) Act.
The Code also makes reference to civility and behaviour of MPs. At present, MPs are governed by Standing Orders of Parliament on how they should conduct themselves in the House, with specific guidelines for members speaking in Parliament and for Members not speaking, but these rules are often breached.
The Code applies to all MPs including the Speaker and Prime Minister in all aspects of their public life, but the rules in no way "seek to regulate what members do in their private and personal lives."
The Code of Conduct for elected representatives was promised by President Maithripala Sirisena in his election manifesto. While this one falls short of the Code of Ethics promised in the manifesto, which was to be one "binding on all peoples representatives "and to be "legally enacted," this Code of Conduct, coupled with the RTI law will go a long way towards bringing about much needed transparency in the dealings of politicians and also make them accountable to the public who voted them into office.