Happy Hindu and Sinhala New Year
View(s):

Our society usually names the New Year as Sinhala and Hindu New Year. The Media and the higher ups in society maintain this as Sinhala & Hindu New Year. But I wish to term it as Hindu & Sinhala New Year. One reason for this is that in Sinhala the shorter word is placed first followed by the longer word. It is also not to demean the status of the Sinhala. It is true the Sinhala race is a majority. But the stronger race must give a place to the weaker race.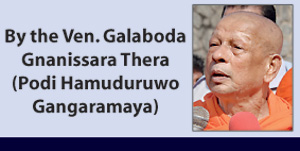 When the New Year dawns it is the duty of everyone to observe rites as laid down by the planetary movements and look after one's family, country and self. New Year 2016 is a good opportunity for this. We get new utensils, clean and arrange our hearth, clean the house and start on a new journey. We forgive and forget the past. Let go of our anger and ill will. It is important to celebrate the New Year with the thought that everyone must live in peace and goodwill.
In the past only the two main races — Sinhala and Tamil — lived here. There was unity between the two in the past. Tamils lived as Hindus and Sinhalese as Buddhists. There was also a close relationship between Sri Lanka and India. From the time of King Vijaya we had this link with India and people lived here without enmity as Sri Lankans. Hindu kovils and statues were there in Buddhist temples but there were no Buddha statues in a kovil. Today new kovils have Buddha statues. This is a good sign. The temple and the kovil can build the strongest bridge between the two races. Instead of spreading dissension, we need to encourage the growing generations of Sinhala and Tamil people to live in harmony. Those who are reading this article must give a place for Hindus in Buddhist temples and Buddhists a place in Hindu kovils.
Even though we may have wealth in the form of land and cash, if we fall ill we cannot enjoy such wealth. So let us wish for good health this New Year. There is a ceremony to apply 'Naanu' and both Buddhists and Hindus have the custom of anointing the head with oil. We can do much outside the rites to maintain good health. We can change the day's proceedings to suit us. But you must stick to the essentials and educate your children to do so. Maintaining good health must be given priority.
Who will take out the cotton wool from the pillow and soften it and put it back occasionally? Who washes the pillow case and the bedspreads at least weekly? These are essential for one's health. When we wash our pillow cases and bedspreads, we feel so comfortable. Can you remember the day when you last washed your sheets and pillow cases? You have religious worship both in the morning and in the evening, but don't forget to observe basic health habits. Do these and ask for good health.
In our media and in marketing, artificial food is promoted. Most people are running behind processed food. We need to go back to the old habit of adding some salt and other ingredients to the remaining rice from the dinner table to eat it in the morning as breakfast. It is not necessary to drink powdered milk and have a heavy meal as breakfast. If we take a light meal in the morning, we can start the day on a simple note. This is what is being done in other countries. They munch a few grains of cereals while working, so that they don't go hungry. That way they avoid getting gastritis. Our people don't do this. Many people suffering from gastritis do not have anything in their bags or pockets to eat every now and then. They prefer to spend their hard earned money on medicinal drugs.
Some women have forgotten that their homes should be treated as palaces. They wear the same old clothes. They go to work and return and wear the same clothes. However much you have work at home make time to wash your clothes. Because of big curtains that are hung in some homes it is dark inside. There is no way for natural light to come in or breeze to come in. Because it is dark, some houses keep their lights on even during the day. But if we can get light in and the breeze to blow through doors and windows, we will be more comfortable. We may have nice curtains and a big bank balance, but if we are sealed inside our own house, we are not blessed. We must make sure that we have fresh air inside our houses. This will bring us good health and we will be happy. Only we know what we really need. We need to have these things attended to soon. It will help us to live in a healthy and happy way. We don't need to be rich to achieve happiness.
I also advise shop owners to give more thought to customers and sell things at the lowest possible price. This will help improve thier business. It is better to sell goods with a little profit and become rich slowly rather than sell goods at a higher price and become rich fast. People will appreciate you more. When the packet of lunch was Rs. 150, the Gangarmaya started to sell a packet for Rs. 50 and many traders reduced their prices to Rs. 70 or 80. Again the prices have gone back to Rs. 150, though the price of rice has not increased. I am appealing to hotels and others to give a clean meal at a reasonable price.
My wish for this Hindu-Sinhala New Year is that everyone should live in good health and in peace with each other without quarrelling, observing the precepts of each one's religion.