Schoolday nostalgia
View(s):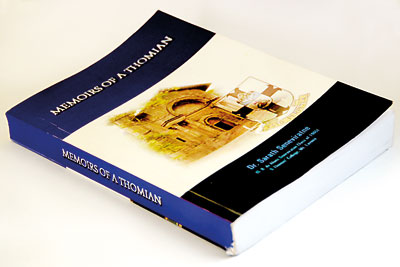 Almost anyone anywhere in the world who has left their school days behind remembers them fondly, with more than a tinge of nostalgia. Those who were fortunate enough to have lived before the digital age would remember a completely different time where life was lived in a simple way and time passed by in a calmer manner than it does now. 'The good old days' is a favourite topic of conversation for many who remember their childhood before the age of television and mobile phones. 'Memoirs of a Thomian' successfully evokes these memories not just in Thomians, but in everyone who can remember what life was like before globalisation, painting as it does, a vivid picture of what it was really like to attend S. Thomas College, Mt. Lavinia in the late 50's and early 60's as author Dr. Sarath Seneviratne did.
Dr. Saratchandra Buddhapriya de Alwis-Seneviratne is a highly qualified Obstetrician and Gynaecologist whose work in the Cayman Islands has won him the highest honours bestowed upon citizens of eminence residing in the island, which includes the Award for 'Emerging Pioneer in Health Services' – an honour which was bestowed upon him in 2015. A sportsman and scholar, Dr. Seneviratne entered the Medical Faculty of the University of Colombo following his schooling at S. Thomas College. An all rounder who also enjoys writing and art, a selection of his paintings and poems have also been included within the 420 pages of the book.
What's really interesting about this account is the fact that in spite of his many achievements, Dr. Seneviratne remains humble and recalls the many canings and punishments he received in school with good humour while incorporating such experiences into a loving account of his schooldays which he believes has made him who he is today. Much of what could possibly be stated about Dr. Seneviratne's school career (and possibly everything which could be stated about being a Thomian), has been described in much detail – with entire chapters dedicated to the different aspects of school life, such as dining, boarding life and teachers.
Book facts:  
Memoirs of a Thomian by 
Dr. Sarath Seneviratne
The opening chapter of his book recalls how he received a sharp knock on the head from Rev. Barnabas and there are many more incidents and anecdotes which make the story more real and personal. He even mentions how he was influenced by linguist Arisen Ahubudu and cites a poem which this great teacher penned for him on his autograph book. This poem states that Mr. Ahubudu would even come with a walking stick to see the great deeds which Dr. Seneviratne would achieve in the future.
The chapters on his cricket career will undoubtedly warm the hearts of cricket lovers. Dr. Seneviratne served as school cricket captain and is reputed to have been one of the best cricketers in his day.
Anyone wanting to read about this eminent doctor's career after he left school in 1965 will not be disappointed either because the latter chapters of the book follow Dr. Seneviratne's life as he went on to Medical College acquiring a broken down bicycle for Rs. 10 as a means of conveyance.  There are some interesting anecdotes of cases during his further studies in the UK and his skill in making correct diagnoses which he puts down to his excellent training in Sri Lanka.
Dr. Seneviratne in 1994 took the momentous decision to accept the offer of a post of Head of Department/Consultant in the Cayman Islands forsaking the security of a life- in the UK. It turned out to be the right choice as for the most part, he describes his life there as idyllic.
The account of his ordeal in the Cayman Islands during a hurricane which he experienced together with his wife 'Chinki', along with the account of his parents' passing and similar recollections reveal his humility, strength and wisdom which has served him well throughout the years.
The book priced at Rs. 1,000 is available at the STC OBA Secretariat  -tel: 4955047, Dhammika Jayasuriya- 0777352170 or with  Milinda Hettiarachchi 0777552219.
- Kaveesha Fernando