Revisiting a French connection
By Smriti Daniel
View(s):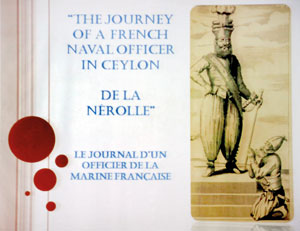 Standing in front of a room crowded with De Lanerolles, Yasmin Rajapakse introduces them to their ancestor. Curiosity has brought this clan here from all over the city, and young and old both hang on the tales of Pierre Laisnesieur de la Nérolle who, as the first lieutenant of the vessel Le Triomphe, watched as his fleet approached Galle in 1672.
In the audience is Nalini De Lanerolle, one of the most senior members of the Lanerolle family, and sitting in the back row, are two of the youngest – Sonja and Nathaniel belong to the tenth generation of De Lanerolles. There is the air of a boisterous family gathering, but of course this family also includes the De Lanerolle Brothers and so the entertainment is in a class of its own. Rohan and Ishan set the tone with a rendition of LaMer, only later revealing that they had to work hard to get their French pronunciation right.
Yasmin's lecture 'The journey of a French Naval Officer in Ceylon – De La Nérolle' is part of the Francophonie month at the Alliance Française de Kotte. The one-time host of the popular show Bonsoir has been invited to do what she does best – translate French culture and history, which she knows so intimately, into something modern Sri Lankans can relate to. In her presentation she weaves together anecdote and historical fact, tales from log books, maps and pictures of homes that still stand in France and on this island.
Breaking her presentation into two parts, she began with a forgotten episode of the French connection with Ceylon – the17th century French Naval expedition called "Escadre de Perse" or "The Squadron of Persia." Within the frame of the 15th century and the Great Age of Discovery, Yasmin portrayed an era of many ambitious expeditions and the jostling for power and territory among the various colonial nations.
One of Yasmin's more entertaining finds comes in the form of a log book entry, as Le Triomphe bears de La Nérolle toward Ceylon. In it the sailors recount being overcome by the scent of cinnamon as they draw closer to land. It is so potent, they struggle with dizziness and a shortness of breath. She paints a compelling portrait of the days and months that follow, as the French encounter an island bristling with hostile wildlife and strange fauna. They do not receive a particularly warm welcome at the royal courts, and as the French position continues to deteriorate, de la Nérolle must cope as best he can.
The second half of Yasmin's presentation explores Pierre Laisnesieur de la Nérolle's antecedents, the region in France (famed for its grapes) which he hailed from and his marriage to Jeanne Dauphin, the daughter of Charles Dauphin, Lord of Fleurignac. When her husband fails to return from his journeying, the long suffering Jeanne has herself declared a widow.
In the meantime, de la Nérolle faces imprisonment in Ceylon. "The most widespread facts concerning his detention are well documented by Robert Knox, which refer to the breach of court etiquette," Yasmin reveals. De la Nérolle incurs the Kandyan king's wrath when he refuses to linger after having been kept waiting for two hours, but the two soon make their peace and the Frenchman is back in favour.
"After the death of King Rajasinghe II, de la Nérolle became friends with the successor King Vimaladharmasuriya II," says Yasmin. Quoting a Sannasa dated May 7,  1723, she reveals he remarried, this time to the daughter of Rajaguru Pandithe Mudiyanse, a private tutor to the court. "They received many gifts from the king, including state land." And the title of Amarakone Mudiyanse was conferred on de la Nérolle. The man's sons and grandsons went on to hold high office in the kingdom.
As his influence grew, de la Nérolle's prejudice pitted him against another well-known name – the Catholic priest Father Joseph Vaz, who de la Nérolle convinced the king to imprison. When the king decided the missionary was harmless and should be released, de la Nérolle did not give up his crusade, and is believed to have incited the Buddhist monks to hostility against the Catholics. For his part, Father Joseph Vaz made his opinion of the Frenchman clear describing de la Nérolle as a 'bold and unscrupulous adventurer.' In the many heated debates that followed, de la Nérolle would open his French bible and to make his point would begin to read and to translate in to Sinhalese on the spot, says Yasmin.
Over time, de la Nérolle became so attached to Ceylon and to his family here, that he made clear he had no intention of returning to France. Declaring he would not leave without the permission of the Kandyan king, he added that even if he were to receive royal sanction, he would not leave if it meant abandoning his family.
Yasmin concludes by pointing out that the De Lanerolles have long held a unique place in Ceylonese society. "They have formed an ethnic group for nearly ten generations. By religion they are Catholics, Protestants and Buddhists. Some are renowned scholars, educationists, chieftains, artists, journalists, devoted churchmen, social workers, and they have reached great heights and eminence in their respective fields," she says. "Their story testifies to the decisive impact the French had on new areas in Ceylon, and one that is more long lasting than military or naval victories."