JCI Colombo AGM
View(s):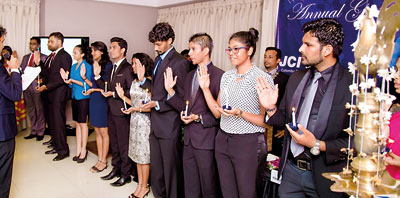 The Annual General Meeting of the JCI Colombo South Chapter was held on March 21, 2016. The Colombo South chapter which had been dormant for some time was revived with JCI Sri Lanka National President JC Isuru Samarage as the Chief Guest and JC Senator Upali Mahanama, the founder of the JCI Colombo South Chapter as the Guest of Honour.
Also present were JC Senator Rohan Abeywickrama, JC Senator Upali Kulathunga, JC Shiraz Salih and JC Devsiri Fernando, past Presidents of the chapter.
JC Natalie Goonewardene took oaths as Chapter President-with the ceremonial collar exchange from immediate past chapter president JC Kolitha Karunarathne. Lasitha Vijeyakumar (Vice President – Internal), Yasas Subasinghe (Vice President – External), Shameem Naffeel (Treasurer), Annalize Dabara (General Secretary), Roshini Perera (General Legal Counsel), Kaushalie Amarasinghe (Director Individual), Nisali Peiris (Director Community), Ashwin Devotta – (Director Business) and Ruvinda Bernard (Director International) also took oaths.
For information on joining JCI Colombo South, see or the JCI Colombo South Facebook https://www.facebook.com/jci.colombo.south/?fref=ts