Here comes Michael the bridal guru
By Dhananjani Silva
View(s):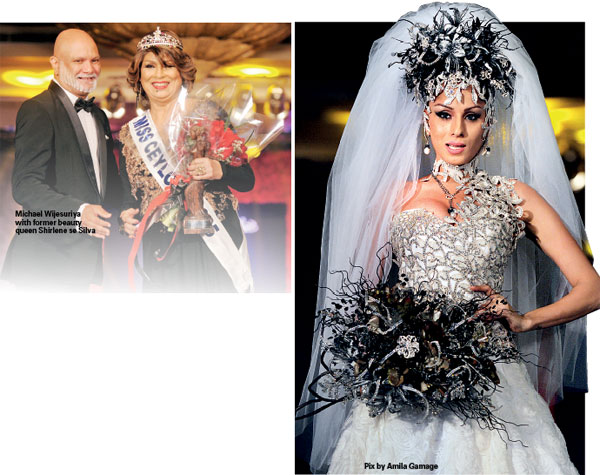 A connoisseur of brides and beauty, Michael Wijesuriya celebrated a significant milestone in his career last week at a glittering ceremony held at Cinnamon Grand Colombo.
A celebration of his 25-year long presence in the bridal industry apart, Michael dedicated the evening to his role model –Julanne Wijesuriya, his beloved mother who died of cancer four years back. Hence, in honour of his mother and all those who have battled the deadly disease, Michael chose the Sri Lanka Cancer Society as the beneficiary of the show.
The glamorous fashion affair attended by his family, friends and colleagues who hail from various social circles; all whom have been a part of Michael's journey throughout, showcased the incredible fashion creations of this iconic designer which included an impressive bridal collection- which proved beyond doubt that, he is an emperor of the bridal world. The evening also showcased an equally stunning saree collection, evening gowns and men's designs.
Notably, the models who took the ramp with Michael's creations included not just the familiar and the new, but even the senior models.
Interestingly, Shirlene de Silva- who was crowned Miss Ceylon 50 years ago also came on stage during the show wearing the same crown and sash that she wore at the pageant back then, to cheers and applause.
The big moment of the night was when Michael came on stage to cut the celebratory anniversary cake surrounded by his family and staff.
"When I look round I feel how people have stood by me," said Michael as he stood next to an incredibly beautiful cake structure that was made in the shape of a mannequin, incorporating various elements associated with this fashion designer.
A celebration of Michael's life, the fashion party also enlightened those present of the lesser known aspects of this fashion veteran such as his talents in motor car racing and music.
While his colleagues like Ramzi Rahaman with whom Michael worked with in a big way as he entered the field, recalled the beginning of their association working on a fashion show together, his Music teacher informed the audience that Michael is equally talented in playing the organ and the cello.
Those present at the show indeed witnessed Michael's artistry not just with brides, but on the keyboard too.