Essential reading for literature buffs
View(s):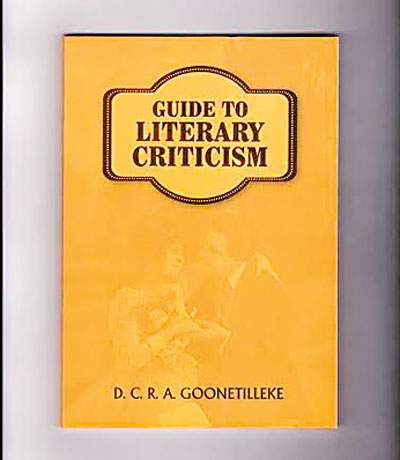 This book provides a foundation course in Literary Criticism. It is essential reading for success-oriented students in G.C.E. (Ordinary and Advanced Level) classes and for those following undergraduate studies as internal or external students. It is also addressed to teachers of Literature as a means of enabling them to open up the minds of their students. In fact, it has been designed as a textbook for use in the classroom as well as for self-study. It examines both aspects of meaning in literature and aspects of literary form such as rhythm, imagery, symbolism and structure. It offers exercises in criticism as well as comments on these exercises. The critiques could serve as models for those beginning a study of literature and facilitate the development of their own critical faculties.
To more experienced readers, the critiques should act as a stimulus to further thinking. The book includes a Glossary of literary terms. In addition to students and teachers of Literature, it should prove an asset to journalists, reviewers, script-writers, those aspiring to be creative writers – to all those who wish to increase the effectiveness of their use of language. It should awaken the appetites of general readers who wish to increase their understanding and enjoyment of literature. It is relevant to a readership not only in English but in Sinhala and Tamil as well.
D.C.R.A. Goonetilleke, Emeritus Professor of English, University of Kelaniya, was Foundation Visiting Fellow, Clare Hall, University of Cambridge; Henry Charles Chapman Visiting Fellow, University of London; and Guest Professor at the University of Tubingen, West Germany. A well-established critic of twentieth-century and postcolonial literature, and the leading authority on Sri Lankan English literature, his books include Images of the Raj: South Asia in the Literature of Empire (1988), Joseph Conrad: Beyond Culture and Background (1990), Salman Rushdie (2nd edn. 2010), all published by Macmillan (London); Joseph Conrad's Heart of Darkness (London: Routledge, 2007) and Sri Lankan English Literature and the Sri Lankan People 1917-2003 (Vijitha Yapa, 2nd edn. 2007).
Book facts: "Guide to Literary Criticism" by D.C.R.A. Goonetilleke
(Sarasavi Publishers, September 2015)
Price: Rs. 300
He has edited Joseph Conrad: Heart of Darkness (Canada: Broadview Press, 2nd edn. 1999)and Kaleidoscope: An Anthology of Sri Lankan English Literature Vols. 1 & 2 (Vijitha Yapa, 2007, 2010).