Appreciations
View(s):

PROF. RUSSEL BOWDEN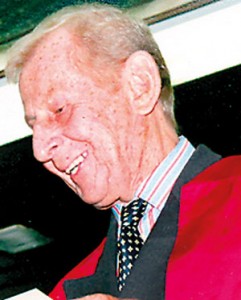 A distinguished librarian who stood for humanity
The demise of Prof. Russell Bowden on January 27 after a brief illness rattled the Library and Information community in Sri Lanka and around the globe.
Prof. Russell had a distinguished career in the Library and Information Science (LIS)) field spanning a few decades, in the British Council, Loughborough University of Technology and Library Association, UK. He held the position of British Council Librarian in India, Nigeria, Iraq and Sri Lanka in the late 1950s and 1960s. During his tenure in Colombo in 1966-68, he was involved in the activities of Ceylon Library Association and helped the young association in many ways.Later he joined the Loughborough University of Technology, England initially as a postgraduate student in Library and Information Science and later as a lecturer.
During that time with Prof. Peter Haward Williams, he initiated the Masters programme for library science teachers, especially those in developing countries, combining the curricula of library and information science and education. He was the first Course Director of the popular postgraduate programme which was assisted by the UNESCO.
Thereafter he joined the Library Association, UK (present Cilip) as the Deputy Chief Executive (the principal administrator) in 1976 and after a long and distinguished service, retired in 1994. During that time he was closely associated with International Federation of Library Associations and Institutions (IFLA), the international forum of the library and information field and served as its first Vice President for four years. After retirement he joined the newly established Thames Valley University, London and helped the management to put it on a firm footing. He was awarded an honorary Professorship as a token of appreciation of his services to the University.
In 1996 Prof. Russell came back to Sri Lanka and settled down to spend his retirement in his favourite part in the world. During the last two decades he largely devoted his life to study Buddhism and assist the library and information field in the country. He joined the Postgraduate Institute of Pali and Buddhist Studies of Kelaniya University and successfully completed the Masters, MPhil and PhD degrees during the period. He had been a regular member of the Council of the Sri Lanka Library Association (SLLA) during most part of the period and served in many of its advisory committees with vigour and enthusiasm. At the National Library and Documentation Services Board (NLDSB) too he served in a number of advisory committees from time to time. He was a regular member in the Board of Management of National Institute of Library and Information Science (NILIS), University of Colombo from its inception. Prof. Russell was an active member of the Royal Asiatic Society, Sri Lanka and served in many committees there including the Library committee and Publication committee.
His long experience at the UK Library Association, higher education and at IFLA was very useful for the SLLA, NLDSB and NILIS. He was a regular contributor to the professional journals and national and international conferences of all three organizations. He kept his Cilip membership and from time to time donated the professional literature he received from it to the NILIS, SLLA and the National Library. He played a key role in developing the 'Empowering 8' the well-known information literacy programme of NILIS. He made a significant contribution to the Tsunami Library Development Project based at NLDSB after the South Asian Tsunami of 2004. He was considered the father of the Regional Federation of Library Associations of South Asia (REFSALA) the regional LIS forum initiated in 2006 in Nepal.
With the SLLA, NLDSB and NILIS he fought hard to improve the School Libraries and Resource Centres (SLRCs) introduced under the World Bank assisted GEP 2 project. Unfortunately it was not a success, largely due to the bureaucratic interference and the lack of the political will of the Ministry of Education. As a result today the 4,000 SLRCs introduced through the GEP 2 project in late 1990s, are largely being neglected without professional librarians to manage them. When similar school libraries in many parts of the world are run by quality professional librarians, in Sri Lanka they are either manned by office aides, labourers, casual hands or teachers on a part time basis. Some of the SLRCs have been closed down completely.
The NILIS was established under the same project to train teacher librarians to run those SLRCs. Since the Ministry of Education or Provincial Ministries of Education have no teacher librarians to train, and have no plans to recruit them in the near future, NILIS is deprived of its primary target group of students and is now fighting for survivals with a limited number of postgraduate programmes. Prof. Russell, with the senior officers of the NLDSB, SLLA and NILIS met the Ministers, Secretaries and other senior officers of the Education Ministry a number of times without any positive outcome. He often used to say that depriving millions of school children the opportunity to have a quality library and information service in the 21st century is a major crime committed against humanity.
At his funeral oration, the Director/NILIS announced that the Board of Management of NILIS had decided to name the NILIS auditorium 'Professor Russell Bowden Auditorium' to honour him.
May he rest in peace.
- Upali Amarasiri
---
John David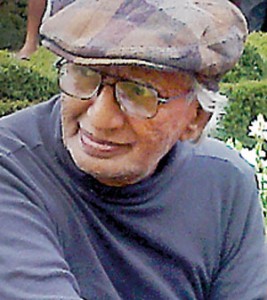 In celebration of his life, a rare gift from God
Dad was truly a gift from God, not only to us his family, but to anyone and everyone who knew him. If I had to describe him in two words, several rush to my mind. A strong character, eloquent speaker, progressive thinker, a deep philosopher, naïve personality, melancholy artist, generous human being, a devoted husband and above all a truly adorable father.
He led a life of generosity. He was generous with everything he had; his possessions, his skills, his creativity, his time, his love, his patience, his understanding, his tolerance.
My memory runs back to my childhood, where we as kids were never consulted, before inviting people home, letting someone use our rooms, borrow our books or even sleep on our beds while we were away. Akka (Sherrine) and I would come after school, run upstairs to find a load of rucksacks and travel bags heaped on the ground and some unknown person occupying our room, lying on our beds, relaxing with a book on 'Sri Lanka' or a 'Time' magazine. This 'stranger' would greet us with a warm smile, and would have already learnt our names and most of the times a bit more of our inner private selves, as proof that they have had some introductory chats with Dad and Mum. And instantly Dad would follow, with no formal introductions or familiarities – suggesting half a dozen activities to do with these 'strangers' and within the next 10 minutes a tentative mental plan was laid down on places to visit, persons to meet, local fruits to taste – making Akka and me two little 'tourist-guides'. And from this point on we would act as though we had known them for ages. As the two younger brothers (Sherwin & Tyrone) and my kid sister (Nirmala) grew up they too went through the same experience, but even more complex as the two boys even had to drive these 'strangers' to places of interest and even stay overnight with them as Dad had obviously volunteered on behalf of them in their absence.
This was Daddy. A spontaneous, energetic and positive individual ever ready to share what ever little he had. And of course dragging Mummy, (Therese) and all of us in to his positive attitude; his way of life. Though we did not always enjoy it, this was normal life at home and the typical environment we grew up in. Mummy, was his most precious, who stood by and supported the  accomplishment of  all his wishes and his 'not-so-normal' life; in return, he spoiled her like any devoted husband would.
Everything was possible and do-able for Daddy. He believed in God, and gave him a petname, and called him the X-factor. Throughout his life the X-factor had been providing, guiding and blessing him abundantly. Looking back at Daddy's life it was a life full of challenges. He faced poverty as a child, humility as a youth, discrimination as an adult and bereavement as a parent. But none of this could tamper with his attitude towards life. A progressive human being, a gentle mortal.
He called himself a Christo-Buddhist. (with no personal insult to any traditional faith or religion). He truly believed that the teachings of Lord Buddha and Christ had more similarities than differences. "Compassion" and "Love" are two sides of the same coin he said. I noticed that he had penned a few lines from one of his favourite books: "Two Masters One Message" – The Lives and Teachings of Gautama and Jesus by Roy C Amore – …I believe myself that Buddhism and Christianity, whether historically connected or not, are two parts of the one great spiritual movement. One Cosmic upheaval of the human soul which burst open to a crate in India five hundred years before Christ and a second and a greater one in Palestine as the Christian Advent. Whether the lava which the twain ejected ever met in early times or not is of little moment: it came from the same font of fire…(Page 100). He seriously believed in the cosmic energy, the Holy Spirit, the giver of life.
One of his last episodes or incidences I remember distinctly is when an unknown person called to see Dad just a few months before Dad passed away. He introduced himself, and said Dad had helped his son to school over the last five years and wanted some financial assistance for the boy who had been selected for a tour in China. I had doubts over this story, however since Dad was basically confined to the bed, I said I would let Dad know about him, and with his permission got a photograph of him, got his contact number and sent him away. Towards evening I decided to tell Dad about this visitor we had, but to start the story, I showed him the photograph as his hearing by then had dropped to almost zero. Smilingly, he stuttered to say the name of the man, the name of his son and said he had a disabled wife, who needed to be taken care 24/7 and this person makes paper bags from magazines for a living. And wanted me to give the amount of cash requested if available in his bank account. That was Dad. He remembered the slightest detail of people's lives, their struggles and their aspirations.
As a pioneering businessman his onlyaccumulated wealth was, clearly – people with improved lives. So his 'bank balance' was always full – of satisfaction, well-wishers and blessings. This accumulated 'wealth' continues to nourish us to date, as his fortunate children.
He was a Dad, who made us proud of his existence. His life was worthy of living for others and his death worthy of knowledge for mankind. Daddy we love you, you will be the rock of our hearts until we breathe our last breath on this earth. May God keep you loved and blessed until we meet on that beautiful shore. May your soul rest in peace.
Bye Dad for now.
- Bernadine David Yatawara
---
GILBERT DALPATADU  
I remember him with affection
Gilbert Dalpatadu passed away recently after leading a fruitful and complete life. He was a descendant of two very respectable families from Kalutara and Beruwala.
He was a descendant of the famous Thandale family of Kalutara, the captains or the leaders of an ancient river transport system where they led groups of paru (shallow boats) which transported river sand and many other goods from Kalutara to Puttalam along the Kalu ganga, Bolgoda canal and Hamilton canal towards Puttalam via the Kelani river and back. This paru service was discontinued in the early 1940s and 50s and the route is now neglected. I have listened to many tales relating to these parus from Mahappa; Gilbert aiya's father. Before his marriage, Mahappa led groups of boats from Kalutara to Puttalama and back. I believe this was a continuation of a Dutch tradition of maritime transport in the country; but it lost its importance with the improvement of the road transport system and construction of bridges connecting all cities.
On his mother's side he was a descendant of a family of famous hoteliers in Beruwala and Alutgama, a nephew of the owners of famous Alutgama Hotel and Mangala Hotel of Beruwala.
Gilbert aiya all his working life was involved in a different mode of transport namely, railways.
Gilbert aiya, though a descendant of a famous family in Kalutara never lived in Kalutara, but spent all his school days in Alutgama. He was a favourite student of Douglas Goonawardane the socialist educator who was the Principal of Alutgama Vidyalaya at that time. I remember the times he used to walk with me to Malawanbadde Junior school in Alutgama where I studied during the first four years of my schooling. Both of us lived in my mother's ancestral home along with his elder sister and my mother, who was also a teacher at the Malawanbadde Girls' School. After dropping me at school, he proceeded to Alutgama Vidyalaya across the main Galle road. This routine continued throughout the time I studied at Alutgama. While I shifted to Panadura for further studies, Gilbert aiya continued at Alutgama Vidyalaya and passed his Senior School Certificate in the English medium.
He started his career as an assistant English teacher in a school in Thammennavetiya off Anamaduwa, close to the area where Prince Vijaya landed. But he gave up teaching soon afterwards in preference for the administrative service, joining the Government Clerical Services. He was selected to the Railways and completed his working life at the Chief Mechanical Engineers Department located at Ratmalana. He ended up as an Administrative officer in this important Department which provided essential maintenance support for the good running of the Railways. Being a person with a high level of integrity he must have given his best to this Department throughout his career.
He was my mother's favourite nephew. The fact that he lived in Alutgama during his school days along with me, my mother and my sister was instrumental in my mother developing a special affection for him. He was studious and would come to my mother for advice whenever he had a problem. This continued even after he got employed and married. Even at the time of his marriage my mother had to visit bride's family to finalise the matter.
I was his groomsman at the wedding.
He moved to Panadura after constructing a house in Nalluruwa and lived there for over 30 years. He lived according to Buddhist principles and was a non-smoker and teetotaller.
He had three children from his marriage to Nanaseeli Akka who was also a respected maths teacher. She also moved to Sri Sumangala College Panadura after her marriage. Their three children are useful citizens, with the eldest being a doctor, the second a successful banker and their only daughter a trained teacher.
May he attain the supreme bliss of Nirvana.
- Sumathi Fernando