A glance into history through poetry
View(s):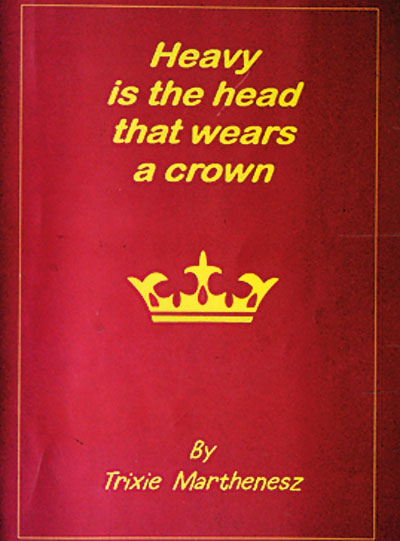 My indefatigable friend Trixie Marthenesz has chosen a unique literary path this time. She has written comprehensive biographical sketches on seven kings and three queens of her choice in verse.
They are; Kings Ravana, Suddhodana, Pandukabhaya, Kublai Khan, Louis the sixteenth; Emperor Ashok, Tsar Nicholas the second; Queens Cleopatra, Victoria and Elizabeth the First.
For those of us who are not history 'buffs', and enjoy poetry, this is a painless way of acquiring little known, fascinating historical facts.
This project would have entailed a tremendous amount of research, and that was not all, it was not a question of producing a PhD in prose, but a painstaking process of rendering dry historical facts into mini-epic poems with verses written in 'iambic decameter'. Congratulations, Trixie!
However, I would have liked it if references were included.
My favourites were King Pandukhabaya and Tsar Nicholas the Second.I was almost totally ignorant about the former, the tale as it unfolded had me enthralled, and brought to mind parts of Homer's classic, 'The Iliad'.
In the poem, "Tsar Nicholas the second", the events leading up to the revolution, and his inevitable end are graphically described.
Her style is concise, with no unnecessary embellishments. There is no better way to describe her command of the written word and fluency of style than to quote from P.L.N. De Silva's foreword:
"Her style reveals a contraction of phrases compelling the reader to think and complete the ideas. She has started the written lines with much care. For instance the poem on King Suddhodana starts with the etymology of his name. She has done justice to the wonderful characters of her choice.
Book facts: Heavy is the head that wears a crown- by Trixie Marthenesz
In reference to "Queen Victoria," Mr. De Silva says, "A few lines have a meaning beyond the ephemeral significance, they are simple but do have philosophical depth.
For a Teutonic Monarchy he stood
She a Government Constitution wanted,
They learnt to agree to disagree,
and disagree to agree.
To quote Mr. De Silva further, "The poem on Queen Victoria ends with a few quiet lines ideally suited to the occasion. The famous queen, who ruled for over 60 years, died of brain death.
The lines describing her end are most befitting the occasion. They have a sense of silence that is calming to the mind."
To quote from the poem:
Summer nineteen hundred and one it was
When twenty second January dawned
Then England's mightiest ruler born to reign,
Queen Victoria's loving heart slackened
Blood to her brain in silence slowly beat
Lessening in volume the tension weakened
And her mortal life to a brain death cooled.
Trixie has thoughtfully sub-titled the sections for clarity.
For instance, the sub-titles for the poem on Queen Elizabeth the First are; Queen Anne, Princess Elizabeth, Queen Elizabeth, Marriage proposals, The Golden Era and The Demise.
The writer's wide academic experience have honed her skills as a writer.
She was one of our first graduate nurses, and was senior tutor in the Post Graduate Basic School of Nursing until retirement. Subsequently she helped to organise the BSc Special Degree Programme in Nursing at the University of Sri Jayawardenepura.
Her interest in teaching extends to English, and although enjoying her retirement in Mihintale, she continues to be a visiting lecturer in the Universities of Sri Jayawardenepura, Peradeniya, and the Kotelawala Defence Academy.
Like many of us she started writing in earnest after retirement.
May she continue to do so for several years to come.
- Premini Amerasinghe