SLF Digital Film Academy teaches film editing
View(s):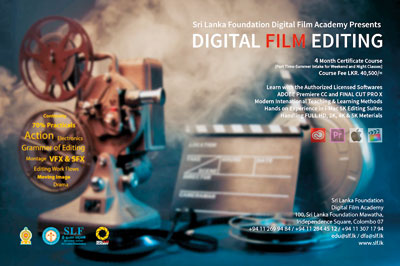 Sri Lanka Foundation Digital Film Academy is starting a new course on Digital Film Editing where a complete and comprehensive knowledge to imparted on film editing using latest computer softwares.
The four-month certificate course includes 70 percent of practical work, teach grammer of editing, editing work flows among teaching others of film editing. The course enable the learners to use authorised licensed softwares such as ADOBE Premiere CC and Final Cut Pro X and give hands on experience in i-Mac 5K Editing Suites and handling FULL HD, 2K, 4K and 5K materials.
Course fee is Rs 40,500 and further information can be obtained from Sri Lanka Foundation, Digital Film Academy, 100, Sri Lanka Foundation Mawatha, Independence Square, Colombo 7 or calling on 2699484 or 2844512.