Making it to the top
Gearing up to be the first Sri Lankans to summit Mount Everest, Jayanthi Kuru-Utumpala and Johann Peiris have set out on their journey. The weeks prior to departure have been spent on training and preparation. The following is a short account of that time as conveyed by the duo to their support team in Colombo
View(s):
The past month has been an experience both of us are never going to forget! We have been honoured to be provided with the opportunity to meet with the President of Sri Lanka, Maithripala Sirisena, the Prime Minister Ranil Wickremesinghe, and the Sports Minister Dayasiri Jayasekara and the Tourism Minister John Amaratunga. All of whom provided us with their blessing and best wishes.
Our recent training has included interval runs up Kirigalpotha and Piduruthalalgala, core strength workouts, swimming laps and cardio and aerobic activities at every possibility. We have trained with our equipment including practicing walking on ladders with crampons. The ladders are used on Everest to cross crevasses, and crampons are attached to our mountain boots and provide additional grip when walking on ice. We have also practiced justwalking in our mountain boots – these are used for beyond Base Camp and the ability to be waterproof with insulation and protection is at the forefront of the design. Each boot contains three layers of shoe and as a result they are heavy and don't allow the normal range of flexibility. We have also met with and thanked our Summit Sponsor – Fairway Holdings, our official Airline Partner – Sri Lankan Airlines, our Base Camp Sponsors – Seylan Bank, Sri Lanka Telecomm Mobitel, Janashakthi, and our Gear Sponsors – SEALS, Petzl and Victornox. We are incredibly grateful to our sponsors as without them we would not be in the position to attempt to Summit Mount Everest.
We left Colombo  last week and saying goodbye to our friends and families was emotional, however we go with their support and that means the world to us. We now have three days in Kathmandu to finalise our gear and preparation before flying to Lukla and starting our trek.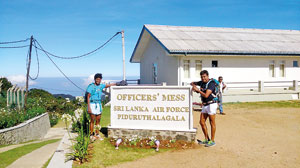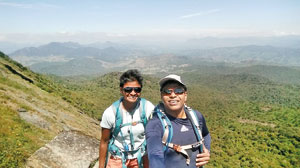 Stay tuned for more updates on their progress as we aim to publish highlights from Jayanthi and Johann's journey to the summit.
Learn more at facebook.com/everestlka/