CSR project of Jungle Beach Kuchchaveli
View(s):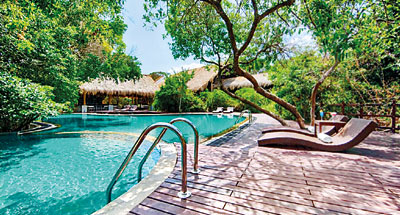 Jungle Beach, the luxury boutique hotel operated in Kuchchaveli by leading local leisure group Uga Escapes, continued its charitable efforts in the region by refurbishing the female ward of the Kuchchaveli Divisional Hospital.
Jungle Beach conducted the CSR initiative together with Alpha Industries, a subsidiary of the Finco Group to which Uga Escapes also belongs. The ward was declared open on March 8 in the presence of Jungle Beach staff, local Ministry of Health official Dr. Susaidasan Lambert Jesusnesan and the doctor in charge of the Kuchchaveli Hospital, Dr. Duinton Retnadev Thevathasan.
This is the second occasion that Jungle Beach has provided a major facelift to the hospital. In July 2014, as part of its second anniversary celebrations, the hotel revamped the Divisional Hospital's maternity ward in order to efficiently treat the large number of expectant mothers from the region.
The latest project will similarly enable the hospital's female ward to provide a higher standard of medical care to women in urgent need of it.
For more information on all these properties, visit www.ugaescapes.com.