'Villa Sarakkuwa': Haven in the lagoon
By Sanath Weerasuriya
View(s):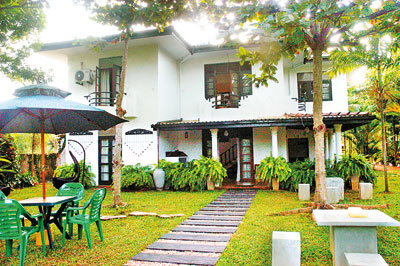 Named after Portuguese sailor Sarakk, the village 'Sarakkuwa' lies in Pamunugama between the Southern end of the Negombo lagoon and the deep blue sea.
'Villa Sarakkuwa' is a popular bungalow in the village, offers a quiet holiday for travellers looking to get away from the busy city life.
Located in Sarakkuwa off Pamunugama- Negombo road facing the lush mangroves by the lagoon, 'Villa Sarakkuwa' is a private holiday bungalow with a luxury touch.
Villa has three air-conditioned rooms – two triples and one double, all with attached bathrooms and modern amenities. It includes tea/coffee making facility, a wardrobe, comfortable seating area and free wi-fi.
Owned and managed by 'Perera family'- Susantha, Shamindri and Dilmani, the 'Villa Sarakkuwa' is a popular destination for holiday makers to the Pamunugama area.
Though it looks a small simple place, Villa Sarakkuwa is a highly rated accommodation provider in the area for long staying guests from overseas.
'It is more like a 'home stay' and the guests are part and parcel of our daily lives. They enjoy the typical village home front experience' explained Susantha Perera, the proprietor of the Sarakkuwa Villa.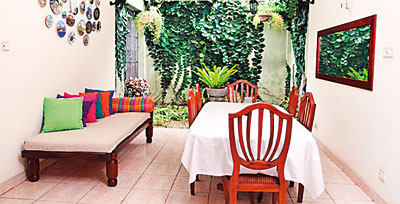 Villa Sarakkuwa features an outdoor swimming pool by the lagoon, barbecue facilities and outdoor village kitchen for the guests, who love to getaway from the rules and regulations of the star class restaurants.
'It is a popular venue for corporate functions and private parties. Village kitchen is very popular with Sri Lankan clientele' Susantha added.
Offering a beautifully-landscaped garden with mangrove on one end, it provides space for sun loving travellers to experience the rustic and tropical conditions of the location.
At Villa Sarakkuwa, guests may enjoy fishing or rent a bicycle/car to explore the area. Village walk, visiting traditional 'pola' or sea bathing is just across the main road are popular activities of the holiday makers to the Villa.
'Apart from that, guests can go on excursions to Negombo, which is just 30 minutes drive away' said Lionel, the bungalow keeper.
Other places of interest in and around Negombo include the famous Negombo beach, the Dutch Canal, the Lellama fish market, the Dutch Fort and Sri Lanka`s first wetland reserve the Muthurajawela Marsh.
For meals, the friendly host- Lionel can assist to prepare packed lunches and special diet meals on request, when the guests go out on various tours during the morning session.