Behind the scenes of a beauty blogger
By Vinusha Paulraj
Sharing advice and beauty tips the face behind 'Beauty by Rosh' speaks to the Mirror Magazine about her YouTube channel
View(s):
Doing makeup can result in either a hit or a definitive miss- ask anyone who sports a wicked winged eye-liner. It takes more than a steady hand, quality products and confidence according to Lankan beauty Guru, Roshani Kumarasinghe. "All it really takes is practice" to look your best.
If the idea of changing one's facial structure with the expert flick of a brush has both intrigued and scared you, you've probably resorted to living vicariously through the countless beauty bloggers.
Roshani's advent on YouTube this year with her channel- Beauty by Rosh answers a host of questions most Sri Lankans would have like for instance, "what products should I buy," and most importantly, "do they make products for my skin?"
Armed with an entire arsenal of Clinique, MAC, Bobbi Brown and Makeup Forever products to name a few, the country's first beauty blogger is all set to address them. "You do get enough products, both drugstore and high-end" for Sri Lankan skin tone she says. The issue is getting your hands on them locally. Starting-off with a Facebook page following a successful make-up shopping haul in Europe late last year she says "I looked at my collection I had and thought that I should do something with this."
When the Mirror Magazine met her, Beauty by Rosh had already been slotted as a columnist for online publications.
The struggle to obtain reliable material, for the face behind Beauty by Rosh started at an age when most girls sneak into their mothers' stock. "I never had to sneak in to it" she shares. "My mother was okay with me using her makeup." Trips abroad always meant shopping for make-up, growing-up with a style-conscious mother had a hand in her interest which took root at 14. Her later years in school saw Roshani spend as much time onstage as behind the scenes as her classmates lined-up for her to do their make-up.
With years of practice, she's even managed to keep her nerves in check and do her own bridal make-up. "You don't need to go to the salon," she feels, for every occasion. If anything, the numerous eyelids bathed in unblended eye-shadow at Colombo events say, sometimes salons don't always get it right.Investing in a few top-end beauty products and correct application-which is a skill anyone can pick up, allows a deeply personalised take on fashion.
Constantly requested to take-on the topic of acne in her videos, shared make-up tools as the ones communally used in salons she says, is a contributing factor. Departing with expired products is difficult even for the make-up lightweights among us. It's difficult to think she feels, that those products which out-live their use-by dates don't continue being used. This inevitably results in "you spending more time, effort and money correcting your damaged skin."
If the scary prospect of being lathered with expired product makes you skittish at the thought of entering a salon, Roshani invites you to look in your own make-up bag. "You can check online" if your product has a few good years left. We're asked to look for letters prefixing numbers which are "etched on the product." Upon finding it, "just Google 'is my make-up expired' and enter any site that lets you enter this code" along with the brand. The results on the cosmetic tracking site like checkcosmetic.net should let you know if you should toss it out or continue to use it.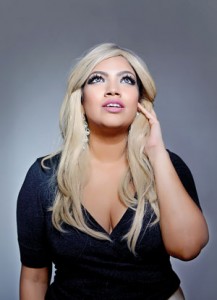 "People always tell me that I should open a salon," she smiles, but that's never been her area of interest. Previously owning a management consultation firm, the beauty blogger double majored in marketing and management. She's given up her corporate life for blogging which only feels natural- "It's like filming myself getting ready in the morning."
The new designation-Beauty Blogger isn't technically a fully-fledged job as of yet she shares, "there's no money in it now." With the huge gap in the local market for high end international brands and the potential for cosmetics labels to create palettes with Sri Lanka specifically in mind, perhaps in the long-run she feels her work will be of worth. "At the moment, I just hope my videos are helpful."
For more information look for Roshani at Facebook
https://www.facebook.com/beautybyRosh/ or checkout her YouTube channel 'Beauty by Rosh'