Art of creating dramatic visuals through sound
By Susitha R. Fernando
Kanata Paraka (A Earful of visual); Malaka Dewapriya's attempt to revive the art of radio dramas
View(s):
Young filmmaker Malaka Dewapriya a longtime enthusiast and campaigner of the art of radio play will launch his two audio CDs tilted "Kanata Parak" (Earful of Visuals) containing  14  Radio Plays at 3. 00 p.m. onwards on April 7 at the Auditorium of the Mahaweli Centre, Colombo.
The main speakers at the event will be Dr. Dharmasena Pathiraja, Lucian Bulathsinhala, and Dr. Sunil Wijesiriwardana and they will speak on the subject of contemporary radio art. The anchor will be eminent playwright, E.M.D Upali.
The collection in 'Kanata Parak' includes twelve Sinhala medium and two Tamil medium plays. The titles of these plays are "Tharuwan Saranai(Blessed by Star)", 'Nihon Sepalebewa' (May you attend comfort worldly life in Nihon)", "Alayaka Damanaya (Love Tamed)", Nirabhishekana (Felicitation)", "Nirwasthran ParamanSukhan(Naked is the best policy )", "Funsalak", Roma Ruupana (Perform in Rome )", "Suwadena Agni (Soothing Fire)", "RangadenaKapuwo(Trickster Matchmakers)", EkathanaKerakuma(Stagnation)", "Nawanalu Dahama (Tele Actor)", and "Bashmaanthara( inter action )".
Interestingly Malaka has got voices of nearly 40; some of the most prominent artistes in theatre, cinema and television. They include Jayalath Manorathna, Dharmasiri Bandaranayake, Saman Athawudahetti, Lucian Bulathsinhala, SomasiriLiyanage, W. Jayasiri, Buddhadasa Withanachchi, Chandra Kaluarachci, RamyaWanigasekara, RathnaLalani, DamayanthiFonseka, Lakshaman Mendis, SaumayaLiyanage, Kaushalya Fernando, Darmapriya Dias, Deepani Silva and Chandrasoma Binduhewa. Theme music was created by veteran musician and singer Lakshman Wijesekara.
Though he was popular as a filmmaker, Malaka was very much involved in the radio, writing and producing radio dramas for Sri Lankan Broadcasting Corporation (SLBC). Starting as far back as 1995, Malaka produced scripts for the "Guwanviduli Rangamandala" radio drama programme aired in SLBC. Malaka was not only a writer and a producer but an actor in radio dramas. Malaka was fortunate to be guided by giants in the radio drama field like Sugathapala de Silava, Tilak Jayarathne , J H Jayawaradana and Dharmashri Munasinha.
Malaka who describes the power of radio dramas is of the view that can be used to discuss contemporary social issues.  "I'm trying to use it to discuss contemporary social issues and a medium for social criticism. This is a powerful form of art," Malaka said. 'Radio dramas even can be used as an external education material for children," he added.
Asked whether it was a dying art Malaka said with development of the technology the art of radio dramas have expanded and was no more limited to radio now.
"Radio plays do not confine to radio waves, nowadays one can share it as a sound file and also download it like that. If you just go by the information in the 'www.moonlightaudiothetre.ca', today Radio plays have a huge social role. People are made to listen to them while they are waiting to see their doctors in hospitals, in long flight journeys, in long road journeys and in any place they have some extra free time. So it is very much alive and a popular medium in the world."
"Look at the BBC, the place it has given to Radio plays, one can think that this is the golden age of radio plays; BBC produces a huge number of radio plays on various themes and concepts, with varying time durations. In 1997 when the BBC completed 75 years of service, it said that annually it had produced 2000 dramas, 1174 drams hours, with 14000 actors and 10000 scripts writers. You can access to BBC plays through sound files," Malaka explained.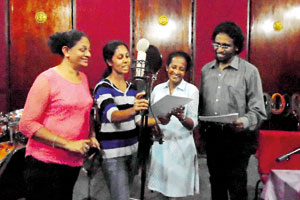 Asked as to why radio plays would be popularized through the radio in Sri Lanka, Malaka says that it cannot be done in the mainstream radio as almost all the radio stations are in business today.
"It is difficult for us to work in the mainstream radio field and the formats they use are different," However Malaka says that radio dramas are still popular and a powerful medium in other parts of the world. "BBC has overcome this problem and radio dramas are one of the most popular programmes in the BBC," he said.
"We first received this art as far back as 1925. According to people like Dharmashiri Munasinha and J H  Jayawardana, in the first era most Radio plays were broadcast live and a report of the Rupavahiin Corperation revealed that even in 1987 Radio plays were  more popular than TV," he said.
However Malaka laments the lack of interest taken by the authorities to protect, maintain and conserve this form of art. "Unfortunately Sri Lanka has failed to conserve the culture of radio drama as there is no archival materials. When I checked about this I found that new radio programmes have been recorded on the old discs which contained those radio dramas of the golden era of radio.
Malaka plans to popularize radio plays through alternative ways and getting them to be played in public transport and those participants at the launch are to get free pack of two CDs of the 14 plays.
The sponsor of this event is Artlink project of FLICT and presented by Contemporary Art Commune.