'21st Century Monk' in Kandy
View(s):

'The 21st Century Monk', a production by Sri Theatre Company will be performed in Kandy on April 9 and 10,  2016.
Fresh from their performance in Bangalore, India last month, 'The 21st Century Monk' is a comedy which takes on the story of a lawyer (Waruna) who decides to become mute for the rest of his life.  As a result of his unexpected decision he is thrown from pillar to post by those who find his silence unsettling.

The play was first performed in 2014 and will be restaged with an updated script  and features new additions to the cast. Speaking to the Mirror Magazine, Director Aslam Marikar explains that the play is structured similar to Kolam in Sri Lankan ritual theatre, with multiple short stories embedded within a larger story. Sri Theatre Company was formed two years ago and is based in Kandy. It has always endeavoured to forge a stronger identity for Sri Lankan theatre, breaking away from the tradition of imitating western theatre and staging original productions. Video trailers and snippets of'21st Century Monk' as well as updates can be viewed via the company's Facebook page (facebook.com/sritheatrecompany/). Sri Theatre Company's previous productions also include 'It's all Amidst', which was performed in Colombo last year. '21st Century Monk' will feature Bandhuka Premawardena, Yasal Ruhunage, Imesha Athukorale, Ruwanthi Karunaratne,Sidath Samarasinghe, Chrishain Jayalath, Disal Kapuge, Minura Mudalige, Jithmi Athukorale, Amaresh Perera, Aslam Marikar, Melvin Chin,  Zakia Kamarzaman, Mahith Nimantha, Sashen Ruhunage, Ashwin Jayalath, and Madushani Randeniya.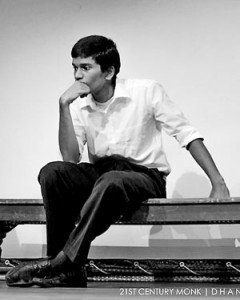 The play will be performed at the E.O.E Pereira Theatre, E Fac., Peradeniya University on April 9 and 10 , 2016 at 6.30pm. Tickets are priced at Rs. 200, Rs. 500 and Rs. 1000 and will be available at the gate.  Tickets can also be reserved via the Sri Theatre Company's Facebook page.
(Adilah)