My school
View(s):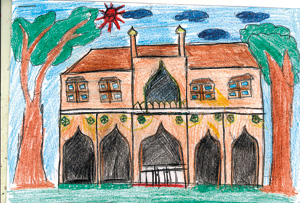 My school is Zahira College. It is situated in Maradana. It is one of the first Muslim schools in Sri Lanka. It was founded in 1892. My school is a boys' school. There are 13 grades in Sinhala, English and Tamil mediums in our school. Our school principal is Mr. Trizvy Marikkar.
My school colours are green, silver and maroon. My school has a big ground, a swimming pool, a basketball court, a computer unit and a library. There are four houses in our school. They are Angora – colour green, Baghdad – colour blue, Cordova – colour orange, Istanbul – colour red.
My house is Istanbul.
My school is famous for football. It also has cricket, rugby, swimming, basketball, karate and other sports.
I love my school a lot and I am so proud to be a Zahirian.
Naqeeb Shamroz (Grade 3)
Zahira College
---
I looked at the stars
On my birthday I got a telescope. So I looked at the sky through the telescope. One day when I was looking through the telescope, I saw a lot of stars. Some stars were far away and other stars were near.  Suddenly I saw a red glow. I called my brother and asked what it was.
He said that it was the planet Mars. I saw a star with rings and my brother said that it was Saturn. Then I saw a star brighter than all the stars. I asked what the shining star was, and my brother said it was planet Venus. I saw a star that was bright inside and dark outside. My brother said it was Mercury.
There was a star bigger than all the other stars. My mother told me that it was Jupiter. I saw a blue star and my mother said it was Uranus. Then I saw a purple star and called and asked my father. He said it was Neptune. Lastly I saw a small star smaller than all the others. My father said it was Pluto.
I like to be an astronaut and travel in space.
Vethum Perera (Grade 5)
Lyceum Int. School, Nugegoda
---
My best friends
My best friends are Vinuki, Onadhi, Sashini, Thisumi, Prabashi, Chamodya and Aatiqah. Vinuki is in Sirimavo Girls School. She is fair and she has nice hair. Onadhi is in St. Paul's Girls School, Milagiriya. She is also a nice girl. She wears two ponytails. Sashini is also at Sirimavo. She can play badminton very well. She is a good friend too.
Thisumi wears opticals. She can also play badminton well. We both play badminton together. She has long hair. She is in Class 6D. Prabashi is in St. Paul's Girls School. She is in Class 6E. She loves swimming. Chamodya is a very good friend. She is also in Class 6D. She is in Keerthi House in our school. Aatiqah is a Muslim. She is very good. She loves the film 'Ho Gana Pokuna'. Really it's very nice.
So this is all about my best friends.
Sethini Sandima
(11 years)
St. Paul's Girls School, Milagiriya
---
The day I was inducted as a prefect
It was February 16 and I was so excited. It was the day of the Prefects Induction Ceremony.
All my friends were there to see the ceremony. I was proud to see our parents on the other side, dressed in their best clothes. We had beautiful lamps decorated with flowers, in our hands. One by one, we lit our lamps and stood in a line on stage. Afterwards we gave the oath along with the Head Girl of the whole school. I saw my parents looking at me proudly.
The Primary Headmistress called out our names as the Principal pinned on our badges. We kept our lamps, worshipped our parents, got their blessings and went in line again. Then the Primary Head Girl Saneshi gave an interesting speech. We sang the National Anthem and the School Song and ended the ceremony.
To show our happiness, we served our parents with kevum, kokis and milkrice. When we got to our classes, our friends requested to see our badges. My wish is to be a very good prefect and be a senior prefect in the future.
Sinali Bethmage (Grade 5)
Musaeus College
---
My family
My family's name is Fernando. We are living happily. There are five members in my family. They are my mother, father, sister, brother and me.
My sister is living in Canada. My father and brother are working together. They are tour guides. They go about in our new van. We went to Kandy and Anuradhapura. I miss them when they go everywhere. I miss my sister too.
I love my family. I love my mother, father, sister, brother and my pets. They love me so much too.
Sherandhi Fernando
(9 years)
Bishop's College
---
A trip to Italy
We woke up early in the morning and went to the Katunayake Bandaranaike International Airport. We got in the plane and were in the plane for eight hours. We got down from the plane at the Rome airport and got into a bus.
The bus took us to Napoli.
On the next day, we went to a small island called Capri. It is a very beautiful island. We travelled in a ship. It took 30 minutes to reach Capri from Napoli. We stayed in Italy for two weeks. Now, I have a citizenship for that country.
The trip was wonderful as well as an unforgettable incident in my life. So I thank my parents for taking me to Italy.
Piumi Sandalika (15 years)
Holy Angels Girls' College, Kuliyapitiya
---
My country
My country is Sri Lanka. It is a small island in the Indian Ocean.
This is a tropical country.
Most of the people are farmers.
Sri Jayewardenepura Kotte is the capital of Sri Lanka. The population of my country is about 20 million.
There are two monsoons. They are North East and South West. We get rain throughout the year. We get a lot of sunshine. It is an agricultural country.
There are several communities in Sri Lanka. They are Sinhalese, Tamils, Muslims and Burghers.
Sri Lanka gained independence on February 4, 1948. It became a republic in 1972. Mr. Maithripala Sirisena is the President of my country and the Prime Minister is Mr. Ranil Wickremesinghe. I love my country very much.
Umeda Rathmalgoda (Grade 6)
Royal Int. School, Kegalle
---
My favourite friend
My best friend is Malmi Sanjana. She is 12 years old. She is very beautiful. Her favourite food is noodles. Her favourite drink is milk. Her mother's name is Priyani. Her father's name is Lasantha. Her favourite biscuit is Sumo. She is a clever girl. She is a kind girl. Her favourite colour is pink. She lives in Galle. She is a good girl. I love her.
Janudi De Silva (Grade

Southlands College, Galle
---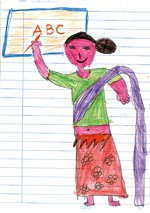 My teacher
My teacher's name is Mrs. Ruwani. She is pretty. She is tall and fat. She wears beautiful saris. Her class is
Grade 2-A. She teaches English, Maths and Science.
She plays with us. She dances with us. My teacher tells beautiful stories.
She loves us. We also love her very much. May God Bless my teacher!
Hansana Herat (Grade 2)
Royal Int. School, Kurunegala
---
I'm an obedient girl
I listen to my parents. I learn the things so quickly. I read my books all the time. I listen to my teachers all the time. I keep my books clean. I help the innocent animals. I keep my room clean. I help parents all the time.
I water the plants. I fold the clothes.You people be obedient like me.
Udara Weerasekara (Grade 3)
Vidyaloka Model School, Hingurakgoda
---
Myself
My name is J. Kavinayaa. I live in Hatton. I am seven years old. My school is Highlands Central College. My father's name is S. Jeyaseelan. My mother's name is Uparameswari. My favourite colour is pink. My ambition is to be a teacher.
J. Kavinayaa (Grade 2)
Highlands College, Hatton
---
My school
My school is Jennings International College. There are about 800 students. It is in Nainamadama. There is a canteen, bookshop, German room, computing room and audio-visual room. It is an international school.
Our principal is Mr. Wijesiri Hettiarachchi. Our class teacher is Chamari Madam. It is a big school. There are about 60 teachers.
I love my school very much.
Bemasha Lalind (Class 3)
Jennings Int. College, Nainamadama
---
How can we make this world a better place?
The foundation of the world is love and affection. This is a common example for everybody in society. Love and affection is a must among families. As the saying goes, 'Charity begins at home', which means we should train ourselves to love and respect our own family members first.
There are many things that should be done to make the world a better place. Respecting each other is very important to achieve this goal. Appreciating and admiring performance paves the way for a better world. The quality of accepting others' ideas creates equal understanding among people of the world.
The best way to make the world a better place is to live according to the teachings of religious leaders. If society abstains from killing, stealing, unlawful behaviour, telling lies and taking drugs, it leads to a better place and lovely world for living.
All of us should be aware of our responsibilities and rights. When each person fulfills his duties the world would be a better place for us to live in.
Zahraa Sabee (Grade 6)
Lyceum Int. School, Ratnapura