Sri Lanka College of Military Medicine established
View(s):

Marking a major milestone in Sri Lankan military history, over 400 medical and dental officers of the three armed forces combined to establish the Sri Lanka College of Military Medicine (SLCOMM) at the inaugural general meeting convened on Friday, March 18.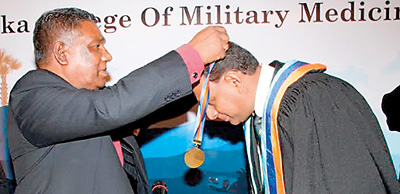 The SLCOMM was conceived and driven to its inception by an interim committee consisting of the respective heads of the military medical services, namely Surgeon Rear Admiral N.E.L.W. Jayasekera, Major General S. Munasinghe and Group Captain L. Jayaweera. The main objectives of the college are to provide support in continuous professional development, training and networking among its members and also research, advocacy, policy formulation and resource development.
The inauguration took place at a solemn ceremony at the Renuka City Hotel with the participation of the Secretary to the Ministry of Defence, Engineer Karunasena Hettiarachchi as Chief Guest and Chief of Defence Staff, Air Chief Marshal K. A.Gunatilleke as Guest of Honour. Nine office bearers and nine council members members were elected uncontested to the executive committee.
The Founder President Surgeon Rear Admiral N.E.L.W. Jayasekera was inducted by the chief guest. In addition to the executive committee, Major General C. Thurairajah (Rtd) was elected as the Patron of the college.
The Founder President in his address spoke of five eras of history related to military medicine in Sri Lanka from the time of the kings to the present day and events leading to the formation of the college. The Secretary of Defence addressing the gathering outlined how engineering contributed to the field of medicine. The Chief of Defence Staff also addressed the gathering and ceremonially unveiled the SLCOMM website, www.slcomm.org.