National Trust lecture: Astronomy and the "Buddha's Visit to Lanka"
View(s):

The 82nd Session of the Monthly Lecture Series of the National Trust – Sri Lanka will be held at the HNB Auditorium, 22nd Floor, HNB Towers, 479 T.B. Jayah Mawatha, Colombo 10 at 6.30 p.m. on Thursday, March 31.

The description of the event seen above the battle between the Nagas, Mahodara and Culodara, matches with very high statistical confidence, to be the Total Solar Eclipse on BCE 481 on April 19 at 8:30 AM. That event considered at the time as a miracle appears to have been attributed by monks who wrote the ancient chronicles of Lanka as the 2ndvisit to Lanka of the Buddha, who in the words in the Dipavamsa, was seen as the stainless Moon.

Dr Kavan Ratnatunga studied at Royal College, Colombo. He got a First Class BSc Honours Degree in Physics in 1976 from the University of Ceylon, Colombo. He qualified as an astrophysicist, with a 1983 PhD from Australian National University, specializing in automated statistical analysis of astronomical data and digital images. Highlights of his 25 year career included the First in-situ sample of Field Halo K-giants in Galactic Halo (1983), and the First Quad Gravitational Lens discovered with NASA Hubble Space Telescope (1995).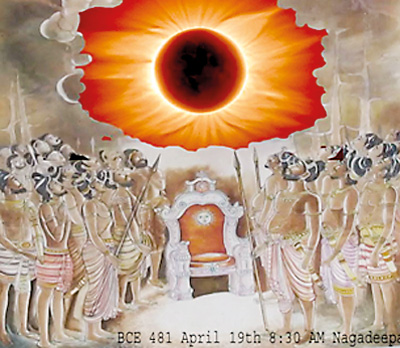 He retired back to Lanka in 2005. His current interest includes increasing the information on Lanka on the Internet via his domain lakdiva.org Archaeology with a special interest in Numismatics (coins.lakdiva.org), and rare books on Lanka (books.lakdiva.org). He is a Trustee of the National Trust of Sri Lanka.
The National Trust – Sri Lanka conducts monthly lectures on the last Thursday of each month. The lectures are open to the members and the public at a nominal fee. The HNB Sustainability Foundation is the principal sponsor of the events of the National Trust – Sri Lanka.
Further information can be obtained from the Trust Office Tel 2682730 at the Post Graduate Institute of Archaeology, 407, BauddhalokaMawatha, Colombo 7.