Step into snazzy sarongs and beat the heat
By Vinusha Paulraj
View(s):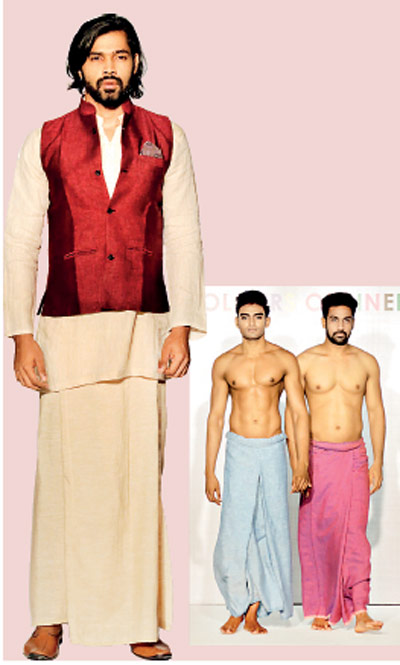 Menswear has come a long way from the usual shirt-trouser combination. Hameedia, a brand which needs little introduction in the fashion scene for men stepped out of the norm last week. Sleek shoes and snappy shirts on display at the Envoy Mansion were outshone as the brand launched "Colours of Linen". Ethnic wear crafted out of the organic fabric in a rainbow of hues were Managing Director, Fouzul Hameed's newest creations.
As models showcased the linen sarongs, Fouzul said, "It's the first time I'm wearing one out. The soaring heat levels across the country makes it the best time to launch these linen sarongs."
Muted shades of white and tan were the serene end of the colour spectrum which branched out into deep purples, red and even black. Single toned sarongs paired with blazer and bow-tie emanated an ethnic and edgy vibe as they came down the ramp.
The traditional garb's up-grade is novel in more ways than meets the eye according to their creator. "I don't think anyone has done it before, but these sarongs don't have the usual hemline, or 'Vaatiya'." Held in place by a system of fabric production called "edging," the fabric is machine sealed.
Available at Hameedia and Envoy stores from the end of March, the elegant line was launched with those looking for a refined yet traditional look for the Sinhala-Tamil New Year in mind.